5-Ingredient Pesto Grilled Cheese Sandwich Recipe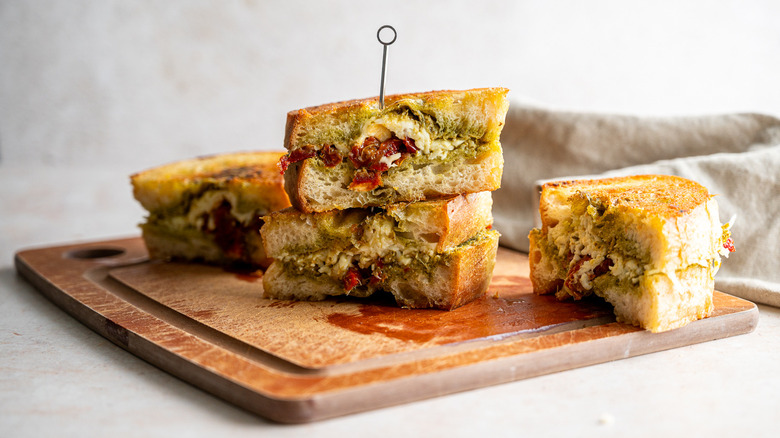 Christina Musgrave/Mashed
Sinking your teeth into a crunchy and simultaneously gooey grilled cheese is an underrated pleasure. Gourmet food might be number one for some people, but a golden crust and melted cheese filling do it for us. 
While the classic recipe is as timeless as they come, Mashed recipe developer Christina Musgrave finds a way to enhance a simple formula with her 5-ingredient pesto grilled cheese sandwich. Aside from requiring minimal ingredients, lunch is served in 15 minutes, which makes this a great option for a mid-week pick-me-up. Musgrave agrees and comments, "I love that this grilled cheese recipe is only 5 ingredients and takes just a few minutes to make." 
With a couple of salty extras, this sandwich is sure to become a regular on your lunch menu. Serve it with a light salad in the summer or tomato soup in the winter, and you're sure to be perfectly satiated.
Gather the ingredients for this 5-ingredient pesto grilled cheese sandwich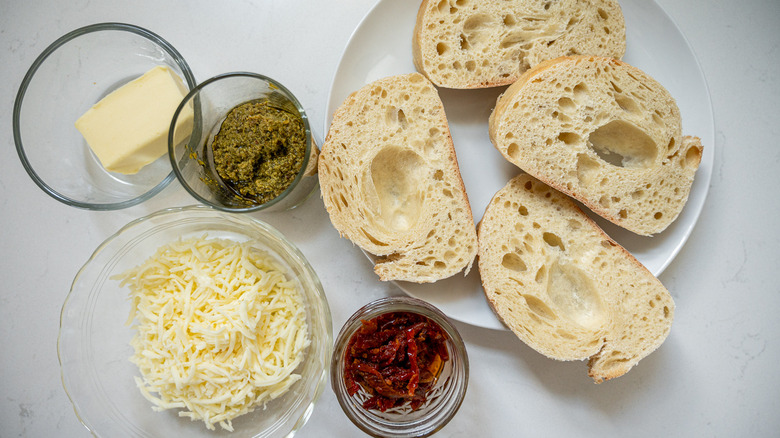 Christina Musgrave/Mashed
For this recipe, you'll need softened butter, sliced Italian bread, pesto, shredded mozzarella, and sun-dried tomatoes. Musgrave notes, "Any thick-cut Italian bread or a loaf that you can cut into thick slices is great." 
As for the filling, she comments, "I made this with basil pesto, but you can definitely try it with other pestos! This would be great with pesto rosso."
Spread the condiments on the bread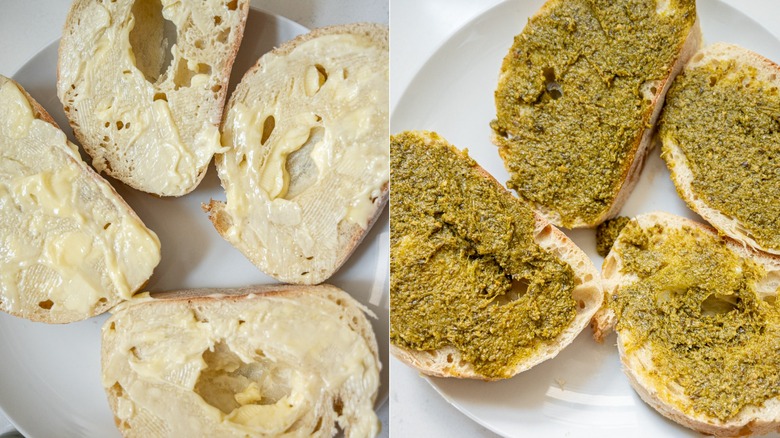 Christina Musgrave/Mashed
Set the four slices out on a clean work surface and butter each on one side. Then, turn the slices over and divide the pesto evenly between the four pieces, spreading it out to cover the surface.
Assemble the ingredients in the pan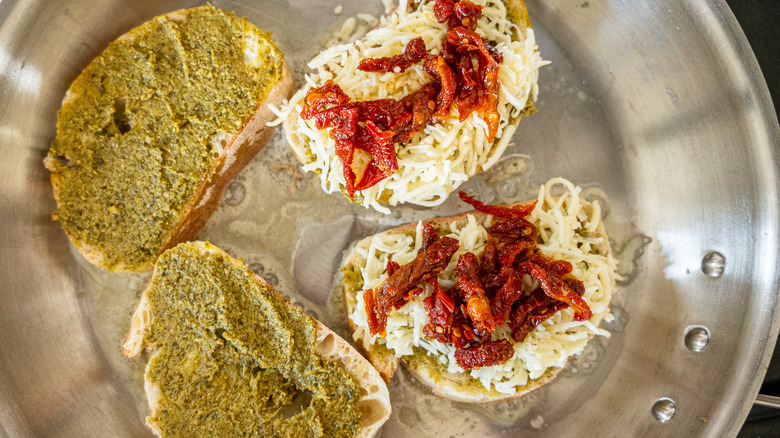 Christina Musgrave/Mashed
Once the bread is ready, place a large skillet on the stovetop and heat it to medium. Place the slices of bread in the skillet with the butter side down. Sprinkle the shredded mozzarella evenly over two slices of bread. Add the sun-dried tomatoes on top of the cheese. Cook for 3 to 4 minutes until the bottom of the bread is golden and the cheese starts to melt. Feel free to cook it longer if you like a well-done sandwich.
Finish grilling then serve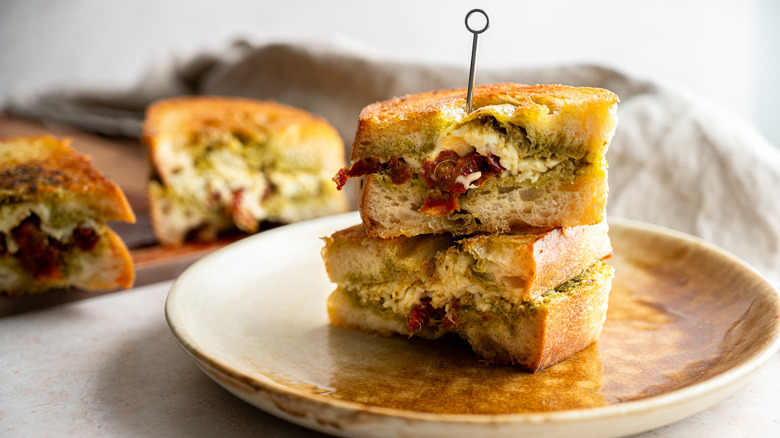 Christina Musgrave/Mashed
Layer the second slice on top of the cheese with the pesto on the inside. Press the slices together using a spatula and transfer the sandwiches to a cutting board. Slice them in two and serve this 5-ingredient pesto grilled cheese nice and hot. Musgrave suggests, "I'd serve this with a simple side salad," but even just the solo sandwich is sure to hit the spot.
5-Ingredient Pesto Grilled Cheese Sandwich Recipe
This pesto grilled cheese recipe requires only 5 ingredients and takes just a few minutes to cook, making it a quick and easy lunch or weeknight meal.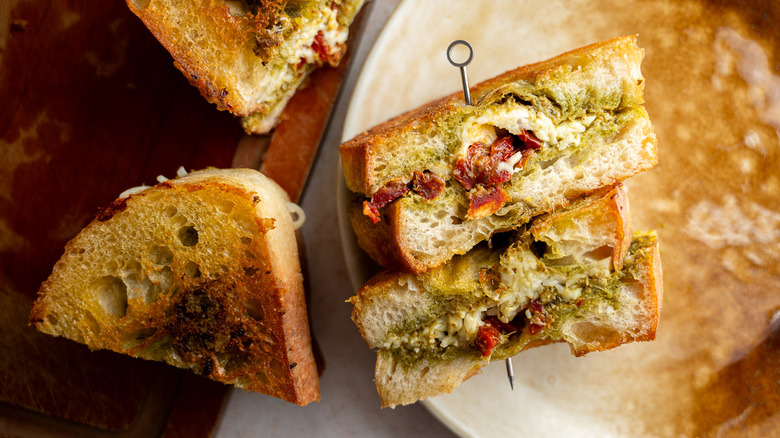 Ingredients
3 tablespoons butter, softened
4 slices Italian bread
2 tablespoons pesto
1 cup shredded mozzarella
2 tablespoons sun-dried tomatoes
Directions
Butter each slice of bread on one side.
Flip the slices and spread pesto on the other side.
Heat a large skillet over medium heat.
Place the bread on the skillet, butter side down.
Divide the shredded mozzarella between two slices of bread and top with sun-dried tomatoes.
Cook for 3 to 4 minutes, until the bread is golden brown and the has cheese melted.
Top each sandwich with the remaining slices of bread and press down with a spatula.
Slice the sandwiches and serve.
Nutrition
| | |
| --- | --- |
| Calories per Serving | 179 |
| Total Fat | 12.2 g |
| Saturated Fat | 6.5 g |
| Trans Fat | 0.0 g |
| Cholesterol | 30.5 mg |
| | |
| --- | --- |
| Total Carbohydrates | 10.8 g |
| Dietary Fiber | 0.6 g |
| Total Sugars | 1.3 g |
| Sodium | 268.9 mg |
| Protein | 6.5 g |