Spirit-Infused Simple Syrups Are The Sweet Way To Boost Your Cocktails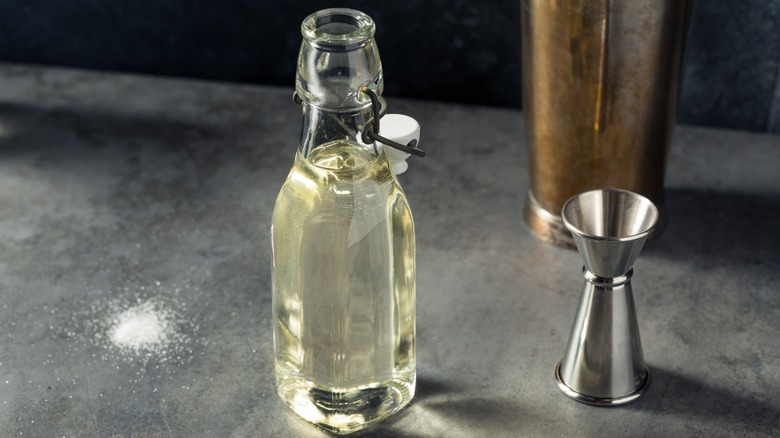 Brent Hofacker/Shutterstock
Simple syrup is a touchstone ingredient in mixology used to balance the flavors of cocktails by providing a gentle sweetness that seamlessly integrates with other ingredients. Made with only sugar and water, simple syrup is an easy-to-make concoction that can sweeten up summery libations like margaritas, cut through the bitterness in an Aperol-based drink, liven up a sour boozy beverage, and unlike granulated sugar, dispenses an even sweetness throughout the drink. The most intriguing part of this bar staple is that you can easily infuse it with herbs, fruits, and spirits.
By infusing simple syrup with liquor you can refine and tailor the flavor profile of your cocktails. If the base of your cocktail calls for a specific type of liquor, you can use a simple syrup infused with that same spirit for a cohesive integration of flavors or mix and match for complementary flavors that add depth and complexity to your favorite cocktail recipes. But the customization doesn't stop there, you can also infuse boozy simple syrups with fruits, veggies, herbs, and florals that bring out the flavors in the liquor.
Since you can have multiple flavors in one bottle, eliminating the need to use multiple different ingredients, liquor-infused simple syrups are great for busy bartenders on the go or anyone who just wants to maximize their time and efficiency. Plus, spirits help preserve the shelf of life of simple syrup – nothing but wins with this bartending hack.
Spirit-infused simple syrup recipe ideas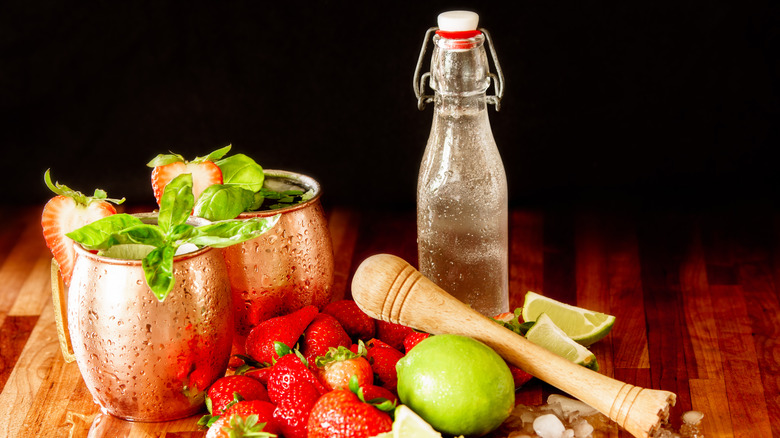 Kim Schroeder/Shutterstock
Unless you're a professional mixologist or simple syrup sommelier, you may not know where to begin with creating your spirit-kissed simple syrup. But don't fret, we've got you covered.
For something light and earthy with a lively vegetal aroma, combine water, gin, cucumber slices, and fresh mint leaves for a refreshing, herbaceous syrup that's ideal for summer cocktails. If you're not a fan of gin but still need a buzzy poolside beverage, try infusing your simple syrup with vodka, basil, and lemon zest for a bright, peppy cocktail that only needs additional liquor and effervescent sparkling water.
Feeling adventurous? Make a tequila-based margarita with a mezcal-infused simple syrup for an agave-centric cocktail with a smoky twist. If you want something spicy, add jalapeños to the mezcal simple syrup to make a boozy drink with a fiery kick.
Infuse simple syrup with a high-quality bourbon and mix it into a hot toddy or a boozy coffee with Kahlua and vodka for a creamy, caramelly kick to a classic Irish coffee. If you want to add additional ingredients, infuse the sugary bourbon concoction with star anise or cinnamon for a cocktail that boasts a warm, spicy aroma.
To make your drunken simple syrup, you'll need one part water, one part sugar, and one part liquor. The only catch is that the infusion of flavors can take weeks, so if you need to put your jazzed-up simple syrup to use for a special occasion, plan accordingly.