TikTok's Bloody Mary Snack Plate Gives Girl Dinner A Run For Its Money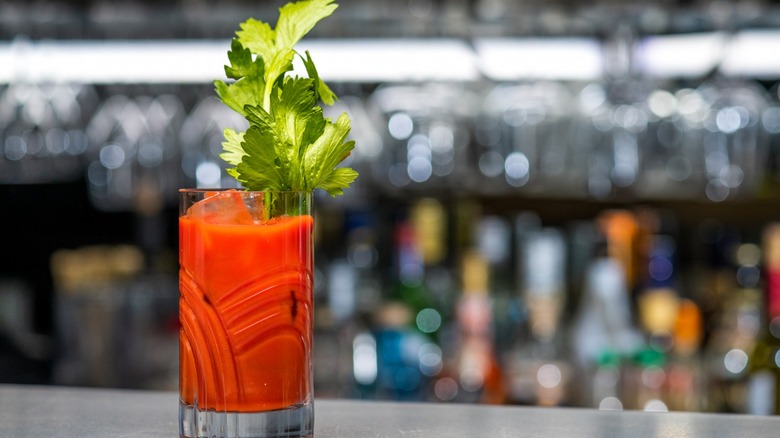 Vm/Getty
If you've been on TikTok recently, you're likely familiar with the phrase "girl dinner." The trend consists mainly of charcuterie boards, created with random combinations of food items rather than being a super thought-out affair. From grapes and buttered bread to cheese cubes, pickles, and crackers, girl dinner can be whatever you want it to be. However, a new TikTok trend takes the classic Bloody Mary and deconstructs it from cocktail to girl dinner — the Bloody Mary snack plate.
A traditional Bloody Mary is made with vodka, Worcestershire sauce, tomato juice, and hot sauce and is garnished with a celery stick. It's also not uncommon to see a Bloody Mary served with other savory sides such as shrimp, bacon, cheese cubes, stuffed olives, pickles, or beef sticks. The Bloody Mary snack plate is inspired by all of these pairings, and there are many different variations of the plate circulating on TikTok. 
How is the Bloody Mary snack plate made?
Marissa Mullen of @thatcheeseplate seems to have been the first creator to transform the Bloody Mary into a snack plate, with her plate featuring such foods as cheese, bacon, tomatoes, cucumber, and celery. Kit Keenan, whom you may recognize from "The Bachelor" franchise, also has a take on the Bloody Mary snack plate.
Keenan's plate features mini tomatoes, shrimp, cheese cubes, olives, celery stalks, pickles, and wedges of lemon. The common components of most Bloody Mary snack plates are tomatoes, cheese, celery, and some kind of protein, usually shrimp or bacon.
The Bloody Mary snack plate could also be inspiring the creation of other types of snack plates adapted from full-size meals. In the comments on Keenan's video, one user suggests making a snack plate inspired by Caesar salad with French fries. The delicious plate is even a way for Blood Mary haters to enjoy the flavors of the tangy drink without having to drink tomato juice and vodka.