Vegan Mushroom Carbonara Recipe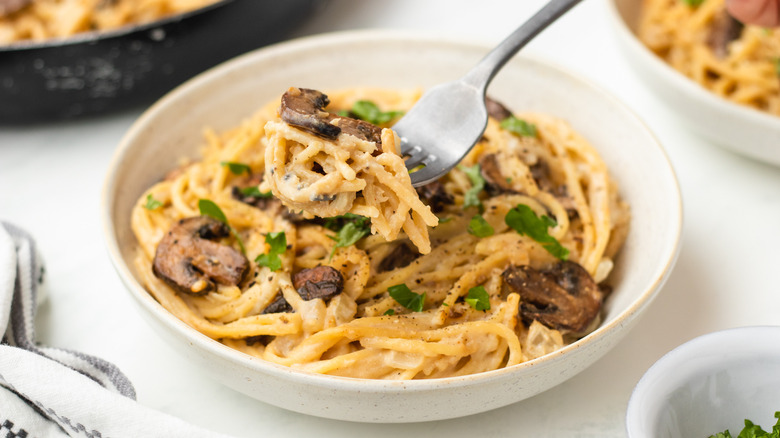 Catherine Brookes/Mashed
One of the classic pasta dishes of Italy is carbonara. No one knows for sure exactly how it came about, but it's believed that it first appeared in Rome around the time of World War II as a filling way to combine American breakfast foods and Italian pasta. What we do know is this: Traditional carbonara involves guanciale (AKA pork jowl), eggs (not cream, as some may mistakenly think), and Pecorino Romano cheese. Obviously, none of those are vegan, so how do we go from a dish chock-full of meat and dairy to one that's entirely plant-based? 
Here, cremini mushrooms provide meaty heft, while umami-packed flavor superstars like soy sauce, miso, nutritional yeast, mustard powder, and smoked paprika unite to make this pasta rich and savory. "The combination of ingredients in the creamy sauce gives a really delicious depth of umami flavor," says Catherine Brookes, who developed this recipe for vegan mushroom carbonara.
Get your mushroom carbonara ingredients together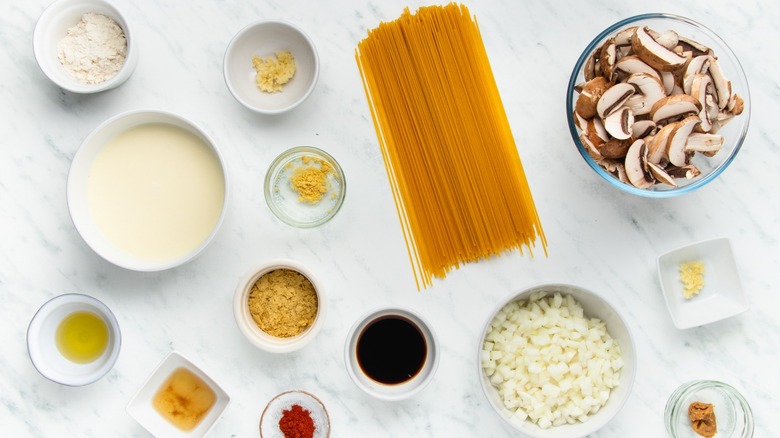 Catherine Brookes/Mashed
Obviously you'll need mushrooms for this recipe — cremini mushrooms, to be exact, plus spaghetti, nutritional yeast, soy sauce, miso paste, apple cider vinegar, smoked paprika, minced garlic, diced onion, all-purpose flour, a plant-based milk like soy, mustard powder, olive oil, and salt and pepper. Grab some fresh parsley as well if you'd like to use it for garnishing. As for substitutions, "white mushrooms would also work well here," Brookes says, and she notes that if you don't have mustard powder, you can substitute Dijon or yellow mustard.
Cook the seasoned mushrooms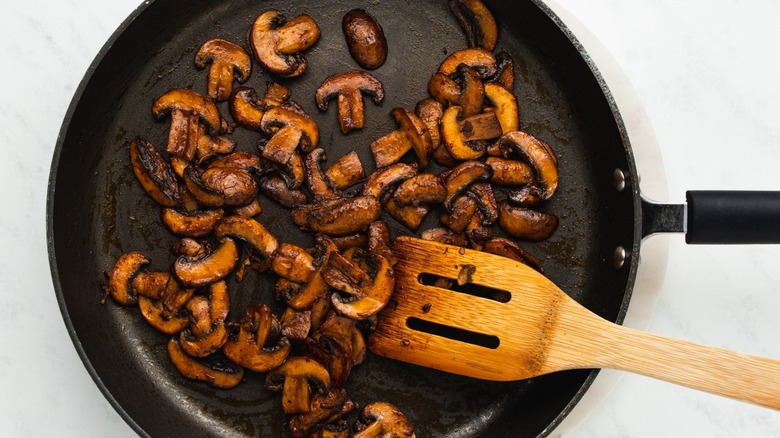 Catherine Brookes/Mashed
Start with the mushrooms. After you slice them up, coat them in a mixture of smoked paprika, minced garlic, soy sauce, apple cider vinegar, and olive oil. Then, sauté them in a skillet over medium-high heat until they're nice and browned.
Make the pasta and sauce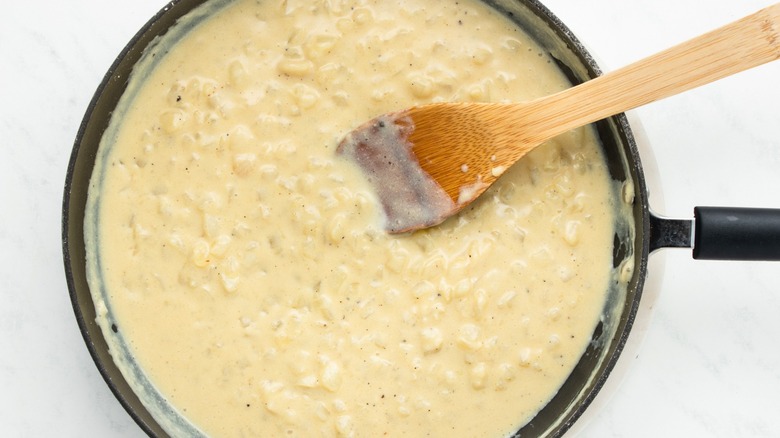 Catherine Brookes/Mashed
Boil some salted water and cook your spaghetti until it's al dente. Meanwhile, prepare the sauce: Put some more oil in the pan you cooked the mushrooms in, then sauté the diced onion until soft, followed by the minced garlic. Sprinkle flour over everything, give it a stir, and mix in the soy milk, miso paste, mustard powder, and nutritional yeast. After that simmers and thickens, add the pasta and mushrooms back to the pan (plus some pasta water, if your sauce needs extra silkiness).
Combine, garnish, and serve your mushroom carbonara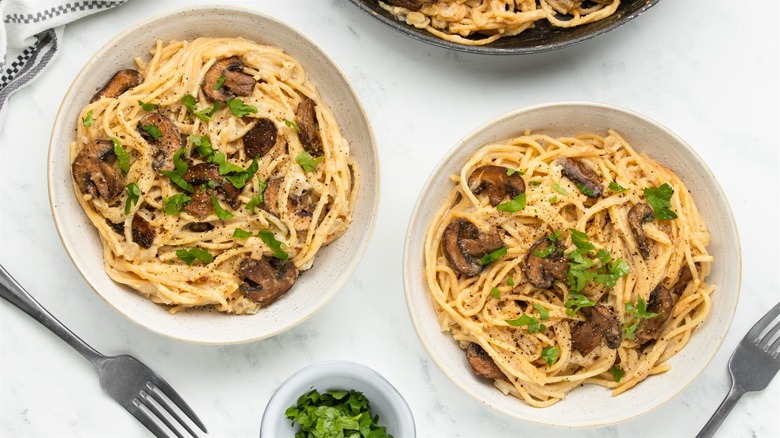 Catherine Brookes/Mashed
Now that you've whipped up a steaming pan of vegan mushroom carbonara, all that's left to do is plate it up and garnish with some chopped parsley and freshly ground pepper. It may not be traditional, but it sure is tasty, and you can confidently serve it to all your friends whether they're vegan, vegetarian, or eat pretty much whatever's in front of them. "This is best served right away but can be stored for up to 2 days in the fridge if necessary," Brookes says. "To reheat, place the pasta in a bowl with 2 tablespoons of water, cover, and microwave until piping hot."
Vegan Mushroom Carbonara Recipe
Mushrooms, miso, and soy sauce stand in for savory guanciale in this creamy, deeply satisfying vegan version of carbonara.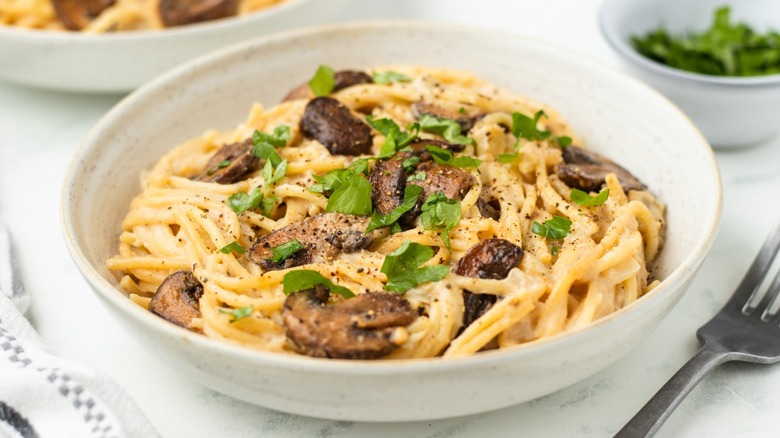 Ingredients
2 tablespoons soy sauce
2 teaspoons apple cider vinegar
4 cloves minced garlic, divided
2 tablespoons olive oil, divided
½ teaspoon smoked paprika
10 ounces cremini mushrooms, sliced
8 ounces spaghetti
1 onion, finely diced
3 tablespoons all-purpose flour
1 cup plant-based milk, such as soy
2 tablespoons nutritional yeast
1 teaspoon miso paste
½ teaspoon mustard powder
Salt and pepper, to taste
Optional Ingredients
Fresh chopped parsley, for garnish
Directions
Bring a pot of salted water to boil.
In a large bowl, mix together the soy sauce, apple cider vinegar, 1 clove garlic, 1 tablespoon olive oil, and smoked paprika.
Add the sliced mushrooms and mix well to coat.
Heat up a large frying pan over medium-high heat. Add the mushrooms and fry until browned, about 6-8 minutes. Remove from the pan and set aside.
Cook the spaghetti in the boiling water until al dente according to package instructions.
Meanwhile, add the remaining oil to the pan you used for the mushrooms and reduce the heat to medium. Add the onion and fry until softened, about 6-8 minutes. Add the remaining garlic and fry for another minute, stirring constantly.
Sprinkle the flour over the onion mixture, stirring to coat.
Add the soy milk, nutritional yeast, miso paste, and mustard powder to the pan. Stir well, bring to a boil, and simmer for about 5 minutes until thickened. Season to taste with salt and pepper.
Add the cooked pasta and mushrooms to the sauce, tossing to coat.
Taste for seasoning, garnish with fresh chopped parsley if desired, and serve hot.
Nutrition
| | |
| --- | --- |
| Calories per Serving | 754 |
| Total Fat | 23.4 g |
| Saturated Fat | 3.3 g |
| Trans Fat | 0.0 g |
| Cholesterol | 0.0 mg |
| | |
| --- | --- |
| Total Carbohydrates | 95.7 g |
| Dietary Fiber | 13.0 g |
| Total Sugars | 10.9 g |
| Sodium | 750.7 mg |
| Protein | 43.0 g |