Lentil Salad With Tons Of Fresh Herbs Recipe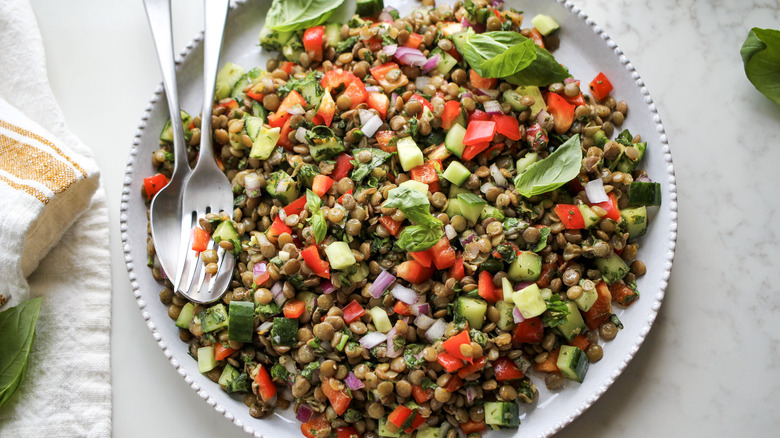 Feta Topalu/Mashed
Recipe developer Feta Topalu brings us this recipe for a vegan-friendly lentil salad with tons of fresh herbs. Bursting with the goodness of earthy lentils and an abundance of aromatic mix-ins, this recipe is a true ode to nutritious freshness. "For me, this lentil salad is a wonderful snack throughout the day between breakfast and lunch or between lunch and dinner," Topalu tells us. "Once it's made, it's in the refrigerator ready to go when I need a snack before my next meal. It can also be served as a side salad along with any meal, such as a whole roast chicken or fish."
In this approachable weekday recipe, humble lentils are elevated to new heights as they mingle harmoniously with a kaleidoscope of fragrant herbs, crunchy veggies, and a sweet orange dressing. Though it's easy enough to make for your own at-home snacking, its vibrant colors are impressive enough to present at a gathering. With each forkful, you'll discover that wholesome, protein-packed lentils make a perfect match with the lively, invigorating notes of mint, parsley, and basil.
Gather your lentil salad with tons of fresh herbs ingredients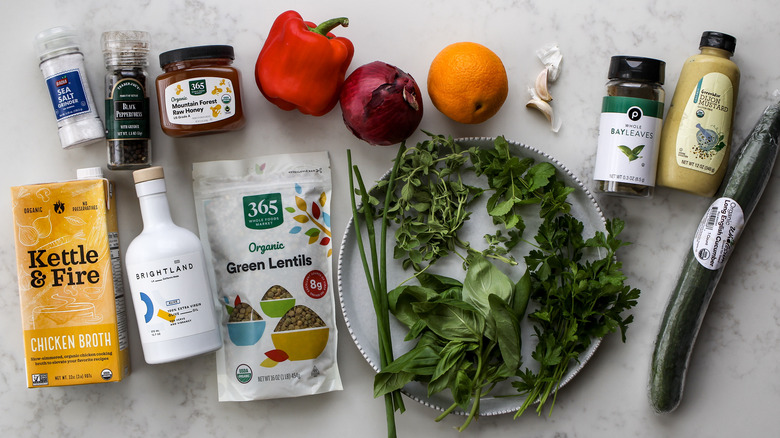 Feta Topalu/Mashed
The main ingredients in this salad are green lentils — cooked with bay leaf and chicken broth — and veggies including chopped red bell pepper, cucumber, and red onion. The sweet-smelling dressing comes together with olive oil, orange juice and zest, honey, Dijon mustard, salt, and pepper, while parsley, basil, oregano, mint, green onions, and garlic make up the mighty medley of aromatic ingredients.
Heads up: Don't assume that you can substitute other varieties of lentils for the green ones called for in this recipe. Topalu advises, "Green lentils are best to make with this salad because of their sturdiness after being cooked. Other varieties can get mushy, especially when tossed together with dressing and other ingredients."
Cook the green lentils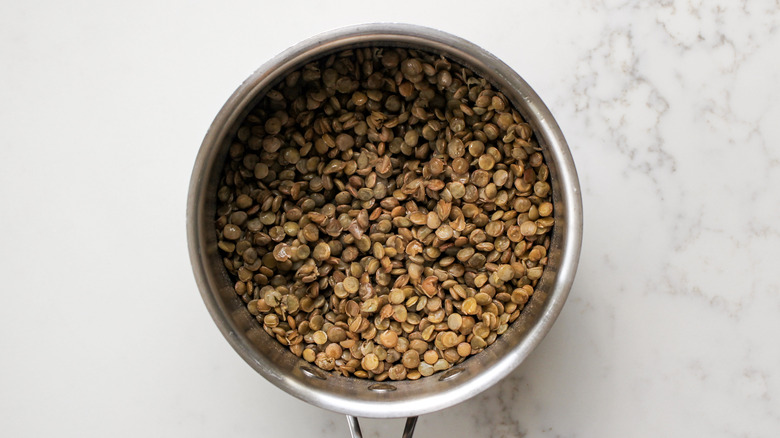 Feta Topalu/Mashed
In a small saucepan, add the lentils and the bay leaf. Cover the lentils with chicken broth by about 1 ½ inches, and bring this mixture to a boil. Once boiling, reduce the heat to a simmer and cover with a lid, simmering the lentils for about 18-20 minutes. Once the time is up, drain off the excess liquid and remove the bay leaf.
Cooking lentils with broth is a fantastic way to infuse them with extra flavor and depth. It not only adds a delicious taste but also helps create a base that can be further built upon for a variety of culinary creations, from soups to daals. 
Whisk up the orange-Dijon dressing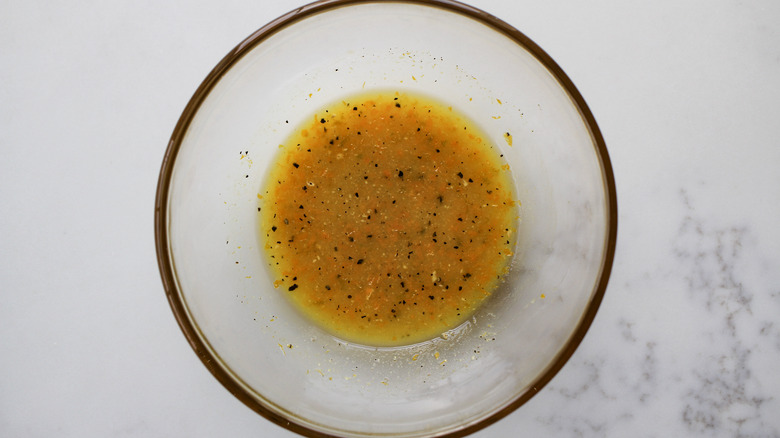 Feta Topalu/Mashed
In a small bowl, add the orange zest, orange juice, honey, Dijon mustard, salt, and pepper. Use a whisk to combine the dressing into a smooth, emulsified sauce.
While you may be surprised to see orange juice and Dijon mustard listed as ingredients for this dressing, don't worry: It's a delicious combination. "This dressing is not your typical lemon-based dressing," Topalu says, explaining that the use of orange "adds fresh zingy-ness but also sweetness."
Toss the dressing with the salad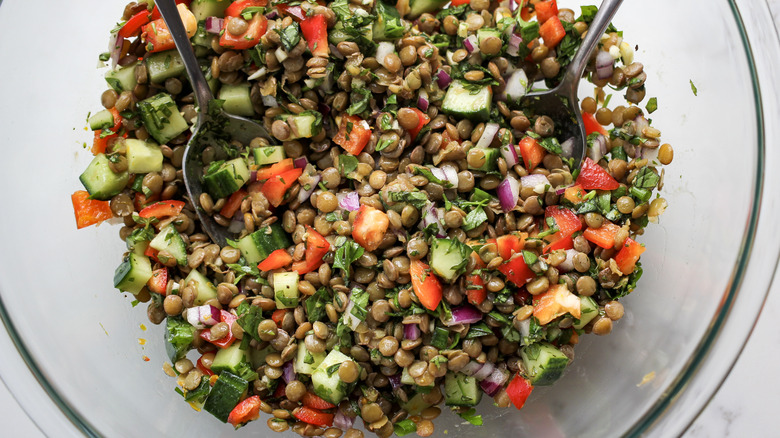 Feta Topalu/Mashed
Almost done. Grab a large bowl and throw in the cooked green lentils, chopped vegetables, all of the herbs, and the green onions and garlic. Pour the dressing over the salad and drizzle the olive oil on top. Finally, give the salad a thorough toss before serving.
Because this salad doesn't contain any lettuce, this dish makes for an excellent meal prep option. Proper storage is crucial to maintaining the quality and safety of your prepared meals, though, so be sure to keep this in an airtight container in the fridge for up to 3 days only.
Lentil Salad With Tons Of Fresh Herbs Recipe
Full of crunch and color, this herbaceous lentil salad is meal prep-friendly and anything but a sad desk lunch.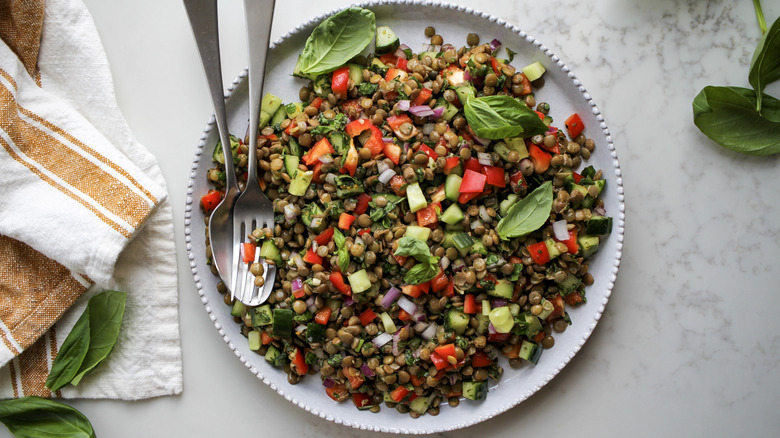 Ingredients
1 cup dry green lentils, rinsed
1 bay leaf
2 ½ cups chicken broth
3 tablespoons orange juice
1 teaspoon orange zest
2 teaspoons honey
1 teaspoon Dijon mustard
½ teaspoon kosher salt
¼ teaspoon freshly cracked black pepper
1 cup diced red bell pepper
1 cup diced English cucumber
½ cup diced red onion
¼ cup chopped fresh parsley
¼ cup chopped fresh basil
2 tablespoons chopped fresh oregano
2 tablespoons chopped fresh mint
3 green onions, sliced
2 cloves garlic, minced
2 tablespoons extra virgin olive oil, plus more if desired
Directions
Place the green lentils and bay leaf into a small saucepan. Pour the chicken broth over the lentils so they are covered by about 1½ inches of liquid.
Bring the broth to a boil, then cover and reduce the heat to low. Cook the lentils for 18-20 minutes until tender. Drain any excess broth, discard the bay leaf, and set the lentils aside.
In a small bowl, whisk together the orange juice, orange zest, honey, Dijon mustard, salt, and pepper. Set aside.
In a large bowl, combine the cooked lentils, bell pepper, cucumber, red onion, parsley, basil, oregano, mint, green onions, and garlic.
Pour the dressing over the salad and drizzle in the olive oil. Toss to combine, and serve.
Nutrition
| | |
| --- | --- |
| Calories per Serving | 268 |
| Total Fat | 7.6 g |
| Saturated Fat | 1.3 g |
| Trans Fat | 0.0 g |
| Cholesterol | 3.6 mg |
| | |
| --- | --- |
| Total Carbohydrates | 38.5 g |
| Dietary Fiber | 6.3 g |
| Total Sugars | 8.3 g |
| Sodium | 380.1 mg |
| Protein | 13.8 g |