We Love Aldi, But Its Meat Selection Could Use A Glow-Up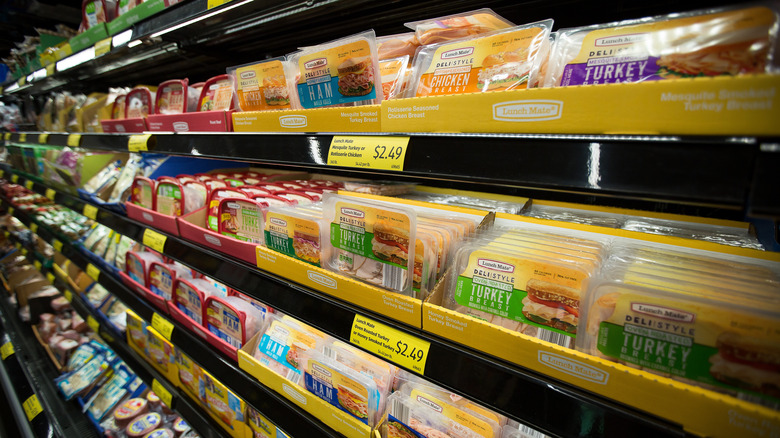 Bloomberg/Getty Images
There's a lot to love about Aldi, its price being one of them. But, with such good deals comes a tad of disappointment for consumers hoping for a one-stop shop; unfortunately, the meat selection is seriously lacking. Unlike the majority of grocery stores, Aldi doesn't have a deli counter, eliminating the potential for custom-cut sandwich meat. 
Furthermore, its affordability doesn't always translate to high quality. When a shopper posed a question on Reddit regarding other's opinions of Aldi meat, the responses were hit-or-miss. According to one user, the meat sold at the store would "make Gordon Ramsay sad." Another described their experience with the meat as "so-so," and others said it depends on the type of meat purchased. "[I've had] no issues generally, except for [with] ground turkey," one user wrote. Most would say you should never buy meat from Aldi. However, if you're willing to roll the dice for the low price point, you'll probably be able to make do with what it offers.
Wednesday is the best day to score meat deals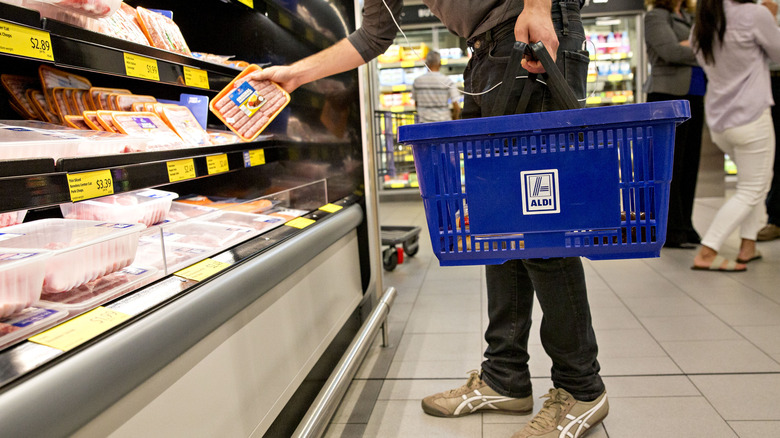 Bloomberg/Getty Images
When shopping at Aldi, you won't get the pleasure of selecting meat from a butcher. Nonetheless, the refrigerator and freezer are always stocked with meat to get you by. Resembling the selection you might find at Kroger or Food City, the refrigerated section of the store includes duck, beef, chicken, pork, turkey, and fish. Along with the deli meat that's absent from a specialty counter, you can buy these products in several mediums. Although not a comprehensive list, turkey is sold in whole and ground varieties, beef comes in steaks and patties, and chicken can be bought in breasts, thighs, and wings. Additionally, pork can be purchased in fan-favorite formats such as ham, sausage, and bacon.
If you're in the market for additional savings, you can hit up the store's "Fresh Meat Special Buy." These extremely discounted specials are only offered once a week and tend to go as quickly as they come each Wednesday. Apparently, the private-label market always uses this sale day to discount the highest quality meats. Just keep in mind the possibility that Aldi's high quality may not be the same as your other favorite grocery store.