Halloumi Burgers Are The Vegetarian Sandwich You Should Grill This Summer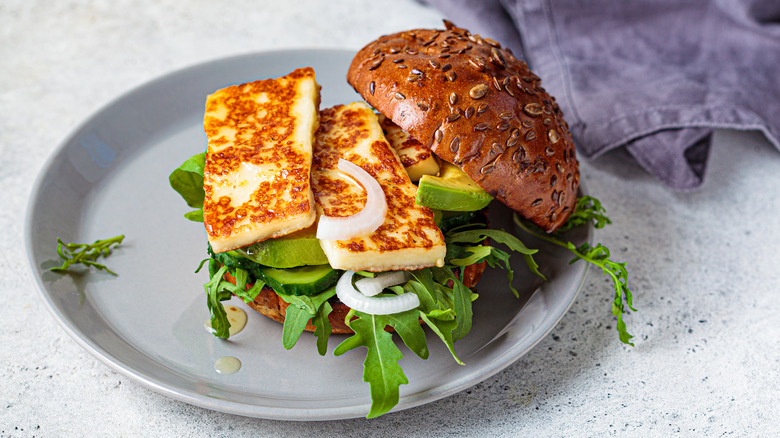 Nina Firsova/Shutterstock
If you're trying to cut down on meat but still want the summery pleasure of grilling a burger, there's a savory, satisfying, and vegetarian burger you need in your life: the halloumi burger. Instead of a ground meat patty, a few slices of halloumi give a whole new meaning to the word cheeseburger. Halloumi is a firm white cheese made from goat or sheep milk with roots in the Mediterranean — and it's ideal for the grill. 
Unlike many cheeses, halloumi doesn't melt when it hits a hot pan or grill, thanks to a high melting point. That means it can be pan-fried and grilled in slabs without losing its tender but firm texture. (You can even grate the cheese, and treat it like ground beef, forming it into patties you can fry up in a pan, but this step isn't necessary.) Any way you cook it, you'll end up with a burger substitute that gives you some meatiness lacking in other vegetarian substitutes such as lentil and garbanzo bean patties. And just like a meat burger, you can season, marinate, and customize the flavors of the halloumi. Add the slices of grilled cheese onto a brioche bun with some condiments and your favorite veggies, and you've got a burger that requires almost no cook or prep time and works perfectly for meatless Mondays. 
It's all about the sear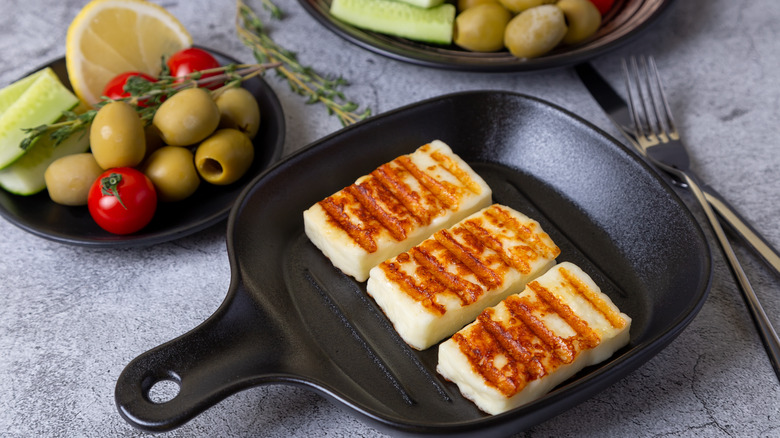 tasha_lyubina/Shutterstock
You can find halloumi in many grocery stores; it comes pre-sliced or as a small brick, and either type works fine for this recipe. If you buy the brick, slice the halloumi into even 1/3-inch to 1/2-inch slices. The cheese won't shrink much during cooking, so slice it to the approximate size you want the actual burger. Halloumi is naturally salty, but you may want to season it with a spice mix and a pinch of pepper and give it a brush with some olive oil. Halloumi is also well suited to marinades — just let it rest in olive oil and herbs before grilling. 
The key to making your halloumi so good you won't miss the traditional grilled burger is to give it a golden sear. Place your pre-seasoned halloumi on the grill of a pre-heated, piping-hot barbecue. You only need to let the halloumi cook for about a minute on each side. Once you see golden crispy grill marks on each side, your halloumi is ready for the bun. It should be tender, because the inside softens nicely, but not runny.
You can experiment with different kinds of barbecue sauce or a lighter chili glaze to keep from overwhelming the halloumi's flavors. To keep in line with Halloumi's Mediterranean origins, tomato, arugula, cucumbers, and dill would make a great addition. Or add some depth with a portobello, and try out a 15-minute mushroom and halloumi burger that is perfect for weeknight dinners.