Sweet Chili Sauce Recipe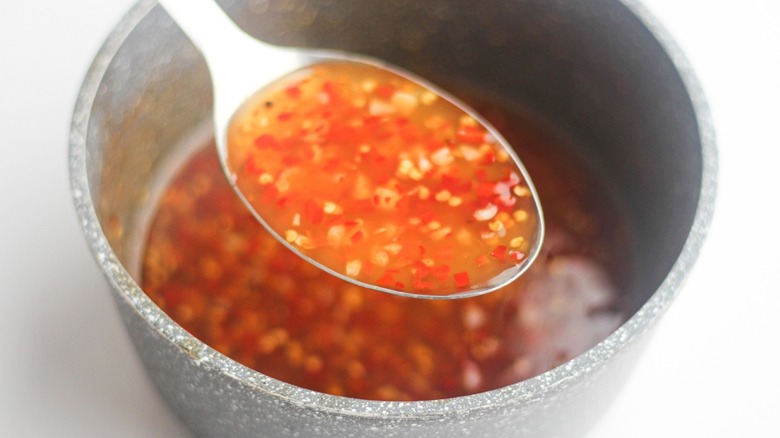 Susan Olayinka/Mashed
We love a sweet sauce. We love a little something spicy. But when the two flavors come together, it's absolutely perfect. That's why we love sweet chili sauce so much: It really is the best of both worlds. While you can always buy it at your local grocery store or Asian market, you may not have realized that you can easily make it at home.
One great thing about making this sauce in your own kitchen, besides the fact that it's bound to be much cheaper than buying a store-bought version, is that you can customize it to suit your own tastes. Recipe developer Susan Olayinka, who blogs at The Flexible Fridge, enjoys her food on the spicy side, but she also likes her sauce pretty sweet, and this recipe calls for quite a bit of sugar. If you prefer your food to be less sweet and/or you're looking to cut down on the calories and carbs, you can feel free to reduce the sugar. Likewise, you can either add or subtract to the red pepper to adjust the heat level to your preference.
Now, let's take a closer look at how to make this delicious sweet chili sauce.
Check your pantry for the necessary ingredients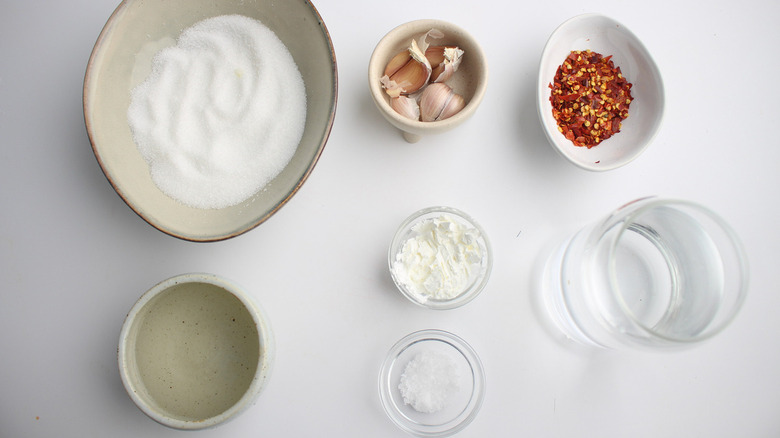 Susan Olayinka/Mashed
While some versions of sweet chili sauce make use of flavoring ingredients such as fish sauce or sherry, Olayinka went with a simple, straightforward approach for this quick, easy recipe. All you'll need to make it are a few cloves of garlic, some sugar, crushed red pepper flakes (no need for anything too out of the ordinary here — the kind you sprinkle on pizza will work just fine), and rice vinegar. Oh, and you'll need a little bit of cornstarch that you'll use to thicken up the sauce as it's cooking.
Prepare the garlic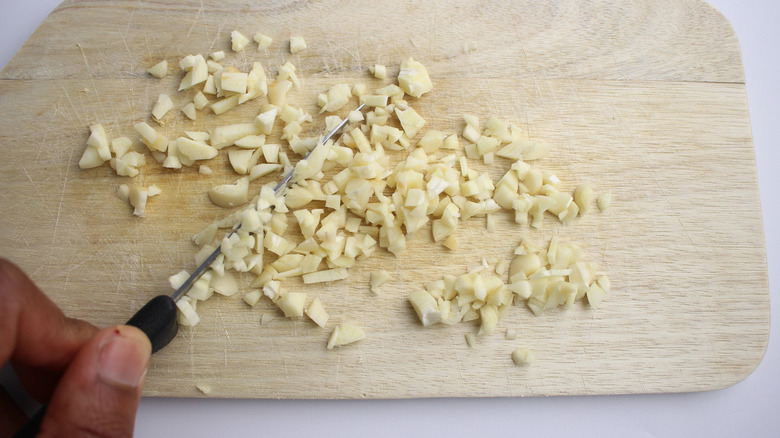 Susan Olayinka/Mashed
There's only a tiny bit of prep work involved with this recipe, and it all revolves around the garlic. You'll first need to separate the cloves you need, then give each one a whack with the flat side of a knife. The skins will slip right off after that. Next, trim off the tips, then slice the smashed garlic into thin strips. Finally, mince the garlic strips as finely as you can. As Olayinka says, "Mince the garlic into small pieces."
While we're all about the advance prep work, in this case, it's best to mince the garlic right before you use it. That way, it won't lose any of its potency.
The sauce won't take much time to cook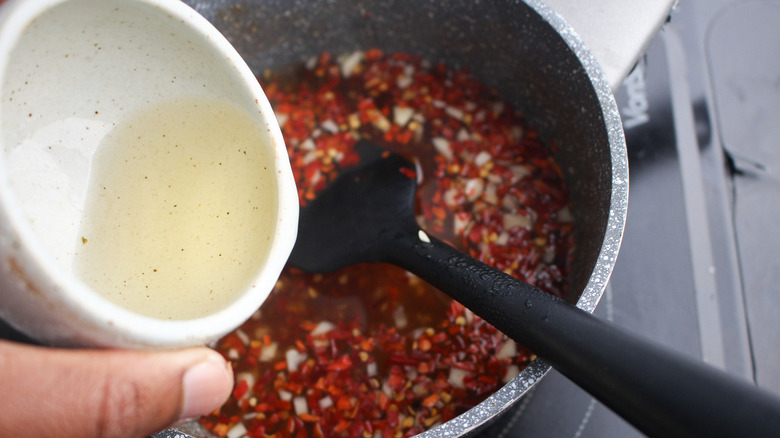 Susan Olayinka/Mashed
Scoop your minced garlic into a saucepan and add the sugar, red pepper, and vinegar. Stir in two cups of water and a teaspoon of salt, then bring the mixture to a boil over medium-high heat. Allow it to boil for five minutes, watching and stirring occasionally to make sure it doesn't stick, scorch, or boil over.
After the sauce has cooked for five minutes, mix the cornstarch with a tablespoon of water. Stir this slurry into the sauce, then cook it for three more minutes until it's thickened up to your desired consistency. At this point, Olayinka tells us, "It's ready to serve."
Experiment with new ways to use this sauce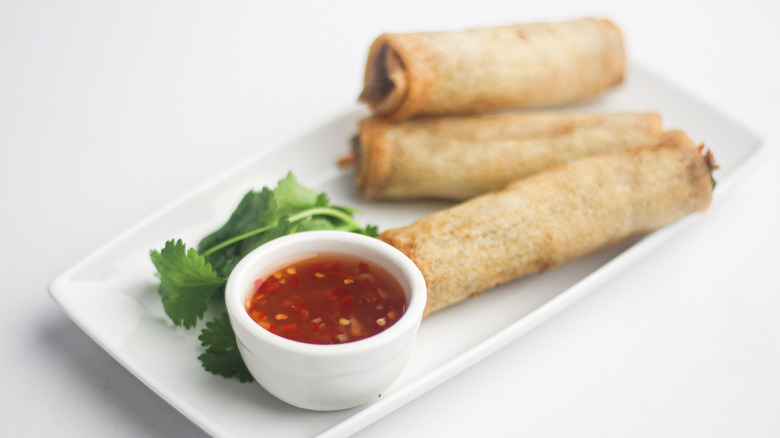 Susan Olayinka/Mashed
While sweet chili sauce is an Asian condiment, you don't have to stick to using it for Asian foods alone. Sure, it makes a great dipping sauce for spring rolls and makes a tasty topping for noodles. You could also use it to marinate or baste roast pork or chicken or as a sauce for chicken wings. It also goes great with fish and shrimp, or you could mix it into cream cheese to make a dip.
If you keep this sweet chili sauce in an airtight container and store it in your fridge, it should be good for a month or so.
Sweet Chili Sauce Recipe
We love a sweet sauce. We love a little something spicy. But when the two flavors come together, it's absolutely perfect.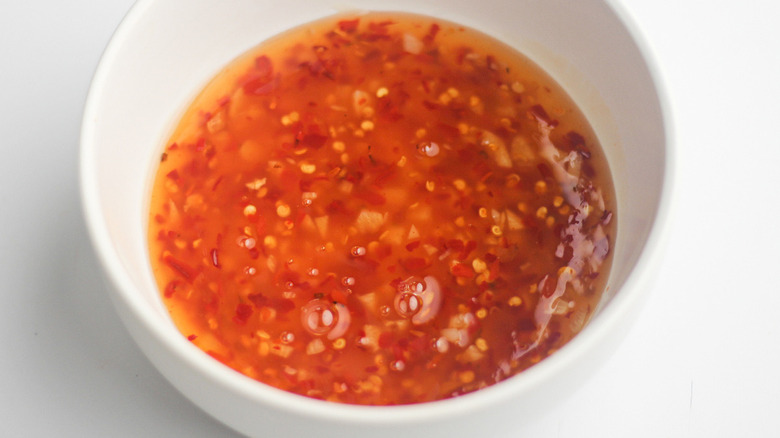 Ingredients
6 cloves garlic
½ cup sugar
2 ½ tablespoons crushed red pepper
¼ cup rice wine vinegar
1 teaspoon salt
1 tablespoon cornstarch
Directions
Peel and mince the garlic.
Combine garlic, sugar, red pepper, and vinegar in a saucepan with 2 cups water and 1 teaspoon salt.
Bring the sauce to a boil over medium-high, then cook for 5 minutes.
Mix the cornstarch with 1 tablespoon water until it forms a slurry, then stir into the sauce.
Cook the sauce for 3 more minutes until it thickens up.
Serve with dish of your choice.
Nutrition
| | |
| --- | --- |
| Calories per Serving | 249 |
| Total Fat | 1.2 g |
| Saturated Fat | 0.2 g |
| Trans Fat | 0.0 g |
| Cholesterol | 0.0 mg |
| | |
| --- | --- |
| Total Carbohydrates | 60.4 g |
| Dietary Fiber | 2.0 g |
| Total Sugars | 50.7 g |
| Sodium | 231.1 mg |
| Protein | 1.4 g |