Leftover Party Dips Shine As Unconventional Burger Toppings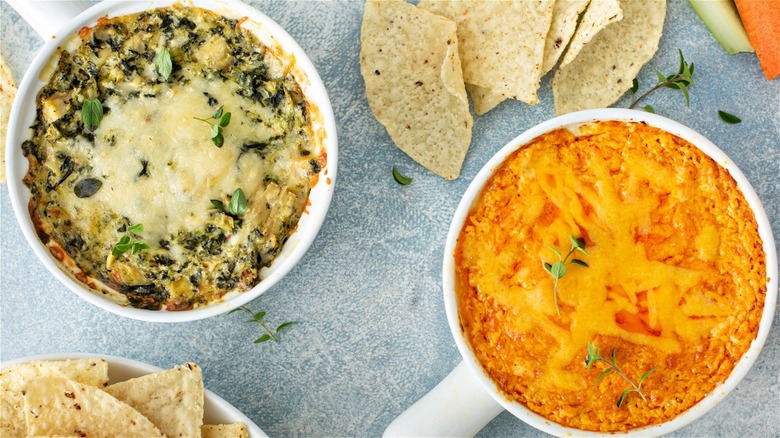 Elena Veselova/Shutterstock
Whether it's for Super Bowl Sunday or a Friday family game night, chips and dip are a must. Buying more than one flavor of dip is also pretty important, even if you're only expecting a few guests. Who doesn't like variety? Problem is, the more dips you have, the more likely you are to have leftovers sit in your fridge for weeks or even months. If you're a chips-and-dip lover, you hate to see those flavorful sauces go to waste. Luckily, there's more you can do with leftover party dips than just dunk chips in them.
Many dips have the same consistency as the condiments you add to your burgers, so why not use the dips themselves on your burger? Think of all the possibilities. The cheesy spinach dip, the spinach artichoke dip, the bean dip, the buffalo-style chicken dip, and of course, the nacho cheese and Tex-Mex dips. Depending on what other ingredients you have in your fridge that could complement the dip flavor, you can really go to town with the type of burger you create. Or, you can use the dip in lieu of those other ingredients.
Why dips make great burger condiments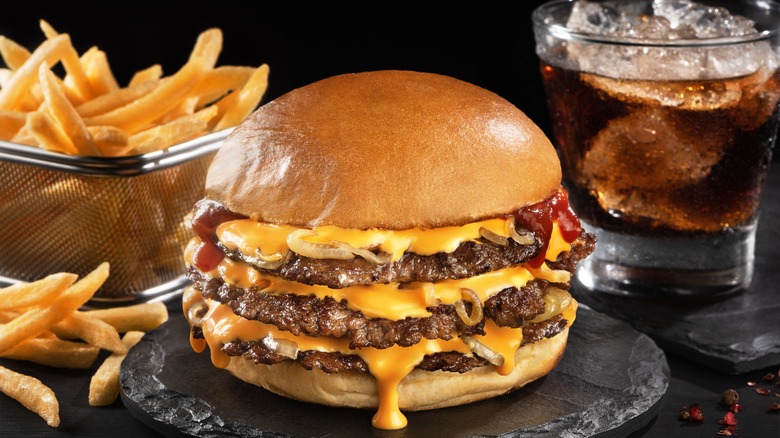 Paulo PFZ STUDIO/Shutterstock
A burger without toppings feels so incomplete. Bland. Naked. Plain. Boring. You get the idea. Adding a creamy condiment or crunchy topping can give a burger some added flavor and texture at the same time. Cheese, lettuce, and ketchup snatched the top three spots for the most popular burger toppings/condiments in America, according to YouGov.
Now enter chip dips. Many chip dips include cheese and veggies, so by spreading it on your burger, you can add multiple flavors and textures without having to add separate ingredients like cheese and lettuce. If you like greens and cheese in your burger, you'll probably like a cheesy spinach dip condiment. If you prefer pickles instead, try a dill dip. Love onions? Get the onion dip. Tomato fan? Pour some salsa on your patty. Cheeseaholic? Spread some of that nacho cheese dip between the buns. And for a burger with a kick, try a jalapeno ranch dip.
Of course, you can still chop your onions, slice your pickles, gather your other veggies, and add them to your burger with or without the dip as a condiment. You could even layer your patties with fresh vegetables and a different dip between each one. But, it's nice knowing you don't have to if you're in a rush and have the right dips in your fridge.