The Costco Australia Sponge Cake We Wish Would Come To The US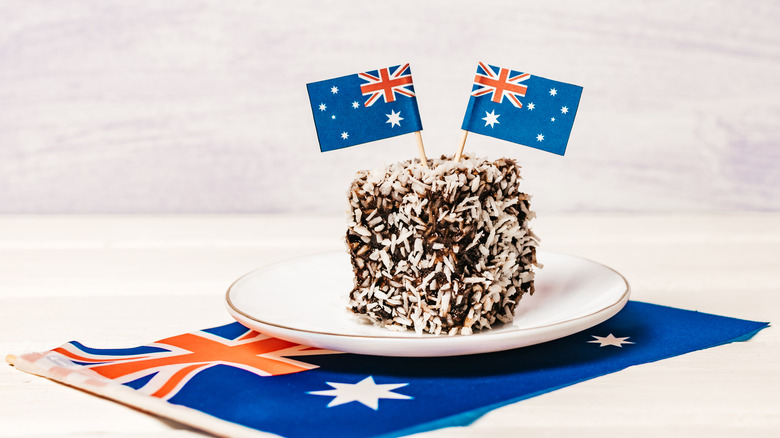 Maya Afzaal/Shutterstock
For over a century, Australia's national cake has been enjoyed by dessert lovers everywhere, from high-profile Queensland lords to countries all the way in the U.K. Even with its murky origins, the Lamington cake has still cemented itself as an enduring Aussie classic. It combines the crunchy texture of coconut flakes with a melt-in-your-mouth dark chocolate flavor, all packed into a soft sponge cake that sometimes has a fruity jam center. This will sound pretty dreamy to some, especially for fans of coconut and chocolate combos like Mounds or Almond Joy. Those searching for Lamington cakes in Australia don't have to look too hard to satisfy their craving, especially if they're a Costco shopper.
Besides Costco Australia's unique food court items, we're also a little jealous that it's got Lamingtons. This isn't the first time these Down Under delicacies have been in stock at the bulk retailer, either. Australian Costco members spotted them last year in the bakery section under the chain's in-house Kirkland Signature brand. We're not sure if the store stocks up specifically in the summertime in celebration of National Lamington Day on July 21, but it always seems to be a delicious surprise when Aussies discover them in all their glory. The best part is that Costco Australia's Lamington cakes come in bite-sized portions, making them perfectly snackable without the need to slice through a whole cake.
Australia's Costco bakery sells freshly-made Lamingtons in packs of 16
This is one of those classic Australian foods you need to try, and the fact that its national cake is sold in containers of 16 makes it so that even more people can try a bite for themselves. Discovering these pillowy, chocolate-dipped sponge cakes from Kirkland Signature has some U.S. Costco shoppers on Reddit wishing there were international sections at their stores so they could indulge in Lamingtons, too. "We have quite a few Kirkland and other brands from North America in our Costco," says one Redditor from Australia, "so if it works in one direction, there's no reason why it wouldn't work in the other direction." Other commenters chime in that they'd like to try them too, and some who haven't had a Lamington cake in a while are reflecting on their memorable last bites paired with a steamy cup of Assam tea.
In truth, you don't even have to be a master baker to make Australian Lamington cakes at home. All it takes is an extra moist butter cake recipe, icing made with cocoa powder and butter, and some dried shredded coconut to roll your cakes in. For those who would instead snack on the real deal until international foods become more of a thing at U.S. Costco chains, we can only speculate about how good these little morsels must taste.