Walmart Sells A Massive Amount Of Rotisserie Chickens Per Minute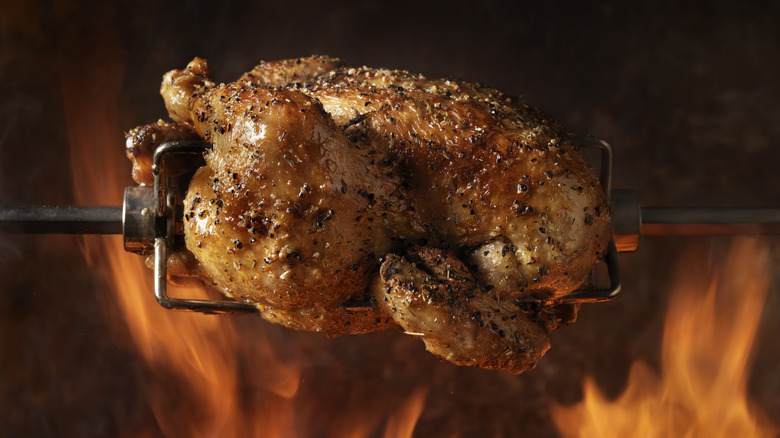 Lauripatterson/Getty Images
Walmart boasts over 4,600 stores throughout the United States, so it comes as no surprise that it's able to sell a massive amount of products in a short period of time. One of these high-ticket items is its rotisserie chicken — according to an infograph sent to Mashed, the store sells 103 of them per minute. This information incorporates both of the supermarket's flavors: traditional rotisserie chicken and lemon pepper chicken.
Spending habits vary from state to state, with Florida and California preferring lemon pepper chicken over the traditional variety. Of the 50 states, residents of California, Arizona, Texas, Oklahoma, Arkansas, Tennessee, North Carolina, Alabama, Georgia, and Florida purchase the most rotisserie chickens.
Walmart's rotisserie chicken is available from 10 a.m. to 6 p.m. daily, and each bird typically costs between $3.50 and $4.99 each. These chickens aren't huge — they weigh about 1.3 pounds, but their massive popularity probably stems from their convenience and their relatively low price point.
Walmart's rotisserie chicken often ranks lower than its competition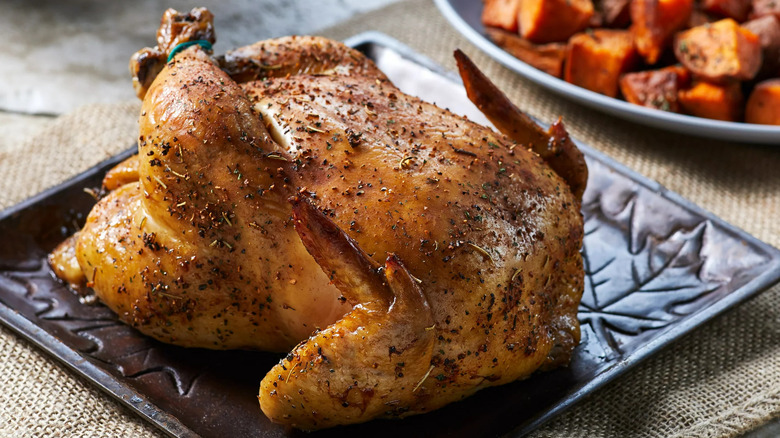 Walmart
Despite their massive selling potential, Walmart's rotisserie chicken isn't beloved by everyone. In a survey conducted by Mashed detailing which grocery store has the worst rotisserie chicken, Walmart came out on top, though not in a good way. When compared to Kroger, Costco, ShopRite, and Whole Foods, Walmart racked up 36.77% of votes in the wrong direction.
It also ranked last in a Business Insider taste test pitting the chain against Kroger and Meijer. "Walmart's chicken literally fell apart into its pool of juices when I tried to take it out of the bag," the report read. However, they're popular for a reason, and several Reddit users backed that up. "It's actually very tasty!" wrote one commenter. Another person agreed, though admitted the meat was "a bit dry." One Reddit user shared a half-positive, half-negative review of the chicken: "They're tasty, but whatever they inject them with to get that smoky flavor all the way through gives me terrible heartburn." But for the crowds that purchase 103 rotisserie chickens per minute, this doesn't seem to matter.