Starbucks Iced Pumpkin Cream Chai Tea Latte Review: Fall Is Creamy And Dreamy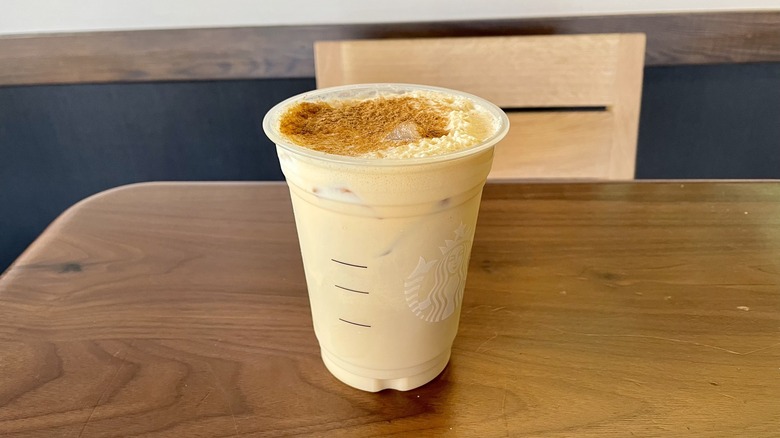 Helena Nichols/Mashed
Love it or hate it, pumpkin spice season is back. Each year it seems to creep in earlier, so it isn't too surprising that Starbucks' new pumpkin drink is iced this year. That way, consumers can sip their pumpkin even in the heat.
Starbucks is really the keystone of the whole pumpkin spice season. One could even say it is responsible for making pumpkin spice the massive cultural pillar it has become. The company first premiered its pumpkin spice latte in 2003. Although pumpkin spice was around before then, it did not have its own season. These days, people wait with bated breath for the release of fall menus everywhere just to get a taste of the orange nectar.
Starting in 2019, Starbucks expanded its offerings beyond its original pumpkin spice latte. While it is undoubtedly still on the menu, other items have come along, such as the pumpkin cream cold brew. Now, Starbucks is releasing an iced pumpkin cream chai tea latte. Will this drink be sugar spice and everything nice, or will it fall flat like a pumpkin past its prime?
Spice spice baby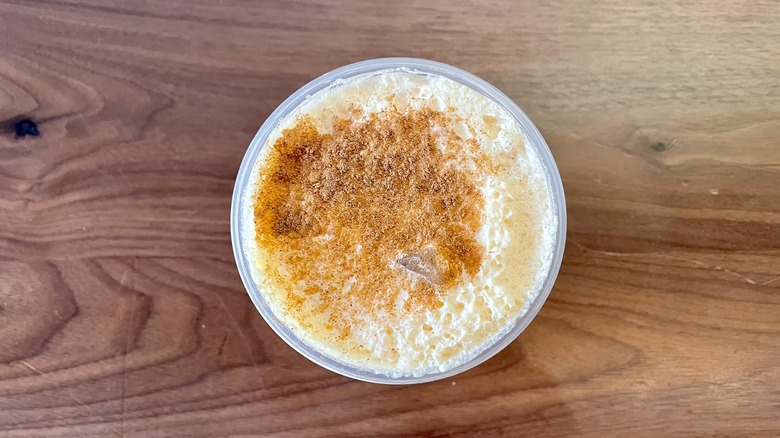 Helena Nichols/Mashed
The drink has three main components: The first is an iced chai latte, the second is pumpkin cream cold foam, and the third is a dusting of pumpkin spice. The chai latte is standard fare, while the pumpkin cream cold foam and pumpkin spice are seasonal additions. The spice topping consists of cinnamon, ginger, nutmeg, and cloves, and is a long-standing finishing touch to Starbucks' seasonal drinks. The pumpkin cream cold foam first appeared a few years ago in the pumpkin cream cold brew. It's made with a vanilla sweet cream base mixed with pumpkin spice sauce, which contains real pumpkin and not just the spice flavoring in its drink, unlike many competing products.
You may have noticed something about the ingredients, or more to the point, missing from the ingredients: coffee. That's right, there is no coffee in this latte. The base of this drink is an iced chai latte made with black tea and spices, which lends itself well to the pumpkin spice theme. Despite what some may think, a latte does not denote the presence of coffee. Latte simply means milk, and in this case, it is a milky spiced black tea. The chai spices are cardamom, black pepper, ginger, cinnamon, cloves, and star anise. Just like any latte, this one comes with a selection of milk options, but the standard order defaults to 2% dairy milk.
Only for spooky season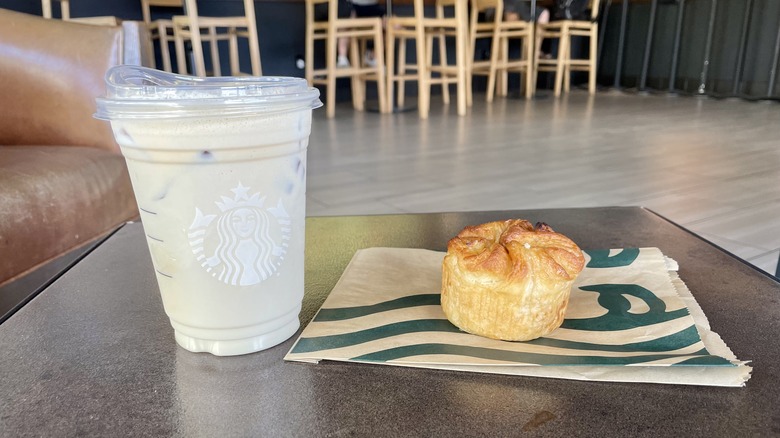 Helena Nichols/Mashed
This year, pumpkin spice is rolling out early. As of Thursday, August 24, Starbucks is bringing your favorite fall flavors back to stores. If you want a taste, you had better jump on it. All the fall drinks are only available while supplies last, including the iced pumpkin cream chai tea. That means once the syrups, sprinkles, and foams are gone, they won't be back until next year. 
Expect to pay around $5.95 for a grande, which is the default size on the Starbucks app. This is only about 50 cents more than a standard iced chai latte and the same price as the titular pumpkin spice latte. As with any Starbucks beverage, the price goes up around 70 cents for non-dairy milk, bringing the total to $6.65. For those hoping to save a little bit while still enjoying some fall flavor, Starbucks Reward members can bring a reusable cup to participating locations and get a small discount and 25 bonus stars. Meanwhile, nonmembers just receive the discount — either way, you save money and help the environment.
What makes this so special?
Helena Nichols/Mashed
The big question is whether this drink differs from other Starbucks offerings. The answer is twofold; first, you have to compare it to standard offerings. Starbucks offers an iced chai year-round, but it does not come with any kind of foam — though consumers are welcome to customize it and add some.
As a pumpkin spice drink, it sets itself apart in a few ways. Starbucks offers a pumpkin spice chai tea latte as a hot beverage. Although it does not appear as a featured release item, it has a page on the online menu. Aside from being hot, this latte consists of pumpkin spice syrup mixed right in with the chai. According to the barista at our local Starbucks, this means a grande has three pumps of chai concentrate and three pumps of pumpkin spice sauce. Having previously tried it, we can vouch for the fact that you definitely taste the sugar in all that syrup.
As for the official fall lineup, every other drink on the menu is made with coffee, such as a shot of espresso or cold brew. This is not entirely surprising considering Starbucks is a coffee company, after all. This does not make the drink better or worse than others; just don't order this iced pumpkin cream chai tea latte expecting coffee.
How does the nutrition stack up?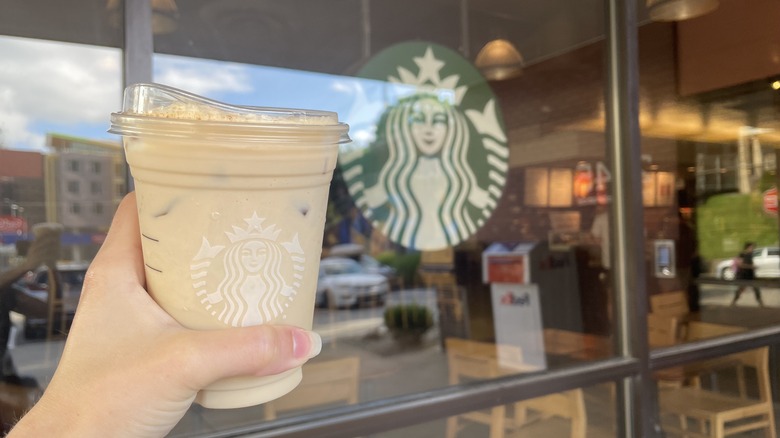 Helena Nichols/Mashed
There is no getting away from it — the iced pumpkin cream chai tea latte has a lot of sugar, 66 grams in a grande to be exact. This is notably more than the 50 grams you'll find in a pumpkin spice latte. The higher sugar content is likely due to the fact that the iced drink includes a chai syrup base, which contains around 40 grams of sugar. The pumpkin spice cream just tops it off.
Now, if you are worried about caffeine levels but still want a hit of pumpkin spice in your life, this could be a good option. The iced pumpkin cream chai tea latte has 95 milligrams of caffeine, which although existent, is lower than the 150 milligrams in a typical pumpkin spice latte. The caffeine in this drink comes from black tea, not coffee. On the flip side, if you miss the caffeine and want an extra shot, you can make the drink a dirty chai by adding an espresso shot. This will add 150 milligrams of caffeine for a total of 245 milligrams. This is relatively high, but still not at the level of a Starbucks blonde roast with 360 milligrams of caffeine.
Finally, we want to be clear that while you can order this drink with dairy-free milk, it cannot be made totally dairy-free. Both the base of the foam and the pumpkin spice sauce contain dairy.
Best pumpkin in the patch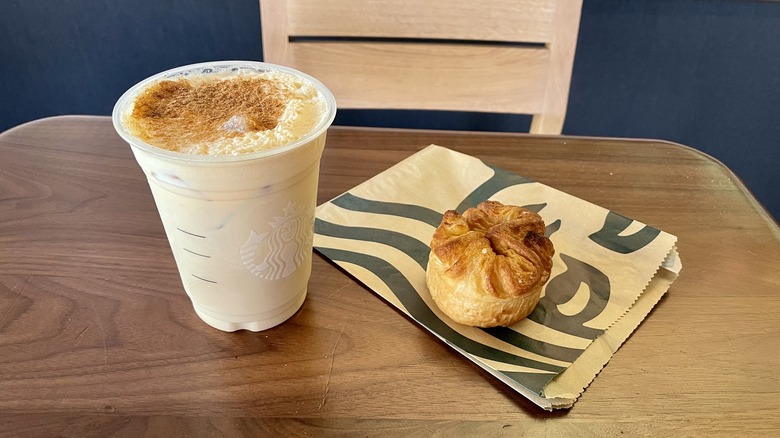 Helena Nichols/Mashed
We may have a new go-to fall drink. The iced pumpkin cream chai tea latte has everything we love about fall flavors in one delicious drink. The drink is nicely chilled, which we appreciated on the 80-degree day we tasted it. Even being a cold drink, the combination of chai and pumpkin spices gives the drink a warm, cozy feel.
You won't miss the coffee at all. When you get a non-coffee drink such as a cup of tea at a coffee shop, it is easy to wonder why you are paying so much for a tea bag and water. The iced pumpkin cream chai tea latte is truly a crafted beverage. It requires ingredients and tools most people do not have at home, justifying its price for the expertise of the baristas who perfect it.
The iced pumpkin cream chai tea latte is incredibly rich and creamy, with a heavy mouthfeel from the addition of the cold foam on top. The combination of the richness and spices gives it an eggnog-like feel. It is a luxurious drink packed with fall flavors, and we love that Starbucks includes real pumpkin in its pumpkin spice sauce. That key element prevents the iced pumpkin cream chai tea latte from just being an extra spiced chai latte and makes it a unique and satisfying cold beverage.