For State Fair Fun In Your Backyard, Make Funnel Cakes On The Grill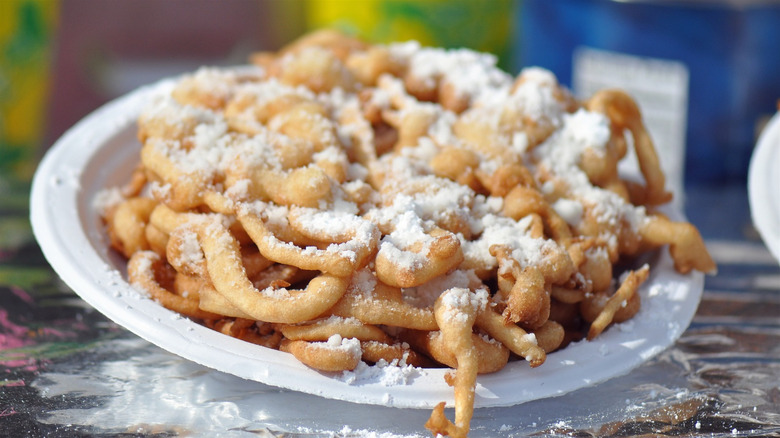 Eric Krouse/Shutterstock
State fairs are timeless extravaganzas that people from all walks of life enjoy. As celebrations of individual state cultures and Americana, state fairs are intersections of agriculture, livestock, farming, history, entertainment, and, most importantly, food. From gargantuan corn dogs to award-winning salsas, there's one quintessential state fair food — funnel cakes.
Knowing just how delicious funnel cakes are, it's easy to come down with a wicked case of FOMO when you can't get your hands on that sugar-dusted, deep-fried dessert central to the state fair experience. Fear not! You can make state-fair-quality funnel cakes right in your backyard.
One funnel cake foodie on TikTok fired up their backyard's flat-top grill and placed an aluminum baking tray filled with frying oil on its hot surface. Once the oil reached its ideal temperature, the funnel cake expert squirted a condiment bottle filled with batter into the hot oil, making circular patterns for a state fair-inspired funnel cake topped with powdered sugar. To make the batter, the TikTok creator says they combined milk, eggs, vanilla extract, sugar, baking powder, all-purpose flour, a pinch of salt, and water — easy as pie! Or... cake?
Tips and alternative methods
Of course, not everyone has a flat-top grill, but a regular old charcoal grill works great, too. If you don't have access to either option, indoor stove-top funnel cakes are an excellent alternative. Just make sure you're working in a well-ventilated space.
Although it's a simple process, it's important to take precautions when deep frying foods. Whether you're cooking indoors or out, the ideal frying temperature for a funnel cake is 375 degrees. Be sure not to overheat the oil, and always pour the batter in slowly to prevent the oil from splashing and possibly causing a fire. Once your funnel cake is done, use a strainer ladle to remove it from the oil, and let it cool off on a stack of paper towels before enjoying it.
If you want to follow the flat-top funnel cake method, you can use a cast-iron skillet in place of an aluminum baking pan. However, the latter option is more convenient for camping or other outside gatherings. If you don't want to make funnel cake batter from scratch, a box of store-bought pancake batter with vanilla for added flavor is an easy alternative.