Filet-O-Fish Hacks You'll Wish You Knew Sooner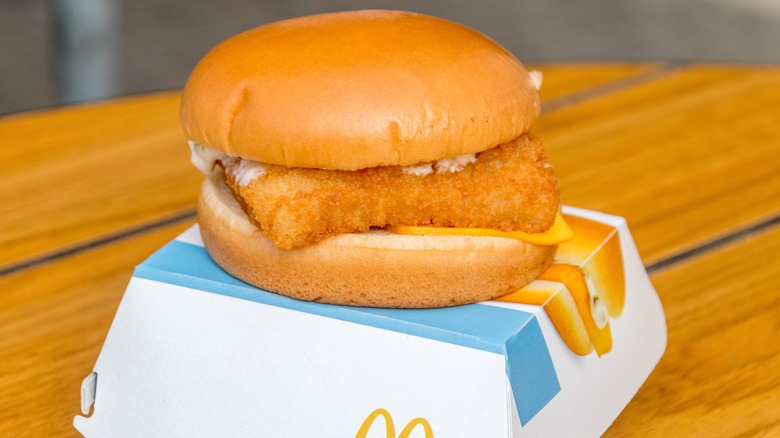 Robson90/Shutterstock
One particular item sticks out on the McDonald's menu: the Filet-O-Fish. Ever since its inception in 1962, it has survived as one of the most popular and underrated sandwiches served at the Golden Arches. The idea came from a struggling McDonald's operator in Monfort Heights, Ohio, named Lou Groen. Since nearly the entire population in the area was Catholic, they couldn't eat meat during Lent and on Fridays. His solution was a tasty fish burger. 
McDonald's founder Ray Kroc almost shot it down from the start, as he was leaning toward an alternative called the Hula burger — grilled pineapple on a bun. Kroc finally agreed to a little competition: both burgers would debut on Good Friday in 1962, and whichever sandwich sold better would stay on the menu. The restaurant sold six Hula burgers whereas 350 Filet-O-Fish left the kitchen — and the rest is history. 
More than 60 years later, the Filet-O-Fish has withstood the test of time and is still a staple on the McDonald's menu. But today, fast-food hacks are the trend, allowing people to customize their meals to make the most delicious version of their favorite dishes, and the Filet-O-Fish is no different. We've compiled some of the best hacks out there for the succulent fish sandwich.  
The Filet-O-Fish BLT
What ingredient improves every meal it touches? You guessed it: bacon. A TikTok creator named @alexis.frost went viral for her video series dubbed "Eating What Employees Would Order." In a video that racked up thousands of views and likes, she shared her secret hack for what she called one of her favorite employee suggestions she'd ever gotten at McDonald's — the Filet-O-Fish BLT. 
To get it, just order the fish sandwich and add bacon, lettuce, tomatoes, and extra cheese. In the video, she says it's "absolutely delicious" and rates it a "ten," crediting a McDonald's employee who shared the original hack in a comment on one of her videos. We can see why she's raving about it. The Filet-O-Fish is a simple sandwich on its own, with only the fish patty, tartar sauce, and cheese. Throwing on BLT ingredients to round out the flavors of the sandwich makes a ton of sense. McDonald's, if you're listening, just add it to the menu. 
Ensure the freshest sandwich by modifying your order (or just ask for it fresh)
It doesn't matter what you order from a fast-food restaurant, you always want to have the freshest, hottest food handed to you through that drive-thru window. Unfortunately, that's not always the case at these busy establishments. Every fast-food patron has waited hungrily for their food, only to be disappointed with a lukewarm sandwich that was probably sitting under a heat lamp for longer than ideal. 
Unfortunately, many McDonald's workers agree — especially when it comes to the Filet-O-Fish. "It's been 3 years since I worked there but I can promise you that filet of fish is not fresh by any stretch of the imagination," said one ex-McDonald's employee on a viral Reddit post. However, other employees came to the rescue with a trick to ensure you get the freshest fish sandwich possible. "At McDonald's just say you want a fish filet cooked to order. It will take ~5 more minutes but worth it compared to the filet that has been in the heated cabinet for hours," said u/Exiled-Biblu in the same post. 
If you're a bit shy and don't want to be so direct, you can tweak your order to make sure your Filet-O-Fish is fresh. Simply get the sandwich without cheese (or ask for any other modification), which will require the employees to make a fresh one for your customized order. 
The Surf and Turf
Why go to a fancy restaurant and drop hundreds on steak and lobster when you can get Surf and Turf right at your local McDonald's? That's right — you can get the best of both worlds for around 10 bucks. Although many restaurants might not be happy to allow customers to hack their orders, McDonald's actively promoted the practice beginning in early 2022. It released a set of four menu hacks, including the Surf and Turf burger. For a limited time, McDonald's even offered the sandwich with free medium fries and a medium soft drink when ordered through the app. 
One note before you get it — the employees don't actually make it for you. You just order the components (a classic Filet-O-Fish and a double cheeseburger) to create the burger and make it yourself. To assemble, place the bottom bun, one patty, and a cheese slice at the base, then add the fish sandwich without its top bun, finishing with the top part of the double cheeseburger. 
The company-sponsored hack has gone viral on social media platforms for obvious reasons. According to one TikTok creator, Hungry FAM Eats, "It's like the best of both worlds, come into one sandwich." 
The Land, Air & Sea
Oh, the Surf and Turf wasn't enough for you? You want an even more hedonistic mash-up of sandwiches to satisfy your monstrous cravings? Enter the Land, Air & Sea sandwich. This is another feature of the fan-inspired hacks McDonald's promoted in early 2022. According to the McDonald's website, this item should check all the boxes thanks to the combination of a Big Mac, McChicken, and Filet-O-Fish into one enormous sandwich.
If you decide to brave this towering stack of different proteins, you can order the Land, Air & Sea by name at your local McDonald's, but again, you'll have to put it together yourself. The restaurant will give you a Big Mac, a McChicken, and of course, a Filet-O-Fish. To assemble, open up the Big Mac and layer on the McChicken and Filet-O-Fish patties. You'll be awarded with a monstrosity you'll barely be able to fit into your mouth. 
It's no surprise this thing has gone viral on social media platforms. One TikTok creator, @hungryoc, put the burger together and said, "It's like an explosion of flavors. Best of three worlds."
Replace the tartar sauce with Big Mac sauce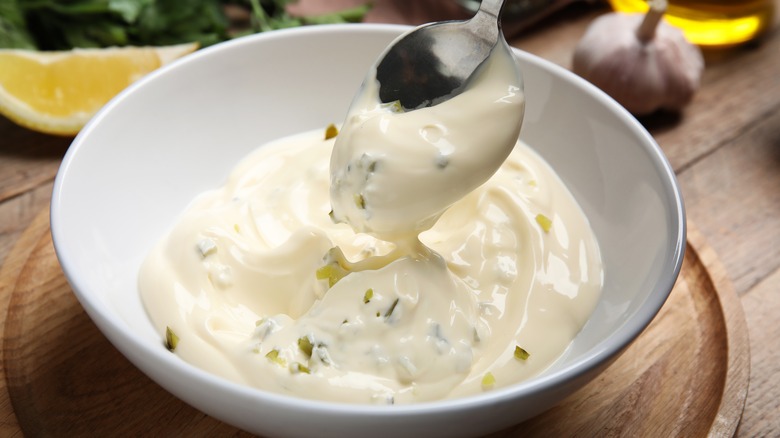 New Africa/Shutterstock
When we think of fried fish, the perfect condiment to pair it with is tartar sauce, like the one slathered on the Filet-O-Fish. But what if you put the iconic Big Mac sauce on instead? That's the genius idea that Mike Haracz, an ex-McDonald's corporate chef, posted about on TikTok. "As a McDonald's corporate chef, I've tried a lot of different combinations, but a Filet-O-Fish with [Big] Mac sauce is far superior to a regular Filet-O-Fish." 
Some of the comments said what we're all thinking. @Christy.Anne12 responded, "I have a hard time believing this ... I love the tartar sauce so much I get a side and dip my fries in it." But Mike's not the only one who champions using Big Mac sauce on the fish sandwich. YouTuber Carters Eat posted a video putting together the Filet-O-Fish with Big Mac sauce. "The Big Mac sauce is super tangy," she explained. After taking her first bite she pointed out, "So that little bit of tang really pairs well with the fish." 
Ask for lettuce and other ingredients for a more complete sandwich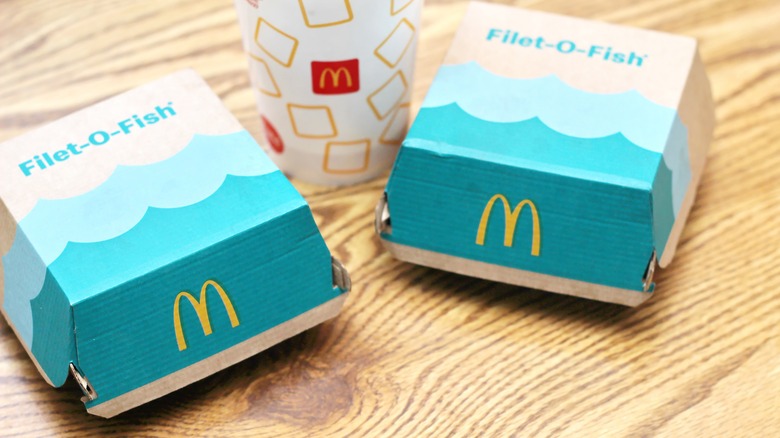 Birch Photographer/Shutterstock
The magic of the Filet-O-Fish is in its simplicity. A steamed bun, a succulent fish patty, zesty tartar sauce, and a slice of cheese are all you need to make this cult favorite great. Well, some people think that, but others might find the sandwich a bit boring. 
One ex-McDonald's employee answered a Quora thread about the best McDonald's hacks. Her first trick inspired by the Filet-O-Fish was to request the Double Cheeseburger bun be steamed to help the cheese melt better. Her next idea was to transform the Filet-O-Fish into a more complete sandwich by adding lettuce to spruce it up.
Yes, it might be simple, but it's probably something many people have never thought of. You can just request additional ingredients on your fish sandwich to your exact taste. This includes tomatoes, lettuce, pickles, onions, extra cheese, extra tartar sauce, and more. Make the Filet-O-Fish your own!
Make it a Double Fish Burger for an Extra Dollar
Some people really like the Filet-O-Fish — so much so that one fish patty just doesn't cut it. At a lucky few locations, McDonald's actually serves the Double Filet-O-Fish, which these TikTokers in Egypt describe as their "dream." Yes, in some places, fish lovers can "bite into not one, but two crispy and flaky white fish filets," according to the McDonald's website. 
But it doesn't have to be a dream. Just because your local McDonald's doesn't sport the Double Filet-O-Fish on its menu doesn't mean you can't get it. According to @tiktokgilr310, you can simply add an extra patty to your Filet-O-Fish for a dollar. Sure, prices may vary depending on location and time, but just knowing you have the option to make your Filet-O-Fish a double is comforting, indeed. You won't need to book a flight to Egypt to get two patties in a mouthful. 
The Filet-O-Fish ... and Apple Pie?
If you're trying to get really weird, you can try YouTuber GoldenGully's Filet-O-Fish hack that racked up more than a million views. Apparently, this little trick came to him in a dream where he went through the McDonald's drive-thru, ordered a Filet-O-Fish, and manually inserted an apple pie into the mix — so that's exactly what he did in real life. 
After taking a bite of the apple-fish monstrosity, he said, "It's actually not bad. There's a lot of bread because of the apple pie crust and we got buns, but at the same time I don't see these two fighting with each other." He goes on to say he can taste both components on their own without one overwhelming the taste of the other. "It's almost like if you wanted to save time and you were craving a fish filet and also an apple pie, you could eat them both at the same time." To be fair, he admitted he wouldn't order it again. But you know what they say — follow your dreams!
Fish & Chips burger
If you weren't aware, Australia is quite famous for its crispy and delicious fish and chips — so it's not surprising that the Macca's (yes, McDonald's) from down under promoted this Crispy Fish hack. All you have to do is order some fries to go with your Filet-O-Fish, remove the top bun, and layer them on top of the fish patty to make a fish and fries sandwich. The official McDonald's Australia TikTok account even put together a video explaining exactly how to make the Fish & Chips burger (apparently, it's done with medium-sized fries). 
Where there are fast-food hacks, there are social media food creators to test them out. YouTuber @IBIXBOSSFAMZ went ahead to share the gospel of the fish and chips burger. After spreading the tartar sauce evenly, he stacked a handful of fries on top of the patty, creating an extra crispy, salty bite to his Filet-O-Fish. You're going to eat them on the side of your sandwich anyway, so you might as well save yourself the time and combine everything.
Reheat using tinfoil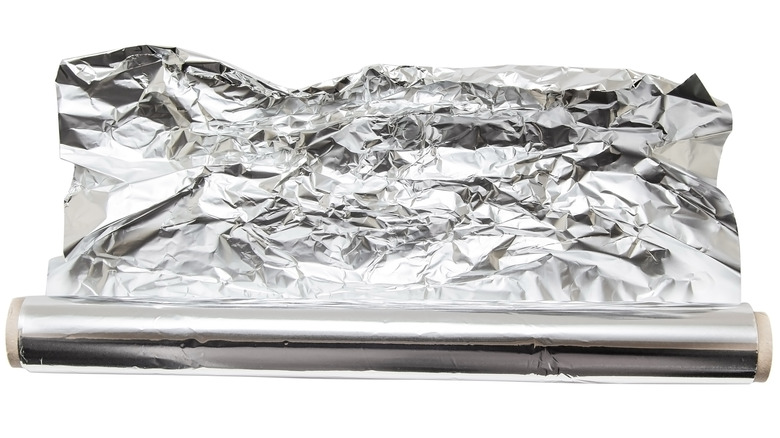 Ekaterinazakharova/Getty Images
We've all been there. One minute we're absolutely demolishing the slew of delicious food we ordered from our restaurant of choice, and the next, it starts to hit us ... our stomachs are rapidly growing uncomfortably full. Though our eyes may have been a little bigger than our stomachs, the problem is the meal tastes so delicious that we hate to waste the experience by turning it into leftovers that just won't be the same later on when we try to reheat them. In the case of the Filet-O-Fish, don't let the fear of the scrumptious sandwich being lackluster upon reheating force you to overstuff yourself. As it turns out, there exists a way to reinvigorate the coveted course that doesn't end in a dried-out patty and soggy bread.
Tinfoil is the secret weapon when it comes to heating up the chilled leftovers of the popular McDonald's fish dish. Start by wrapping the sandwich tent-style, encapsulating the entire thing and pinching nearly all of the edges shut. Then, using either a toaster oven or a regular oven preheated to about 350 degrees Fahrenheit, place your mummified cold sandwich in the heat for anywhere from 10 to 15 minutes. When it comes out, it should be warmed to perfection. More importantly, that delectable patty will have maintained its moisture, and the bun should still have a healthy amount of crisp. Voila — you have successfully avoided the flavor-leached sogginess your favorite sandwich would likely have inherited from the microwave.
Increase the crunch by getting creative with croutons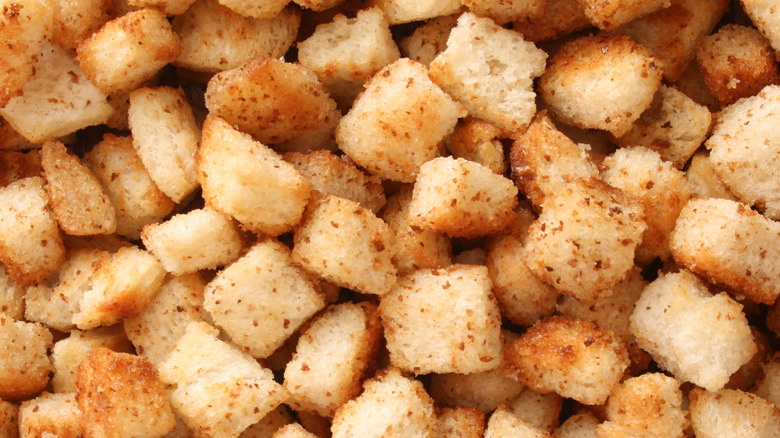 Fotografiabasica/Getty Images
Despite all of the Filet-O-Fish's flavor-packed, tartar saucy goodness, the fast food culinary creation has not gone completely uncriticized by consumers. While it's generally well-liked, some have called it out for being a bit one note in terms of texture. "I am a fan of juxtaposing textures and I concede that the Filet-O-Fish does not have a contrasting crunch to balance the impossibly soft steamed bun and generous helping of tartar sauce," stated one honest McDonald's employee on Reddit, mirroring the overall consensus by crispy-craving sandwich skeptics.
As a result, those who prefer a little crunch in their lunch may have written off the softer Filet-O-Fish sandwich completely for its lack of chomp, but this need not be the case. With a little creative combination of products, you can solve this problem yourself. Step one: Order a Filet-O-Fish with a Caesar Crispy Chicken Salad on the side. Step two: Pull out every last one of those crunchy, garlic-and-herb-flavored croutons which are hiding within the folds of lettuce in the salad. Remove the bun from the top of the sandwich for step three, and arrange all those crunchy bread bits on top of the patty itself. Finally, close it up and dive into your newly invented crunch-forward Filet-O-Fish variation. You're welcome.