Cinnamon And Nutmeg Can Spice Up Your Espresso Martini For The Fall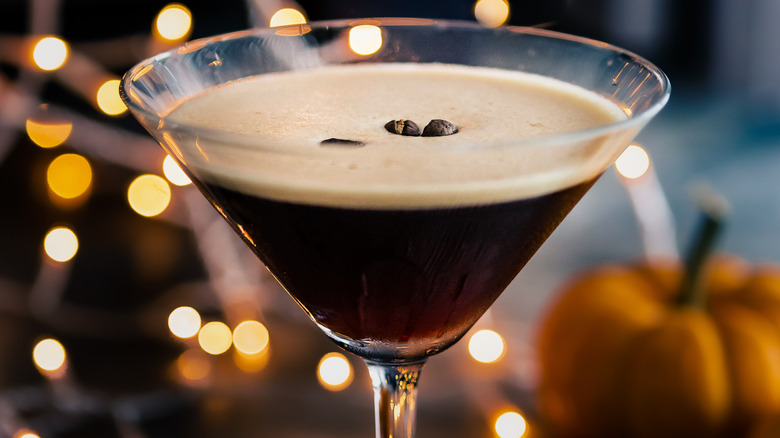 Claire in Bath/Shutterstock
Since its invention back in the '80s, the Espresso Martini has become a cocktail that's equally as popular as it is unique. With a blend of boozy and perfect for a pick-me-up, this drink combines coffee and alcohol to keep you energized while still enjoying a cocktail-induced buzz. There's something about the Espresso Martini that feels like the ideal choice for when the seasons begin to change and the weather starts cooling down. Still, more can be done to transform this drink into the perfect autumnal treat. The trick to turning the Espresso Martini into a cocktail that'll keep you cozy all fall is all about spice.
When it comes to grabbing non-alcoholic autumnal drinks, there's really no place like Starbucks. The Starbucks Pumpkin Spice Latte has certainly become a fall staple, which has led Starbucks Reserve to introduce some boozy beverages to add to the chain's collection of beloved fall drinks. Among Starbucks Reserve's fall-ready menu items are the Starbucks Reserve Pumpkin Spice Latte and the Pumpkin Spice Espresso Martini. If the idea of a PSL version of the Espresso Martini perked up your ears, then you should pay attention to this next part: all it really takes to fall-ify your own Espresso Martinis is some cinnamon and nutmeg. If you love the "spice" in your pumpkin spice almost as much as you love that smooth, strong first sip of an Espresso Martini, then your fall is about to get much more exciting –– and maybe a little tipsier. 
Make your own spicy fall Espresso Martini at home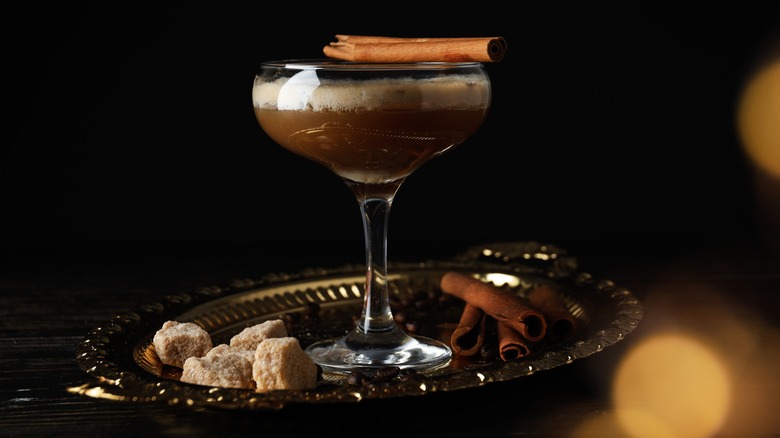 AtlasStudio/Shutterstock
While an Espresso Martini may seem to many of us like a particularly fancy and decadent cocktail, it's fairly simple to make. The drink is all about espresso, vodka, and sometimes coffee liqueur for sweetness. Adding a little spice to this reliable mix can give you a festive, cozy, and slightly spicy treat. To prepare your Espresso Martini fall style, you should first mix about two tablespoons of sugar with a half tablespoon of cinnamon and a bit of nutmeg together in a bowl. You can add more or less nutmeg to your mix depending on how much spice you prefer. 
Once the mixture is ready, mix one tablespoon of it with three ounces of fresh espresso. Stir the espresso until the sugar is entirely mixed in. Now, let the espresso cool off while preparing your martini glass. Start by dipping the rim in heavy cream. Put your extra mixture of sugar and cinnamon into a shallow bowl or onto a plate and coat the glass' rim with it. Once your glass is prepped, you can fill a cocktail shaker with ice, an ounce and a half of vodka, the sweetened espresso you prepared, and a bit of heavy cream. Shake until your martini is cold, and strain it into the glass. And, voila: you've got a spicy fall Espresso Martini. Don't be afraid to add a cinnamon stick for the vibes.