Costco's Iconic Pumpkin Pie Makes Its Triumphant Return For Fall
Autumn is in the air, and you know what that means — Costco's famous pumpkin pies are back. The popular dessert hits store shelves around the first of September each year, during the transition from summer to fall. 
Costco pumpkin pies are known for their massive size. Really, that helps set the pies apart from the competition. One of these bad boys would probably feed an entire family. The pumpkin pie is a whopping 12 inches in diameter (the original 1987 recipe clocked in at 10 inches). Given the size, they're a popular item for family get-togethers like at Thanksgiving or Christmas. The pumpkins that make up these pies are grown in Illinois — a variety called Dickinson pumpkins is used for every pie. 
Costco hasn't wasted any time hopping on the fall season with its signature pie drop at the tail end of summer each year. While some may question all of the hoopla over a pumpkin pie, reviewers generally praise the pie for its price point as well as its tenderness and flavor. However, it's worth pointing out that the pie isn't completely additive- or preservative-free, since it contains TBHQ and mono- and diglycerides that are designed to extend the life of the pie. The pumpkin pie is currently available for $5.99, but it depends on your local Costco if any is in stock or how long supplies last. 
How to make your pumpkin pie last longer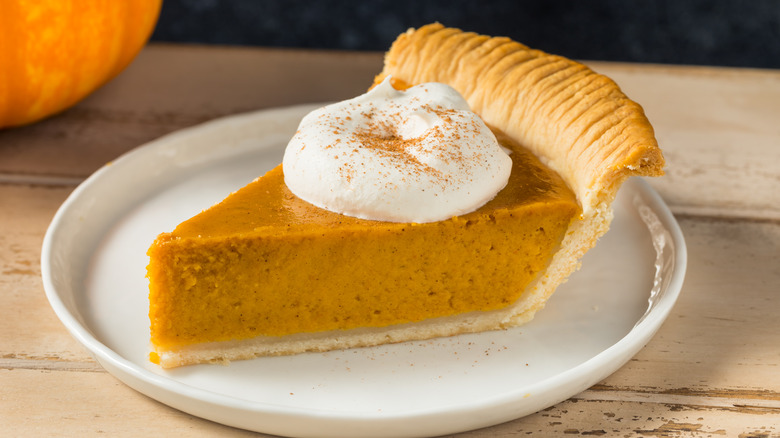 Bhofack2/Getty Images
While we can say with some certainty when the pumpkin pie will drop each year, that hasn't stopped a group of Costco shoppers from starting a Facebook group to watch out for the dessert. They are sure to be particularly pleased by the announcement from a Costco shopper who shared the news with fellow pie fanatics via TikTok that the dessert is now available at their local Costco bakery. 
We agree that it can be tough to eat a whole pie solo. Of course, you can always save your pumpkin pie for the next big family occasion by preserving it. It's a long time between September and Thanksgiving after all. To keep your pie fresh and ready to serve, you should freeze it. Simply wrap your pie tightly in plastic and an extra layer of aluminum foil and toss it in the deep freeze. To serve, remove the pie the day before, which will give it plenty of time to defrost in the refrigerator. If you miss out on grabbing a Costco pumpkin pie this year or just want to get crafty in the kitchen, consider baking your own homemade pumpkin pie.