Post Malone's Food Mentality Is Spot-On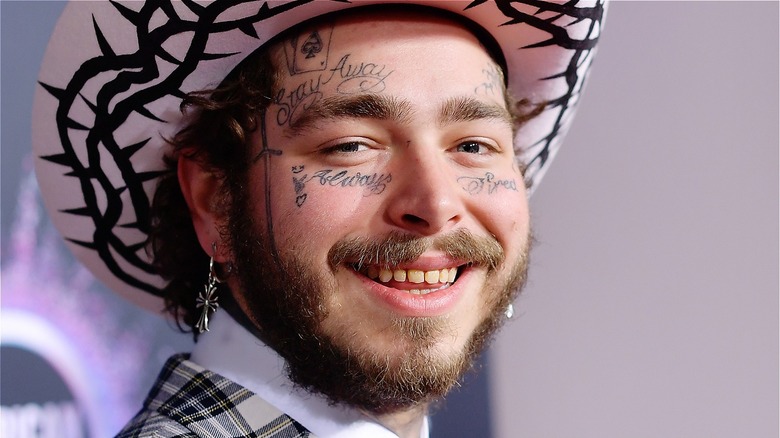 Matt Winkelmeyer/Getty
Rapper, singer, and songwriter (and Costco fan) Post Malone is an international superstar with numerous Billboard number-one hit singles like "Sunflower" and "Rockstar." But when he's not in the recording studio or embarking on cross-continental tours, Post Malone likes to eat. While you might think a celebrity of his stature prefers Michelin-star restaurants and luxurious, molecular gastronomy dishes, the Texas-born rapper eats rather humbly. Or, as he puts it, like he's 4 years old.
During a press tour for his recent album, "Austin," Post Malone sat down with Josh Scherer from Mythical Kitchen to discuss some of his favorite foods and general eating habits while the pair enjoyed the rapper's ideal last meal — Raising Cane's combos with mozzarella sticks and garlic knots. He told Scherer that more than any other food, he generally "just want[s] chicken nuggets, man" — we hear you, Posty. The "Circles" singer backed his childlike food choices by confessing that he wants to eat like a kid because life for a 4-year-old is just a whole lot simpler than it is for a complicated pop star. They don't even pay taxes, he pointed out.
Post Malone's down-to-earth approach to food may strike a chord with everyday foodies. Embracing comfort in the form of chicken nuggets and childhood favorites mirrors the desire for simplicity and joy in a world that's fast-paced and hard to navigate, especially for someone as famous as Post Malone.
Other Post Malone food favorites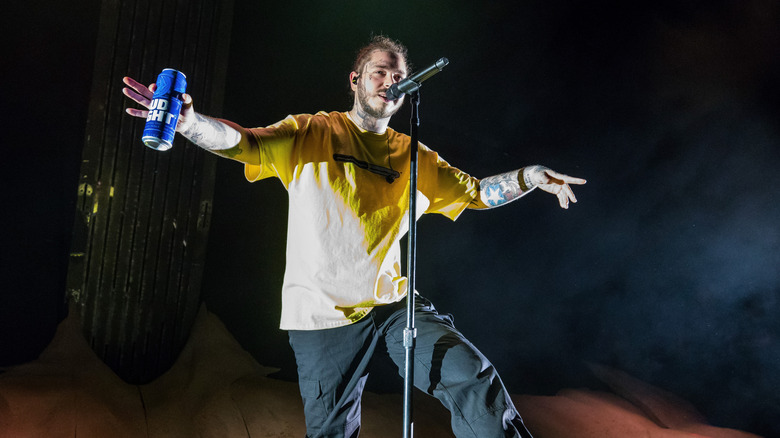 Scott Legato/Getty Images
It's not just childhood classics like chicken nuggets, Raising Cane's, and garlic knots that Post Malone loves — the relatable musician is known to enjoy all kinds of humble, down-to-earth meals and beverages. Although he's curbed his party persona in exchange for the role of a responsible girl dad, Malone was once synonymous with Bud Light — not exactly the Dom Perignon you'd assume a pop star of his caliber would select for boozing. He even collaborated with the beer brand by launching Post Malone Bud Light Crocs and starring in a Super Bowl commercial for Bud Light Seltzer.
Like the average person, it's not all personal chefs and fancy outings for Post Malone. In 2018, mobile delivery service app Postmates celebrated the rapper for being its number one customer. According to an homage shared by Postmates, Posty spent $40,000 on deliveries in just over one year with a heavy emphasis on Popeyes. In addition to an $8,000 order of Popeyes biscuits delivered to his Coachella party, Malone once ordered $100 worth of Buffalo sauce with a side of Tito's Vodka.
Now that he's a father, though, Malone is focused on adopting a different lifestyle and credited cleaner eating habits and quitting soda for his 55-pound weight loss in a recent Instagram post. But that doesn't mean there's no room for the occasional chicken nugget spread and Caniac combo — it's all about moderation.