Costco's Fall Gift Basket Does The Apple Picking For You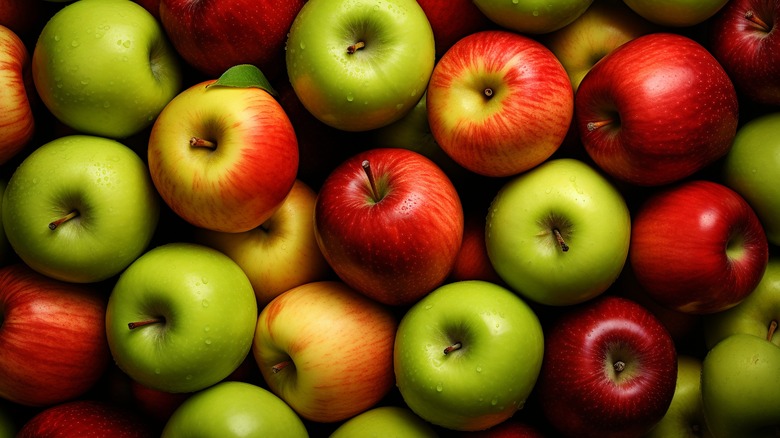 Pavel Sneznyj/Shutterstock
If there's one thing that makes people feel like it's autumn, it's the annual trek to the apple orchard. You get to pick out apples for snacking and enough to make apple pie, apple crumble, and hopefully, caramel or chocolate-covered apples. Costco's new fall basket takes care of the picking part for you and then fills out the rest with an assortment of chocolate and caramel-flavored goodies.
Costco's newest offering, Mrs. Prindables Grand Fall Caramel Gift Basket, is a beautiful display of decadence, with four full-size Chocolate and Caramel Pretzel Rods, one bag each of White Chocolate Pretzel Twists, Milk Chocolate Toffee, Milk Chocolate Candy Corn Bark, and Assorted Natural Caramels. But the showstopper here is the Triple Chocolate Autumn Jumbo Apple along with two standard-sized Triple Chocolate Caramel Apples.
At $79.99, Costco is selling it for $10 less than Mrs. Prindables' website. When you take into account the price for just an Autumn Jumbo Caramel Apple is $29.99 and the Caramel Apple 4-Pack is $46.99, the basket seems to offer more bang for the buck, not to mention saving time by letting someone else make the caramel apples.
The caramel apple gift sets are very popular
Mrs. Prindables has been a popular Costco holiday treat for several years now, with fans getting excited when the caramel apples and other sweet items return to the stores' shelves. Given how popular their gourmet chocolate and caramel apples are, it's not surprising to learn that Mrs. Prindables is owned by The Original Caramel Apple company, Affy Tapple, who purchased it in 2001.
For those wondering exactly what a jumbo caramel apple is, Mrs. Prindables has you covered. According to its website, the Triple Chocolate Autumn Jumbo Apple weighs 1.5 ounces and is large enough to feed six to eight people. The standard-sized Triple Chocolate Caramel Apples included in the basket, on the other hand, only weigh about 8 ounces.
Besides the Grand Fall Caramel Apple Gift Basket, Costco sells other varieties of Mrs. Prindables, including a Haunted Houses Caramel Apple Gift Set and a 6 Gourmet Caramel Apples and Confections Gift Basket. "Gave these as a gift and the recipients were raving about them," one customer commented on the Costco website after ordering the 6 Gourmet Apple Basket. "I sent it to family for Christmas and they absolutely loved it," said another. Overall, the ratings for the gift baskets are very positive.