Food Items You Can Get Cheaper At Costco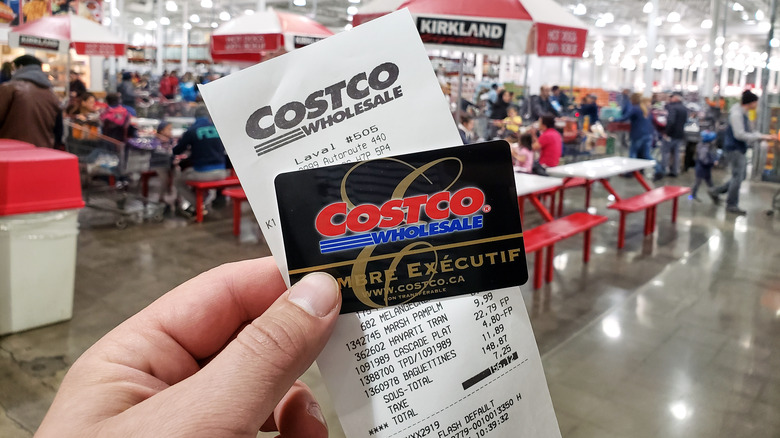 dennizn/Shutterstock
Lots of shoppers swear they save money by buying in bulk at Costco. But is the annual fee really worth it? It can be, but it always depends on what you purchase. The important key is knowing whether or not bulk food items will outlast their expiration dates. For example, if you live with a teenager or have a large family, snack foods tend to disappear in moments! Oversized bags will last longer than those puny little chip bags from the supermarket.
To make sure you're getting a bargain, you should understand the price per quantity. Also, you should still continue shopping at your local grocery store to be aware of current prices. A benefit to shopping at Costco is the ability to sample the food, allowing you to check out new products before investing in them. Savvy shoppers can save money on food at Costco when they choose the right items.
Eggs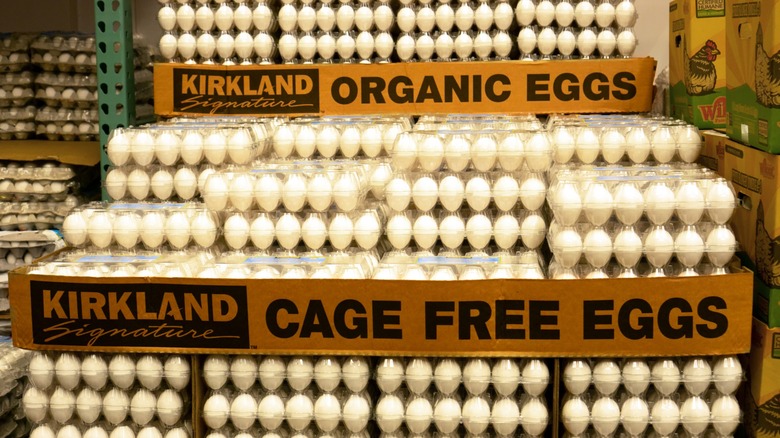 Badon Hill Studio/Shutterstock
When you're on a tight budget, eggs should be a staple in your household because their versatility can't be beaten. Costco has two egg options: cage-free and organic free-range. They are each available in cartons of 24, with some stores offering five dozen of the cage-free variety.
The good news is that while typical egg prices have been incredibly volatile, Costco prices have been relatively stable throughout 2023. Two dozen organic eggs cost about three or four dollars more than cage-free, which generally run around $7.99 or $8.99. Organic eggs can cost that much for a single dozen in grocery stores, so these are a bargain.
How do cage-free and organic eggs differ at Costco? Cage-free usually means the chickens are raised in a barn but have access to the outside. Free-range, on the other hand, means chickens are allowed to roam pasture instead. This distinction really depends on which farm Costco uses to supply its eggs. At Costco, organic eggs are free-range, but getting USDA Organic certified means these chickens are only given certified organic feed free of pesticides. This is a healthier option for people concerned about the impact of pesticides in animal feed.
Milk and nut milk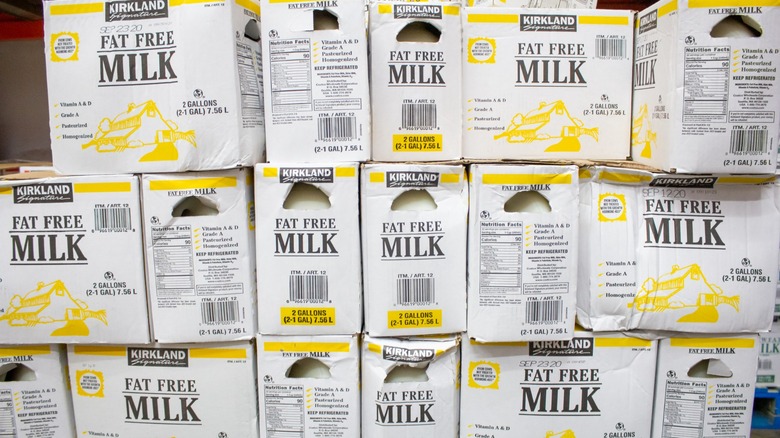 The Image Party/Shutterstock
Do you have a child who consumes unbelievable amounts of milk or nut milk? Then you should be buying milk at Costco! Prices vary by region, but Costco still commonly beats grocery store prices especially when you buy it in the store. The milk you buy at Costco may also last longer. Some shoppers have found that the expiration dates are two weeks ahead, which is longer than most grocery store expirations.
Costco also carries several milk varieties, including organic, 1%, low-fat, almond, and coconut. Costco stocks Kirkland Signature, and several other brands, including Horizon Organic, So Delicious, and Silk. If you're packing school lunches, stock up on individually boxed milk options with bulk packaging. While regular cow milk is nearly always a better deal, nut milk prices fluctuate, so be sure to compare prices to what's available at your local grocery store for the best price.
Cheese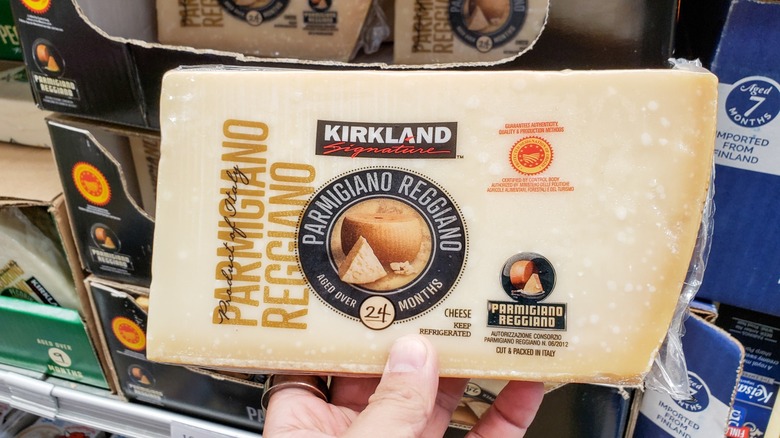 The Image Party/Shutterstock
Cheese is perfect for topping pizza, adding to an omelet, or just as a snack, and buying cheese at Costco will save you money. But which ones are best? Costco stocks a ton of cheese varieties, so this could be your toughest choice!
To begin with, Kirkland's has several options, including the must-have Parmigiano Reggiano, which comes in both block and shredded forms. The Manchego cheese, which comes from sheep's milk, is great if you struggle with lactose. Costco also carries goat cheese, French brie, feta imported from Greece, English cheddar, and BellaVitano, which contains wine, whiskey, or other spirits. If you struggle to pick just one, check out the Cheese Flight, which has slices of five different cheeses.
Costco carries other cheese brands, too. Kerrygold Dubliner cheddar, BelGioioso burrata or mozzarella, and Boursin creamy board cheeses are the best options available in bulk. All these options are perfect for entertaining or cooking cheese-covered casseroles!
Bread products and gluten-free goods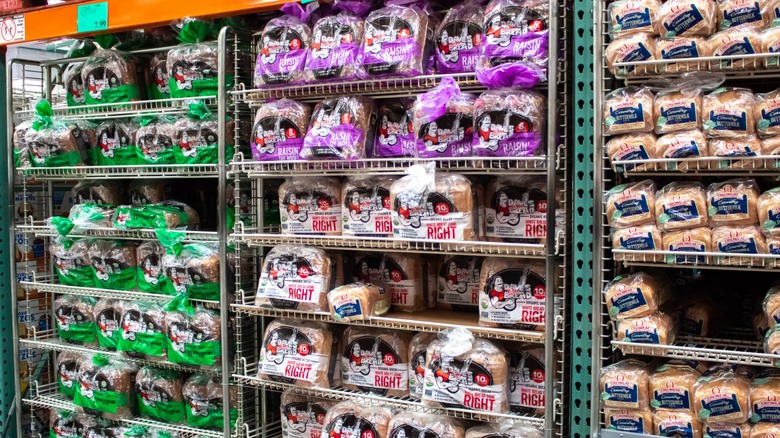 The Image Party/Shutterstock
Buying bread products in bulk is not for everyone. However, most bread options at Costco include two separate loaves packaged together, making it easy to freeze one loaf if your family can't finish two loaves in one week.
Costco carries an affordable bread selection with plenty of variety, from freshly made to organic and gluten-free. The best-sliced bread includes Oroweat's 100% Whole Wheat Bread and Country French Bread. The certified organic brand Dave's Killer Bread is available in different varieties. And you'll often find a good gluten-free option, like Canyon Bakehouse, Udi's, Franz, or Bfree. Speaking of gluten-free, an excellent option for Mexican meals is Siete's Grain Free Tortillas. These 20-count packs sell for under $12.00 in many places, making them a great deal compared to the smaller-sized bags you find at the grocery store.
We'd probably need a whole new post to review all of Costco's baked goods deals. Instead, we think it's better to simply sample all the options while you're there. Just make sure you hit the gym afterward!
Condiments, dips, and marinades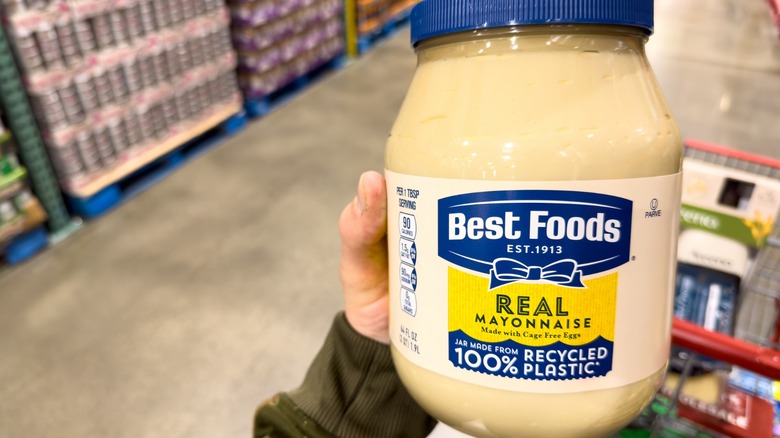 ZikG/Shutterstock
With a longer shelf life, it's definitely worth it to buy condiments and dips at Costco. Beware, though, of freshly made items. Always check dates when buying these to avoid throwing out a lot of expired foods.
One of the best everyday condiments available is Heinz Ketchup, which comes in a whopping 44-ounce bottle. This is perfect if you have a teen who puts gobs of ketchup on absolutely everything! Hellman's Real Mayonnaise is a great deal in its 64-ounce jar, so you can make tuna, chicken, or macaroni salad for your family every day. French's yellow mustard comes in a two-pack of 30-ounce bottles. Between the three, you have every possible lunch option covered — literally and figuratively.
Some of the best Costco condiments are its marinades. Try the individually packaged cartons of guacamole or hummus. Kirkland organic salsa, Hidden Valley ranch dressing, Sweet Baby Ray's honey barbecue sauce, Mr. Yoshida's original gourmet sauce, and Cholula or Tabasco hot sauce open up a wide range of possibilities for regional-themed dinners any night of the week.
Coffee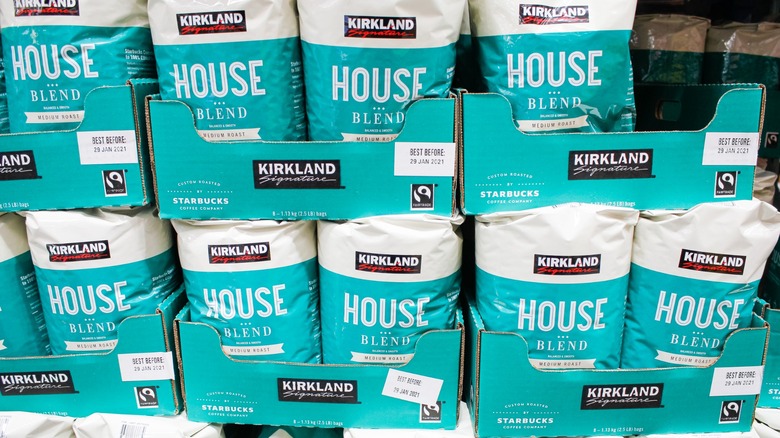 The Image Party/Shutterstock
If you're a coffee lover, you probably know by now that you could lose yourself in the Costco coffee aisle. The varieties seem endless and include both whole bean bags and coffee pods. Ground coffee is difficult to find, so you may want to invest in a grinder.
One of the top choices for bean coffees is Ruta Maya Organic Jiguaní whole bean coffee. This is really a gourmet coffee — and is priced accordingly. However, affordable options abound if you want to save money. Kirkland's Signature brand has both Colombian Dark Roast and French Roast for under $5 a pound. Of course, there's a variety of decaf options, too.
Fans of Peet's, Dunkin' Donuts, and Starbucks will find great deals for both whole bean and K-cup options. K-cup pods are the best deal in coffee because the large cartons can contain 100 or 120 pods. And, if you've ever heard of Tim Horton, it's probably a rave review from a friend in Canada. A case of 100 Tim Hortons original blend pods can go for about $42 — not a bad deal for more than a few months' worth of a cuppa joe!
Snack foods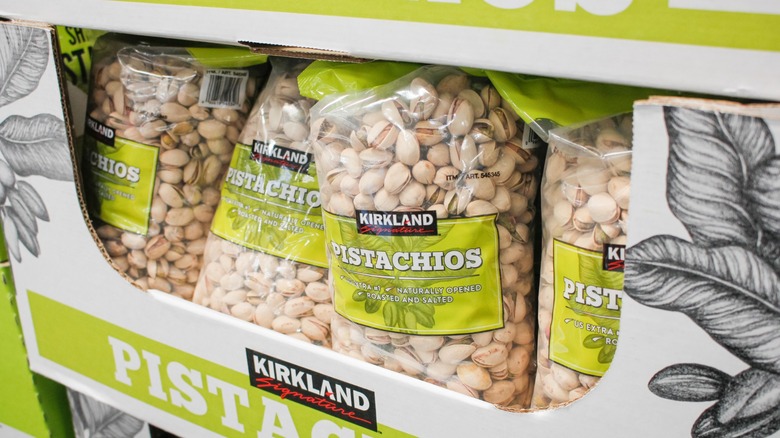 The Image Party/Shutterstock
Whether you're stocking up for parties, holidays, or back-to-school season, we recommend buying snacks in bulk at Costco to save money. Costco carries a range of healthy options, including gluten-free and organic items, plus traditional fan favorites. If you're a health enthusiast who loves a good protein bar, the Perfect Foods organic protein bar variety pack is your jam. It contains 12 peanut butter bars, six plain and six with chocolate chips. Each has 15 or more grams of protein, making it a great pre-workout snack.
Looking for protein for your kid's lunchbox? Stonyfield Organic Kids Yogurt Squeezers box has you covered, with 24 packs for less than $10. For those of you who can't decide between salty and sweet, try the 32-ounce bag of G.H. Cretors Cheese & Caramel Popcorn Mix, which is both indulgent and delicious. Costco also carries a giant 40-ounce bag of organic tortilla chips, to accompany that salsa two-pack. Puffs fans are covered, too. We recommend Pirate's Booty Aged White Cheddar Puffs or Hippeas Organic Chickpea Puffs with vegan white cheddar. 
Costco also carries a large selection of nuts. Kirkland's giant 3-pound bag of pistachios with the shells on is our favorite. These are just a small sampling of the snack options available — we don't even have room to cover candy! Costco is clearly your go-to resource for all your snack shopping.
Fruits and veggies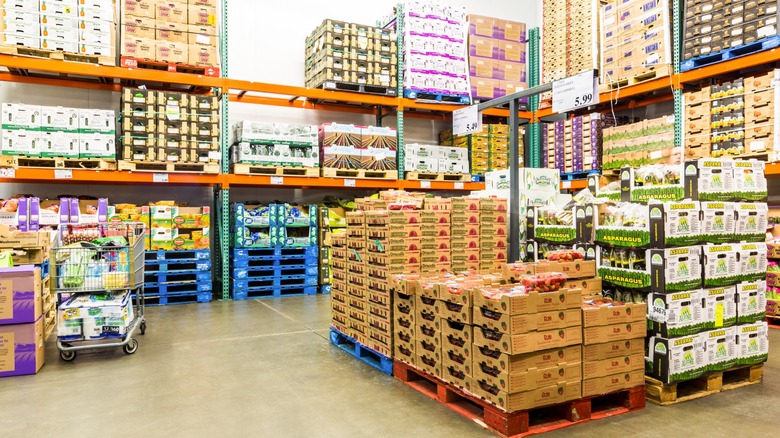 Mihai_Andritoiu/Shutterstock
Stocking up on produce at Costco can save you a lot of money, even for organic produce. For smaller households, consider stocking up on frozen items. For example, Kirkland's Organic broccoli florets package contains four 1-pound microwavable bags, which you can easily split into smaller quantities.
For fresh vegetables, large quantity sizes include spinach, carrots, salad mixes, Brussels sprouts, mini cucumbers, mixed bell peppers, and green beans. Costco also carries mushrooms and potatoes. The prices are similar to small sizes in grocery stores, so even if you don't use the whole bag, you could still get a great deal. But keep your eye on expiration dates.
Costco really shines in its fruit department. Fruits you should buy include raspberries, organic blueberries, nectarines, kiwi, black or cotton candy grapes, avocados, and pineapples. Bananas have been reported as low as $1.39 for three pounds, one of the best deals you can find at Costco. We also recommend buying apples in bulk. For kids, Disney-trademarked USDA organic apples are available all year, so fill those lunch boxes!
Avocado and olive oil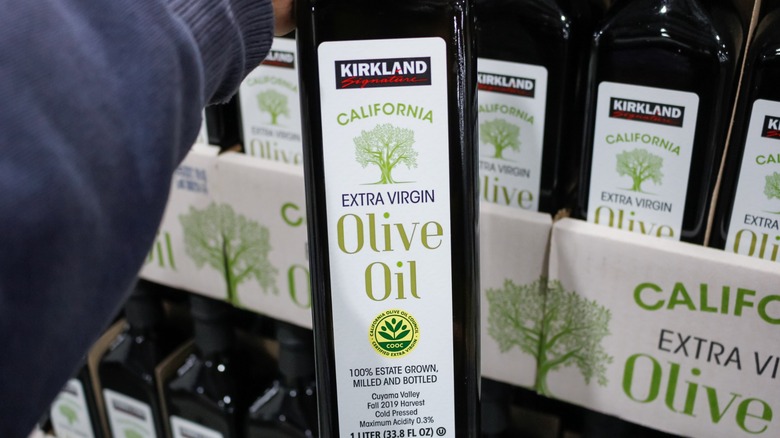 The Image Party/Shutterstock
Kirkland's Signature Olive Oil and Chosen Foods Avocado Oil are great deals. But why should you stock up on them? Today, many dieticians and experts consider avocado and olive oil healthier oil alternatives to canola or soybean oil, which are high in omega-6. This fatty acid is already too prevalent in the standard American diet, so choosing a different oil is wise. Costco carries two of the highest-quality avocado oil brands, Chosen Foods and Marianne's, at a better price than your supermarket.
But is Kirkland Signature olive oil a good deal, too? The tasting team at OliveOil.com tried Kirkland's Signature Olive Oils. They found that Kirkland Signature Organic Extra Virgin Olive Oil — PDO Terra di Bari Bitonto had the best flavor for a reasonable $0.35 an ounce. The best bargains with good taste were the 2-liter Kirkland Signature 100% Italian Extra Virgin Olive Oil at $0.22 an ounce and the 2-liter Kirkland Signature Organic Extra Virgin Olive Oil at $0.18 an ounce. That last one is an incredible bargain for organic!
Peanut and nut butter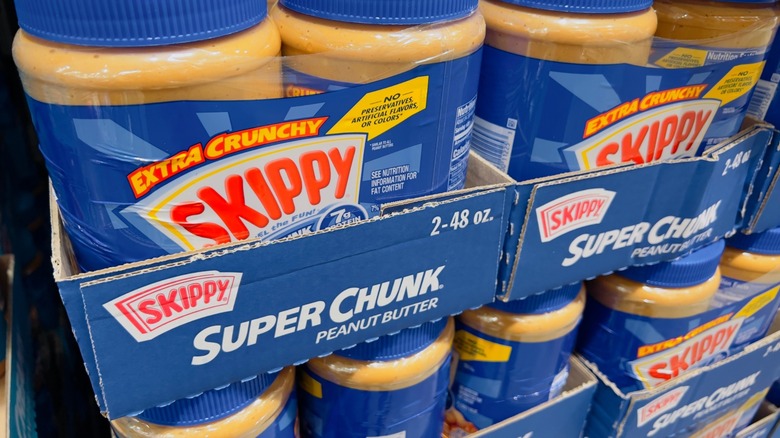 ZikG/Shutterstock
Costco's prices in this category beat just about everyone. And Costco offers a variety of peanut and other nut butters, including Nutella. Let's start with the classic, Skippy, which is available in both Creamy and Super Chunk. You can find a two-pack of 48-ounce jars for under $12.50. That's a whole lot of PBJ sandwiches!
If you want a healthier option, we recommend Costco's Kirkland Signature Creamy Peanut Butter. Though the two-pack only features 28-ounce jars for a similar price, there are other benefits. This item is USDA-certified organic, so you're getting a safer product. But the real difference is in the ingredients. Kirkland's only contains dry roasted organic peanuts and sea salt. Skippy peanut butter, however, also contains sugar and hydrogenated vegetable oil, which could contain cottonseed, soybean, or rapeseed oil. Kirkland's is a healthier choice, especially for your kids.
Costco also carries non-peanut nut butter, including Kirkland Signature almond butter, both regular and organic, and NuttZo Keto or Mixed Nut and Seed Butter. The hands-down winner in this category is the mouthwatering Nutella hazelnut spread, a two-pack of 33.5-ounce jars for about $17. Some stores even carry a 7-pound bucket of it!
Syrupy sweeteners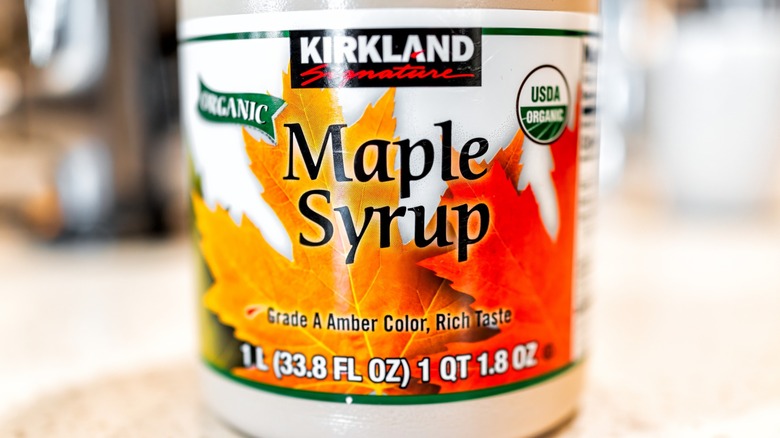 Kristi Blokhin/Shutterstock
Our first recommendation in this category is Kirkland Signature's USDA Organic Maple Syrup. It has no additives, like water, corn syrup, or artificial flavors and preservatives. Like most real maple syrup, this product is imported from Canada. It's Grade A, or amber-colored, and is ideal for both pouring over your pancakes and cooking. The 1-quart size should last a long time if you're making pancakes, French toast, or waffles once a week, and it is priced far below typical grocery store prices for real maple syrup.
Next, we recommend Kirkland Signature Organic Blue Agave Nectar. This two-pack of 36-ounce bottles contains a total of nearly 100 servings, and is free of additives. Even though it's thinner than syrup, you can use it on your pancakes. However, agave nectar is a little closer to taste in honey than maple syrup, making it better suited for cooking or baking, as well as a honey replacement since it has a lower glycemic index. It's also a popular choice for cocktails. However, if you prefer traditional corn-based syrup, Costco also carries Log Cabin syrup in bulk. You can get two 64-ounce bottles for under $11 in many places.
Pasta and sauces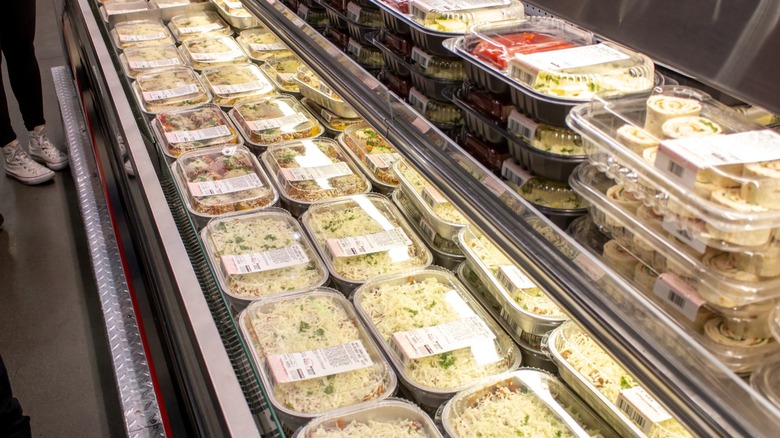 The Image Party/Shutterstock
Almost everybody loves pasta. What's not to love? It's simple, flexible, and delicious. It's easy to stock up and have a go-to pasta dinner ready with Costco's bargains. Reser's Main St. Bistro Beef Brisket Macaroni is 2.5 pounds for under $15, and the fresh Kirkland Signature Ravioli Lasagna with beef and pork bolognese sauce, under 4 pounds for about $22, are amazing dinners you can serve when entertaining. If you'd like an Asian dish, try Kirkland Signature Yakisoba Stir Fry with seasoned chicken, which retails for about $4.99 a pound.
Costco also has amazing deals on dry pasta, too. The Kraft Macaroni & Cheese Dinner is available in cartons of 18 boxes for under $20 or in 12 microwavable pre-made cups for around $10-12. Costco also offers over six different types of ramen options, from soup bowls to bags of noodles. And don't miss the frozen pasta products from Kirkland Signature and Rana, with items like spinach ravioli, sold in two-packs. One of the best deals is the Garofalo Organic Pasta Variety Pack, which contains six packs of three types of pasta at 1.1 pounds each, usually under $11. And for gluten-free eaters, Banza Chickpea Pasta is also available. Costco also offers great deals on tomato sauce. We recommend the three-packs of Prego Pasta Sauce or Classic Organic to top off those Italian meals!
Pantry must-haves: chicken stock and coconut oil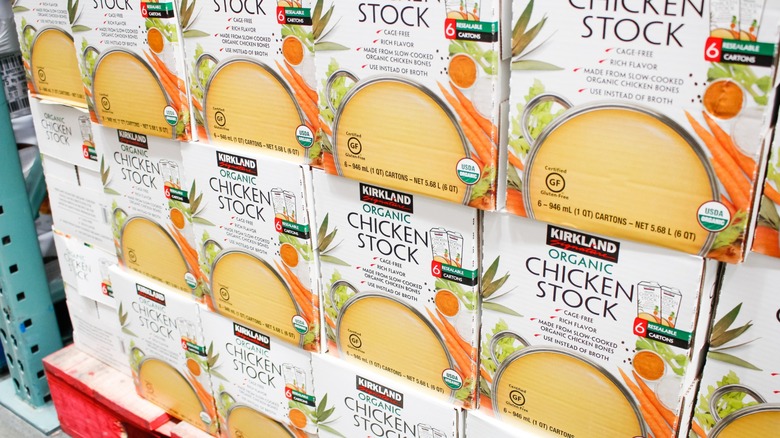 The Image Party/Shutterstock
Costco is the perfect place to stock a pantry with must-have items, and we believe these two should be in everyone's shopping cart. Available in both organic and regular, Costco's Kirkland's Signature Organic Chicken Stock packs are a real bargain. It's packaged in six 1-quart resealable containers, and comes from cage-free chickens, just like its eggs. This chicken stock is a good choice for slow cooker meals, soups, and roasted chicken. Once you try it in chicken stock, we believe you'll never make rice with just water again! The one drawback is that it contains undisclosed natural flavors, which can mean MSG. You might want to avoid this product if you're allergic.
Another great bargain is Kirkland Signature Organic Virgin Coconut Oil, which comes in an 84-fluid-ounce jar for less than $20. This coconut oil is cold-pressed, unrefined, and chemical-free. Despite some controversy in its history, it's safe and high-quality. You can use this oil for everything from cooking to oil pulling!
Meat and seafood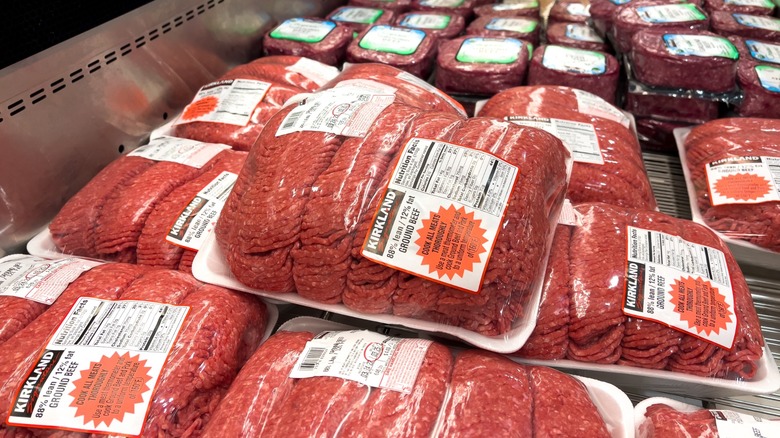 calimedia/Shutterstock
If you've been to Costco, you know that its meat, poultry, and seafood department is so large you may struggle to navigate the options. The good news is that while prices for these foods have gone up everywhere, you can still get a great deal at Costco.
A great insider tip for saving on meat from Costco includes buying meat sold in Cryovac bags, which have even better discounts than what's on the floor. You'll need to ask for them in the meat department. These include large items like rib-eye steaks, tri-tips, and even crab legs. While there, ask if there are any butcher discounts, which are deeply discounted deals on meat products that the store can't sell by the required date. You can also buy beef by the "chub", a long, sealed tube of ground beef that is often a great deal for better-quality ground beef. Costco also stands out for its selection of organic beef and chicken that are competitive with grocery store prices ... but not always. Do your due diligence before buying.
Finally, Costco has a large selection of wild-caught seafood items. Many experts and dietitians claim these are much safer and healthier than farmed fish. Options include sockeye salmon, marinated salmon, cod, and halibut. Sourcing varies by location.
Canned goods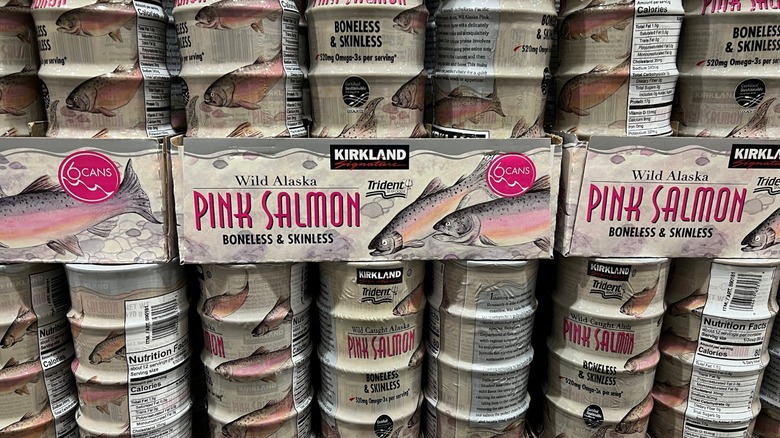 Photos_Footage_11111/Shutterstock
The best part about buying canned goods in bulk is that you don't have to worry about the expiration of most items. What are the healthiest canned goods to buy at Costco? The options are extensive! Stock up on the 8-count pack of canned chickpeas, a great source of both protein and aquafaba, which can be used as an egg substitute if you follow a vegan lifestyle. Costco also carries black beans in 8-count packs as well. 
Costco also has a great selection of canned seafood. We recommend two from Wild Planet, tuna and sardines. Both are sustainably caught and come in a 6-pack. Kirkland Signature's canned Wild Caught Alaskan Pink Salmon is available at some locations, also in a 6-pack. You can also stock your pantry with canned diced tomatoes. These are more affordable and more flexible than pre-made tomato sauce. Use them as a base for curry, soup, stew, and other meat and veggie dishes.
The final can't-miss item? Coconut milk. Costco carries a 6-count of Thai Kitchen Certified Organic full-fat coconut milk, which is a steal at roughly $0.18 an ounce. Use it for curry or as a dairy-free whipped topping!