How To Bring Halloween Spirit Into Your Mimosas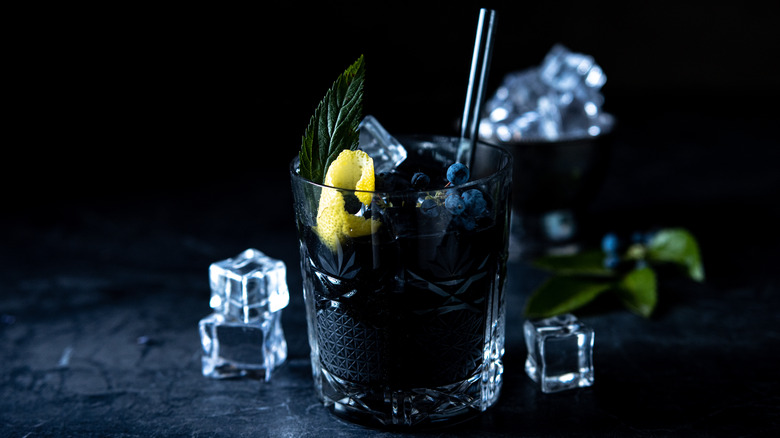 Black Lollipop/Getty Images
Halloween is the time of the year when everyone begins to get into the spooky spirit, whether that means prepping for costume parties, hosting scary movie nights, or just thinking of new ways to get creative with otherwise average foods and drinks. Whether you're making a Halloween punch or cocktail, one of the easiest ways to do this is with an infusion of Halloween colors.
In that spirit, your average brunch mimosa can become a Halloween one with just a few fun and easy additions. For one variation, add a little edible glitter at the bottom of your glass and then some black vodka on top. For a little extra fun, place cotton candy fluff around the rim so it looks as if it's floating above the drink. If black vodka isn't available, simply make your own by mixing just a touch of black food coloring into the liquor.
Instead of black vodka, pour some blue curaçao to your glass, which will turn the drink green once the orange juice and Champagne are added. Before pouring, you might also dip the rim of the Champagne flute in a little icing and coat the rim with edible Halloween shapes or sugar sprinkles.
Spooky cocktails are easy with a little creativity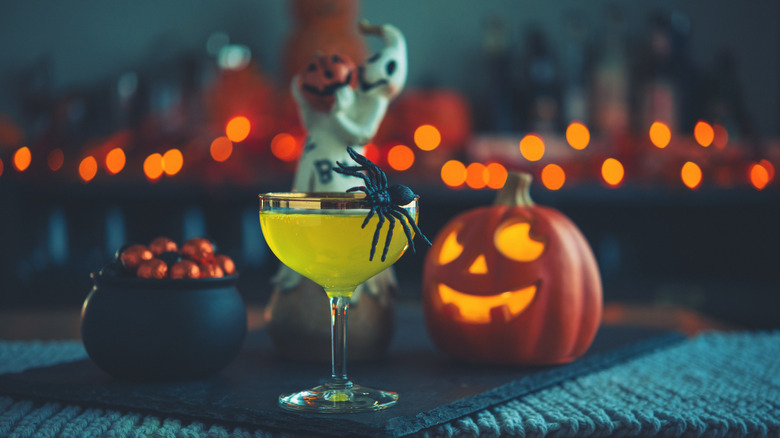 Catlane/Getty Images
A search on TikTok or Instagram can give you all the inspiration you need to get into the drinkable Halloween spirit. Edible boozy eyeballs can be made with blueberries pushed inside lychee fruit, plus a little red food coloring to look like blood. Looking for more DIY for guests? Mix cranberry juice or fruit punch with a dash of red food coloring, then fill plastic syringes with the mixture. Set the syringes in glasses of Champagne and serve.
Sometimes all it takes to increase the creepy factor for cocktails is to change up your drinking vessels. Pour your beverage into a Champagne flute that features a skeleton hand wrapped around the base, for instance, and it won't matter what color the drink inside is. For those who aren't interested in frightening guests, incorporate sticks or straws that are shaped like bones, ghosts, pumpkins, or bats.