Kraft Heinz Will Bribe Your Child To Learn With New Snack-Filled Books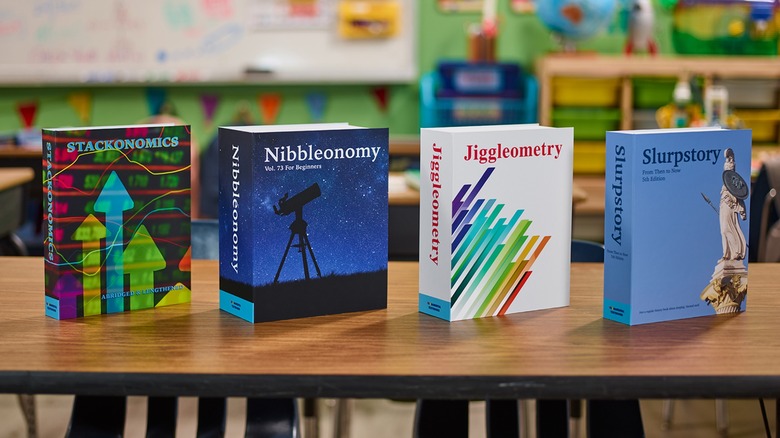 Kraft Heinz
While parents have been obsessing over buying school supplies, new clothes, and the best Aldi products to toss in the school lunch or snack bag, kids have been feeling that going back to school means the end of summer fun. In an effort to bring excitement to learning for those who are struggling to get back into the rhythm, Kraft Heinz has created FUNdamental Textbooks, and the best part is that the books cost absolutely nothing.
Jiggleometry, a play on geometry, teaches kids about shapes and non-shapes, and tucked inside the book is a container of Jell-O. Nibbleonomy is about astronomy, letting kids explore what's out there in the universe, and there's a cup of Kraft Mac & Cheese in the hollowed-out pages. Stackonomics, which introduces kids to economics — and discusses stacking, trading, and bartering — contains a Lunchable. The final book is called Slurpstory, and it is a humorous take on history that holds a slurpable beverage: Capri Sun.
Despite the books being free, Kraft Heinz is donating $10 to the non-profit organization First Book for every FUNdamental Textbook that is ordered. First Book states that its mission is "to ensure that all children, regardless of their background or zip code, can succeed — by removing barriers to equitable education." Along with the $10 donations, Kraft Heinz is also donating $50,000 to the organization.
Kraft Heinz is trying to make back-to-school easier for parents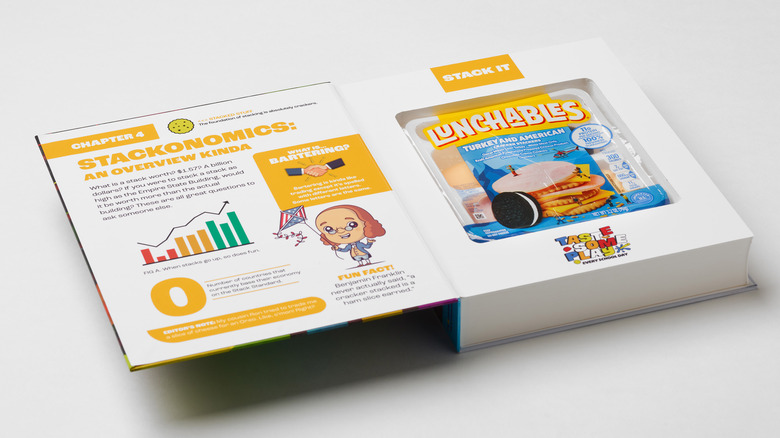 Kraft Heinz
"At Kraft Heinz, we believe education can be a fun-filled adventure full of imagination, and with our books, we aim to reignite the enthusiasm for learning," Anna James, associate brand manager at The Kraft Heinz Company stated in a press release. According to a survey Kraft Heinz commissioned, more than half of parents worry that kids won't enjoy school this year.
To be fair, Kraft Heinz's survey only covered 1,033 U.S. parents with kids between 6 and 12 years old. However, according to The National Center for Education Statistics, 37% of fourth graders are below the basic reading level. Kraft Heinz's two-page books — each of which contains a hollowed-out pocket for the snack — may be small, but anything that gets kids interested in reading and learning is likely a positive thing.
This isn't the first time Kraft Heinz has tried to make back-to-school easier for parents. In August, the company partnered with TaskRabbit to offer two Capri Suns in specially designed boxes as "Wireless Kid-Noise Canceling Technology." The idea was to give parents 50 seconds of calm, which Kraft Heinz claimed is the amount of time it takes a kid to drink a Capri Sun. Along with the beverage, purchasers received a TaskRabbit credit of $100, in order to get some expert help with their tasks and find a little time to relax.