Costco's New Frozen Chicken Nuggets Belong In The Food Court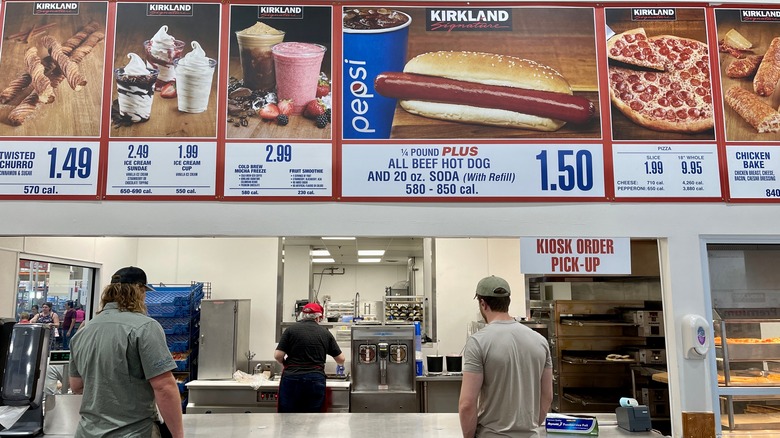 Ant DM/Shutterstock
The Costco food court is home to easy-to-grab items like its all-beef hot dogs and chicken Caesar salads. However, a new frozen offering from the wholesale giant deserves to be served up hot alongside the pizza slices and chicken bakes. We think Kirkland Signature's Lightly Breaded Chicken Breast Chunks — currently sold by the bagful — are worthy of the Costco food court treatment.
These nuggets are frozen and fully cooked, which makes them even more approachable to prepare at home, and were described in an Instagram post from @costcobuys as "Chick-fil-A nugget dupes." Priced at $13.99 for a 4-pound bag, they clock in at about $6 less than the previously sold Just Bare brand chicken breast chunks. One Costco worker reported the nuggets came into their location last week and speculated about the new product's potential popularity, writing, "When we got in the bare nuggets we would clear out about 2 full pallets a week so I wonder how these would do."
Going off early social media reactions, the new nuggets could become a popular frozen Costco item. Therefore, we can't help but wonder why the chain won't introduce this item to its food court, which is basically fast food anyway.
Chicken nuggets could be a big win for Costco's food court
Kirkland Signature's Lightly Breaded Chicken Breast Chunks are described on the packaging as being made of breaded boneless skinless chicken breast with no added hormones, steroids, or antibiotics, which might also remind some of how Chick-fil-A's nuggets are marketed. However, the similarities extend beyond not only appearance and description. One person on Twitter claimed Just Bare's nuggets could easily pass for Chick-fil-A in taste, which echoes other commonalities between the two frozen offerings. 
Hopefully, the new chicken nuggets will be seen as an improvement over Costco's previous offering as, earlier this year, customers complained of a serious drop in quality. So far, the reviews skew positive, according to a Reddit thread in r/Costco. One commenter wrote, "Far better than the Just Bare and currently $4 less for the same amount." Others chimed in to express curiosity and interest in the new frozen item. 
Overall, we're left wondering why Costco doesn't start selling its nuggets at the food court. This move would help the wholesaler go beyond its reputation of boxes and samples and step up to the plate as a bonafide fast food competitor, especially if its nuggets can potentially hold their own against Chick-fil-A.