Mushroom-Mixed Nut Vegetarian "Meatloaf" Recipe
Catherine Brookes/Mashed
In the world of vegetarian cuisine, the pursuit of rich, satisfying flavors and wholesome nutrition often leads to innovative culinary creations. One such masterpiece is this mushroom-mixed nut vegetarian "meatloaf" by recipe developer Catherine Brookes. This recipe reimagines the traditional meatloaf with a harmonious blend of umami-rich mushrooms and protein-packed mixed nuts, showcasing the incredible potential of plant-based ingredients to deliver not only on taste but also on the essential building blocks of a balanced diet.
Brookes tells us, "This is the perfect thing to make if you have vegetarian guests coming over. It's great as part of a big dinner with roast potatoes and veggies!" While ideal for vegetarians, omnivores will also enjoy this dish. We all can use a bit more plant-based protein in our diets.
In a culinary landscape where plant-based diets are gaining prominence, the spotlight on plant-based protein sources has never been brighter. Incorporating protein into meals is crucial for maintaining optimal health, supporting muscle growth, and promoting overall well-being. While animal products have long been the primary source of protein, this dish stands as a shining example of how diverse, nutrient-dense plant ingredients can step up to the plate.
Gather your mushroom-mixed nut vegetarian meatloaf ingredients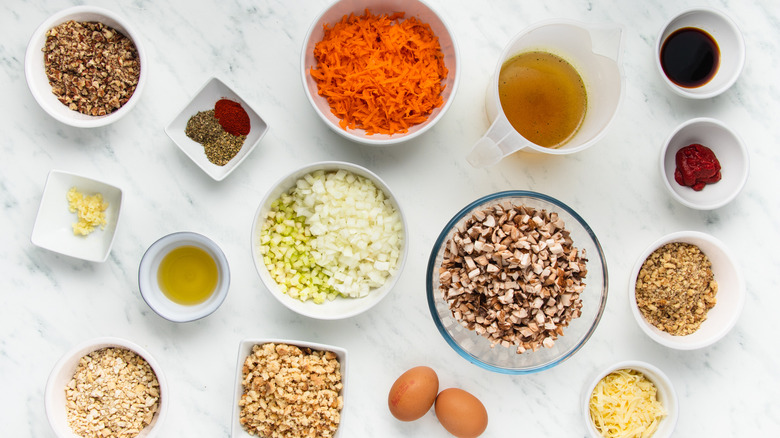 Catherine Brookes/Mashed
To make this dish, you can start by gathering your ingredients. For this recipe, you will need olive oil, onion, celery, carrot, cremini mushrooms, garlic, walnuts, pecans, cashews, soy sauce, tomato paste, oregano, paprika, dried thyme, veggie stock, breadcrumbs, eggs, cheddar cheese, salt, and pepper.
As far as ingredient substitutions, you can easily switch up the nuts used in this recipe to choose ones that you particularly enjoy. Brookes notes, "The nuts can always be subbed for other types such as Brazil nuts and hazelnuts."
Sauté the veggies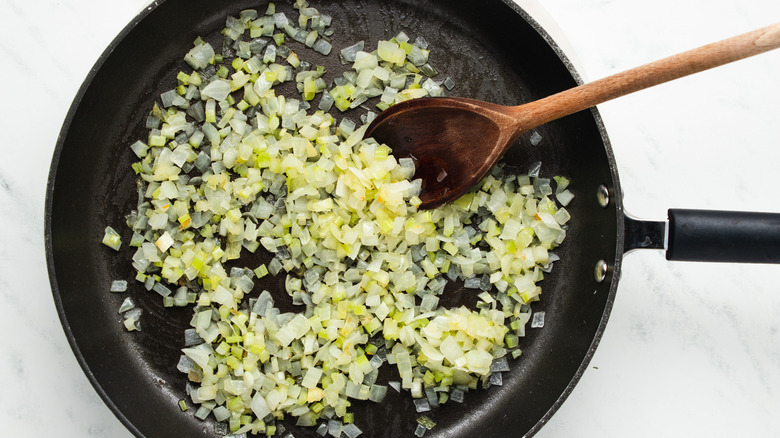 Catherine Brookes/Mashed
In a sauté pan over medium heat, add the olive oil. Once it is hot, add in the onion and celery. Sauté these veggies until they are tender, which takes about 8 minutes. Then, add in the mushrooms and garlic before cooking for another 5 minutes. Add the grated carrot and cook for another 2 minutes. Then, add in the oregano, paprika, and thyme. Continue to cook for another 2 minutes.
You may be tempted to rush through each of these stages and simply cook all the veggies together until they cook down. It's important not to rush this process, specifically for the mushrooms. Mushrooms are composed mostly of water, and when they hit the hot skillet, this moisture begins to evaporate. Initially, the mushrooms may release a significant amount of water, causing them to sizzle and steam. This stage is essential, as it helps create a concentrated mushroom flavor once the excess moisture is cooked off.
Build the plant-based meatloaf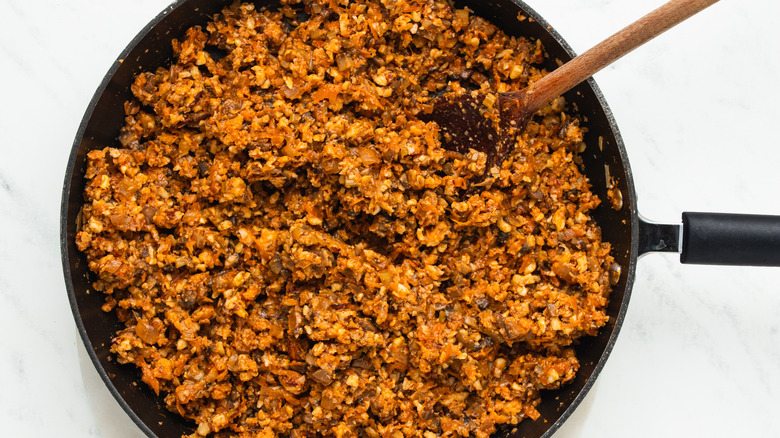 Catherine Brookes/Mashed
Next, it is time to add in the ingredients that will provide a lot of flavor to this dish. Add in the tomato paste, soy sauce, and veggie stock. Give the mixture a good stir and then bring it to a boil. Once boiling, lower the heat to a simmer and continue simmering for 10-15 minutes, or until the liquid has mostly evaporated. Then, remove the pan from the heat before preheating the oven to 350 F.
Mix in some binding ingredients before baking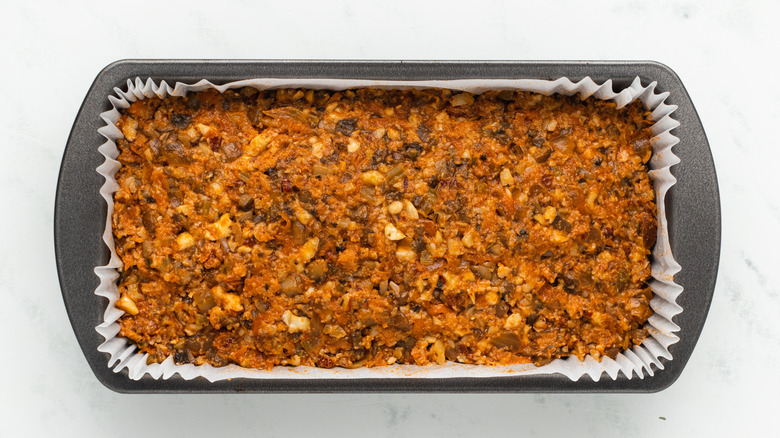 Catherine Brookes/Mashed
Add in the nuts, eggs, cheddar cheese, breadcrumbs, salt, and pepper to the cooled "meatloaf" mixture. These ingredients will all provide the ability for the loaf to bind together. Mix the ingredients until they are well incorporated. Then, pour out the mixture into a parchment paper-lined loaf pan and bake for 30-40 minutes. When the time is up, remove the loaf pan from the oven and let it cool for 10 minutes. Then, invert the loaf pan and remove the "meatloaf" from the pan, resting on a wire rack, to continue cooling.
Now, all that is left to do is slice it up and serve it. Not sure what to pair with this dish? Brookes recommends, "This is perfect served with some garlic and rosemary roast potatoes, glazed carrots and steamed greens." Should you have any leftovers, Brookes notes, "Leftovers can be stored in the fridge for up to 4 days."
Mushroom-Mixed Nut Vegetarian "Meatloaf" Recipe
This "meatloaf" might not actually contain meat, but it is loaded with various nuts, mushrooms, and rich, savory flavor.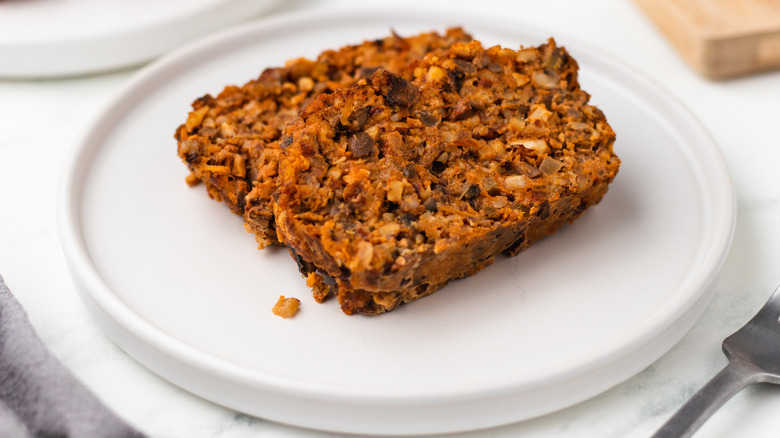 Total time: 1 hour, 17 minutes
Ingredients
2 tablespoons olive oil
1 onion, finely diced
1 stick celery, finely diced
8 ounces cremini mushrooms, finely diced
2 cloves garlic, minced
1 large carrot, grated
1 teaspoon oregano
1 teaspoon paprika
1 teaspoon dried thyme
1 tablespoon tomato paste
1 tablespoon soy sauce
1 cup vegetable stock
¾ cup walnuts, finely chopped
¾ cup pecans, finely chopped
¾ cup cashews, finely chopped
2 eggs
½ cup grated cheddar cheese
1 cup breadcrumbs
salt, to taste
pepper, to taste
Directions
Add the olive oil to a large, high-sided frying pan over medium heat. Add the diced onion and celery and fry until softened, about 8-10 minutes.
Add the mushrooms and garlic and cook for another 5 minutes, stirring frequently.
Next, add the grated carrot and stir, cooking for another 2 minutes.
Stir in the oregano, paprika, and thyme. Cook for another 2 minutes.
Add the tomato paste, soy sauce, and vegetable stock. Stir, bring to a boil, then reduce to a simmer and bubble until almost all of the liquid has been absorbed. This should take about 10-15 minutes.
Remove the pan from the heat and leave to cool while you preheat the oven to 350 F.
Add the nuts, eggs, cheddar cheese, breadcrumbs and some salt and pepper to taste to the cooled mixture. Mix well.
Line a loaf pan with parchment paper and fill it with the mixture. Bake for 30-40 minutes until browned on top.
Leave the meatloaf in the pan for 10 minutes before transferring to a wire rack to cool completely.
Cut the meatloaf into slices and serve.
Nutrition
| | |
| --- | --- |
| Calories per Serving | 732 |
| Total Fat | 55.6 g |
| Saturated Fat | 9.7 g |
| Trans Fat | 0.0 g |
| Cholesterol | 96.3 mg |
| | |
| --- | --- |
| Total Carbohydrates | 43.9 g |
| Dietary Fiber | 7.8 g |
| Total Sugars | 8.6 g |
| Sodium | 752.1 mg |
| Protein | 22.8 g |