Mark Zuckerberg's McDonald's Order Is So Large We Can't Tell If He's Serious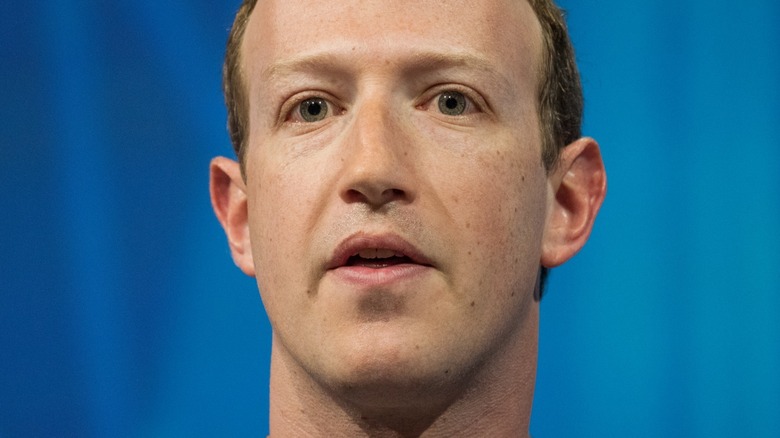 Frederic Legrand/Shutterstock
Plenty of athletes enjoy fast food from time to time — Chicken McNuggets have a special place in Usain Bolt's heart, Shaquille O'Neal loves himself some McDonald's, and so does Floyd Mayweather. As it turns out, Mark Zuckerberg is also a fan of the Golden Arches.
While he might not be a professional athlete, Zuckerberg takes fitness training seriously and has incorporated a variety of strength and self-defense exercises into his daily routine. A blue belt in Brazilian Jiu-Jitsu, he has won several medals in tournaments and also practices MMA fighting. Such rigorous training and exercise calls for extra calories, and according to the Meta head honcho, he doesn't mind treating himself to some McDonald's.
When the fast food restaurant chain asked its fans on Threads what they'd like to order, Zuckerberg pulled no punches in the replies section. "20 nuggets, a quarter pounder, large fries, Oreo McFlurry, apple pie, and maybe some side cheeseburgers for later?" he wrote. In the same thread, Zuckerberg admitted he needs 4,000 calories per day to strike a balance between training exertion and nutrition since he doesn't want to lose weight. "And it's so delicious ... " he added. We'll have got to take his word for it — whatever Zuckerberg is doing seems to be working for him, and he has a shredded physique to show for it.
The order is above the recommended daily caloric intake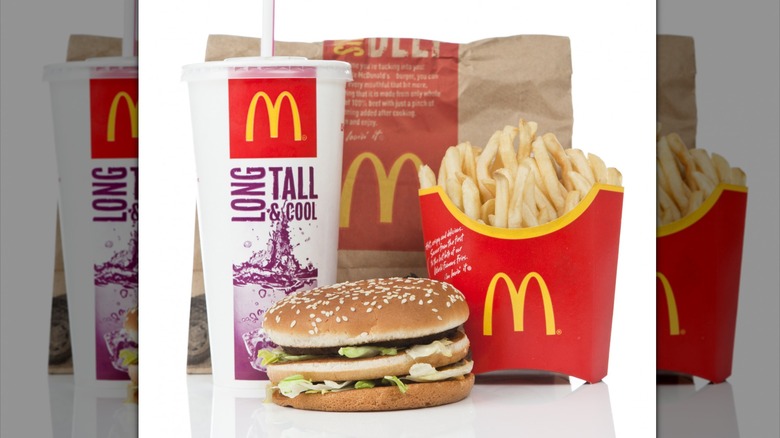 Ellenmoran/Getty Images
For an average person who doesn't train like Zuckerberg, the total calories from his McDonald's order would exceed the 2,000-3,000 calorie mark for men set by the Dietary Guidelines for Americans. Since Zuckerberg has multiple training sessions per week, he burns off many of the calories he eats, but for the rest of us, the calories accumulated from Zuckerberg's McDonald's order might be a little much.
Let's break down the calories per item: 20 McNuggets are 830 calories, a Quarter Pounder is 520 cal., a large World Famous Fries is 480 cal., the Oreo McFlurry is 510 cal., the Baked Apple Pie is 230 cal., and one cheeseburger is 300 cal. That's easily over 3,000 calories if Zuckerberg does, in fact, add more cheeseburgers.
The tech giant's order garnered a wide range of reactions. "College diet for life!" one user wrote. "My man with the tall order. Respect! Just don't burn your mouth with the apple pie lava," another user commented. "You're in camp! No McDonald's," UFC fighter and Zuckerberg's friend Mike Davis commented with a "tears of joy" emoji. "I thought you only ate meat that you killed?" one fan questioned. Zuckerberg previously admitted to only eating meat from animals he killed as a part of his annual personal challenge in 2011.
Mark Zuckerberg and McDonald's go way back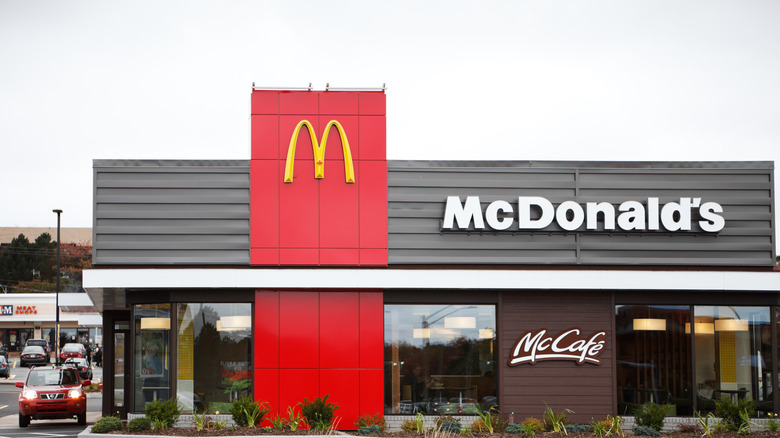 Garett_mosher/Getty Images
Zuckerberg's adoration for McDonald's is nothing new. In fact, social media as we know it today would be vastly different had Zuckerberg taken up his father's offer to open up a McDonald's franchise years before he founded Facebook. "My dad, funny enough, right before each of us went to college offered us the options of going to college or like investing in a franchise and running it," Zuckerberg's sister, Randi Zuckerberg, told CNN Business.
Though Zuckerberg seemingly turned down the offer, he ended up dropping out of college anyway to focus on growing Facebook. "I think they were like, 'Okay, you probably should have taken the McDonald's franchise money if you wanted a business. But, okay, this might be a second good choice," Randi recalled. That "second good choice" is worth billions of dollars today.
One might think Zuckerberg's order of 20 nuggets is large, but apparently, it's nothing compared to what he used to order back in the day. When Meta's platform Workplace collaborated with McDonald's in 2022, he shared a post on Facebook to commemorate it. "Celebrating McDonald's joining Workplace with a 20-piece McNuggets, Quarter Pounder, and fries. I'm lovin' it," he wrote. In the comments, Facebook co-founder Dustin Moskovotiz teased that Zuckerberg was getting "weak" since he ordered only 20 McNuggets. "That's true. I remember when we used to order 100 nuggets at a time," Zuckerberg replied.