Smoked Negronis Make The Classic Cocktail Feel Even Fancier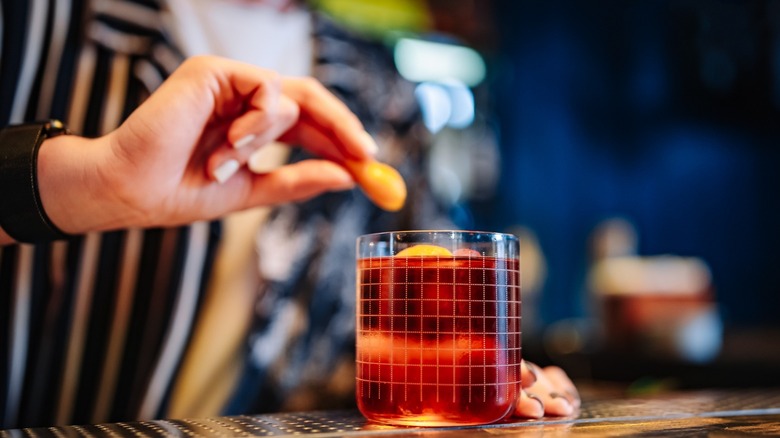 siamionau pavel/Shutterstock
The negroni is a classic Italian cocktail, and its deep red coloring and orange garnish make every occasion feel just a bit more elegant. The standard negroni recipe combines gin, Campari, and sweet vermouth to create a bitter, yet delicious cocktail. But one TikTok creator is taking the classic drink to a new level using smoke and rosemary.
In a video posted to their account, which focuses on innovative cocktail recipes, they create a smoked rosemary negroni sour, using techniques and ingredients not normally associated with the drink. To infuse the cocktail with a smoky, herby flavor, they use a match to light a sprig of rosemary on fire before placing the glass over the smoking sprig. Once rosemary smoke fills the glass, they start building a negroni: 1 ounce each of gin, sweet vermouth, and Campari, ½ ounce each of rosemary syrup and lemon juice, a splash of orange juice, and one more odd addition: an egg white. They then shake the ingredients, pour the concoction through a strainer into the smoky glass, and garnish the drink with the rosemary sprig and a dried orange wheel.
Egg whites and smoke in a negroni?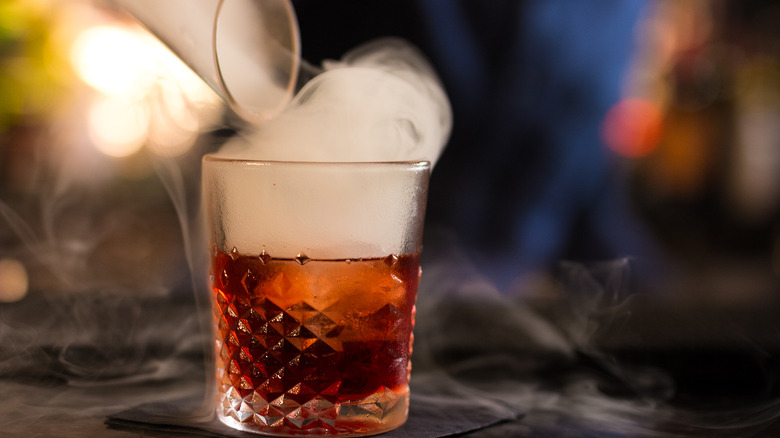 Simon Janetzki/Shutterstock
This TikTok creator's recipe is filled with flavors you wouldn't normally find in a negroni, but that makes the drink feel all the more classy. Many commented on how beautiful the final result is, calling it a "work of art." But others in the comments were hesitant to jump on board; in particular, these people took issue with the egg whites and the creator's use of smoke. One wrote, "lost me at the egg white," and another said, "there's no way that smoke does a single thing."
The video's creator replied under a comment asking about the smoke, assuring viewers that it does indeed make a difference. The practice of smoking cocktails is nothing new, and it adds an additional level of flavor — and excitement — to the drink-making process. Other users also jumped in when some questioned the egg whites, explaining that many drinks use them to achieve a pristine layer of foam that settles across the top of the final product.