For A Stronger Tasting Salad Dressing, Swap Olive With Toasted Sesame Oil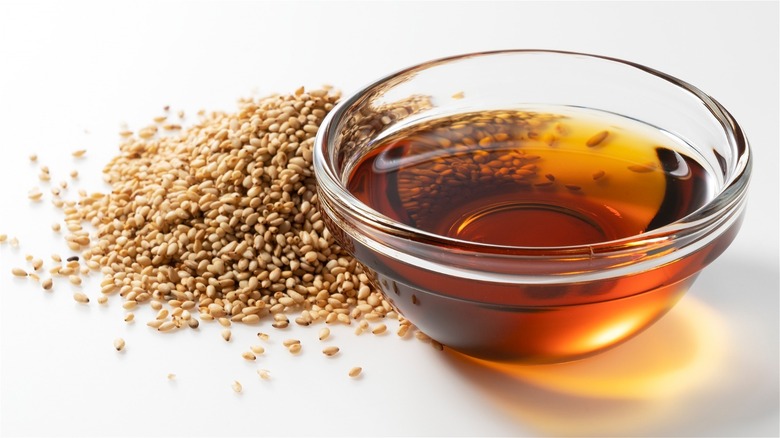 masa44/Shutterstock
Salad lovers understand how a dash of oil can level up your salad game. Not only do oils make salad dressings taste better, but they also make your vegetables more nutritious. A study led by Iowa State University led by Iowa State University scientist Wendy White shows that adding oil to salads promotes the absorption of nutrients like vitamin A, lycopene, and vitamin E.
Oils with a neutral taste pair well with salads, and olive oil is arguably the most popular choice. Extra virgin olive oil tastes amazing in salads, but sometimes, the aromas and flavors just aren't enough to satisfy your taste buds. Adding more olive oil isn't an option because too much may not be healthy. However, replacing it with another variety might be worth it.
Nut oils are always an option, but you might want to give sesame oil a try. It is a popular ingredient in Asian kitchens and is extensively used in Chinese cooking. This fragrant oil has a distinct nutty taste that can give your salad a flavor boost.
Flavor isn't the only thing sesame oil has to offer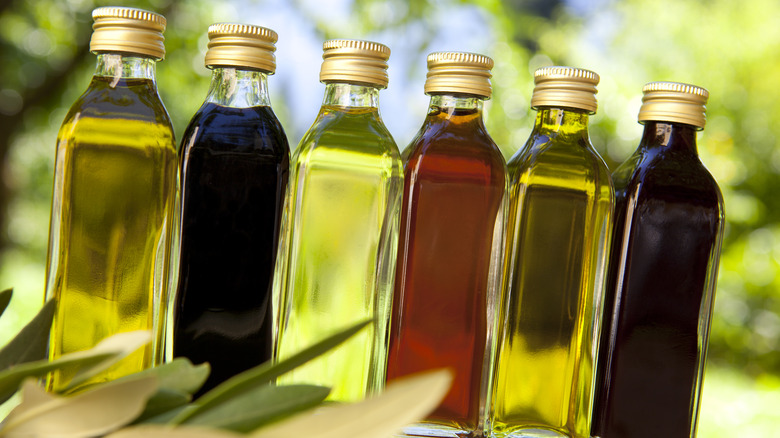 Angiephotos/Getty Images
Sesame oil comes in two varieties — light and toasted. Light sesame oil is made by pressing raw sesame seeds. The seeds are toasted for the dark variety. As for the flavor, light sesame oil imparts a mild nutty flavor, whereas toasted sesame oil has a stronger, earthier flavor. If you want to use toasted sesame oil in your salad dressing, remember that little goes a long way. It can easily overpower other ingredients.
Like olive oil, sesame oil doesn't contain protein, but it is loaded with vitamin E, antioxidants, and phytosterols. Since it is rich in antioxidants, it may help keep the heart healthy and fight inflammation. It is also considered good for your skin and hair health.
Sesame oil goes well with a variety of salads like Chinese chicken salad, Asian-style cobb salad, and even Caesar salad. It may not work with all salads, but if you really want to try a salad with sesame oil, try adding it to Asian cucumber salad, peanut soba noodle salad, or sesame noodle salad.
You can make an easy sesame salad dressing with simple ingredients, including soy sauce, brown sugar or honey, sesame seeds, and rice vinegar or apple cider vinegar. For a thick and creamy sauce, add a little mayonnaise and blend well.