In Switzerland, You Can Buy Cheese While Hiking Along The Alps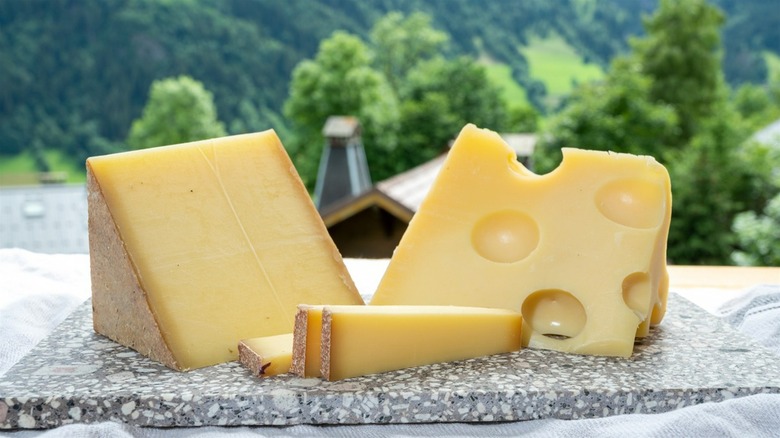 barmalini/Shutterstock
Towering over the scenic landscape of Switzerland are the snow-capped Alps, where an estimated 150,000 hikers flock each year to experience the mountain range that has become a national symbol. With over 40,000 miles of mountain trails to wander, not only do the Swiss Alps provide trekkers with the picturesque adventure of a lifetime, but some areas also even offer trail-side cheese you can purchase. Tourists may happen upon a mini-fridge filled with Swiss cheese and a lock box to insert cash on the honor system, or there will sometimes be small alpine dairies you can pay a visit to. If farmers or the merchant are available, hikers interested in the country's cheesemongering traditions can pick their brain.
Cheese has been a time-honored staple in Switzerland for centuries, and the country is known for its high-quality and ultra-melty varieties, many of which are produced in the mountains. These cheese varieties are categorized as alpine cheeses, and can include familiar types like Gruyere and Emmental, the hearty and hole-y fromage that U.S. mass-produced "Swiss cheese" attempts to mimic. On tiring multi-day treks especially, it's a real treat to find one of these cheese farms in the Alps, allowing backpackers to add something a bit fancier to their freeze-dried hiking meals each day. It also makes for a great, culturally significant souvenir to bring home to share. After all, how many travelers can say they scored some alpine cheese while traversing the Swiss Alps?
There is an actual alpine cheese trail you can hike in Engelberg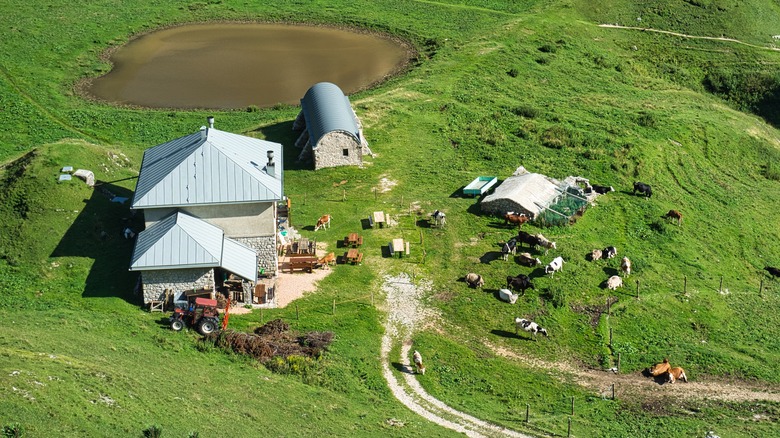 giocalde/Shutterstock
Culinary cheese hikes are a thing in Switzerland, where you can explore the great outdoors and catch some stunning views while you make your way to dairies operating in valleys or near lakes. These summertime tours can take anywhere from one to three hours to hike, and once alpinists finally make it to their destination, there are various cheeses that need tasting and pubs to relax in. In the heart of the country is the city of Engelberg, where you can embark on a trail that's fully dedicated to Swiss cheese.
The Alpine Cheese Trail winds its way for over 29 miles past seven different dairies, where hikers can learn about the ingredients in Swiss-made cheese and how it goes from pasture to production. Some of the trail's dairies have been around for 60 years and run completely on solar power, and even though it's located in a beautifully scenic area meant for leisure, the cheesemakers are hard at work from dawn 'til dusk. You can sample cheese along the way, but most of all, travelers will come to appreciate the hard labor that goes into making handcrafted Swiss cheese under such conditions. If the gears are turning and you've decided to add Switzerland cheese hikes to your bucket list, be sure to bring cash so you can bring home the best charcuterie board cheeses your guests might ever lay their taste buds on.