Aldi Gave Us An Early Holiday Gift In The Form Of Festive Hard Seltzers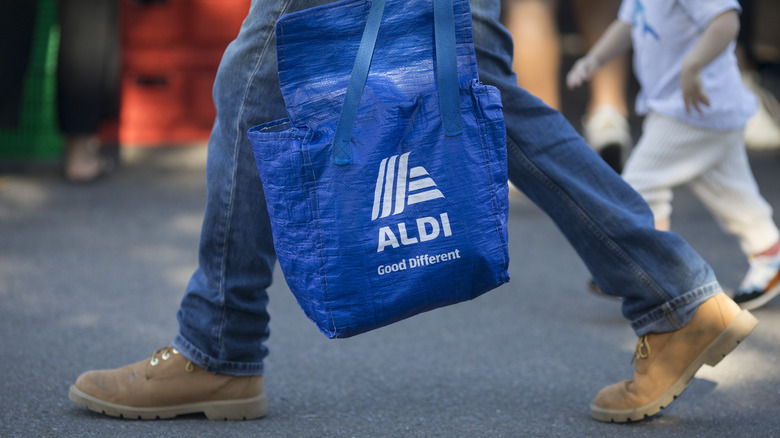 Bloomberg/Getty Images
Last October, Aldi dropped a hard seltzer advent calendar that made sure everyone's holiday seasons kicked off in a festive way. This year, the chain isn't playing around again and has given us an early present that takes the form of a new pack of holiday hard seltzers.
Aldi's Vista Bay Holiday Hard Seltzer Pack features four festive flavors: Pear Martini, Cran-Pomegranate, Cherry Spice, and Berry Bramble. You might not immediately think of a refined cheese board when you think of hard seltzers, but Aldi claims its beverages go well with brie or cured meats. Similarly to many other hard seltzers, these have an alcohol content of 5% and are gluten-free. For shoppers who plan on trying the item, it might be wise to double-check that Aldi locations in their state sell alcohol — one user on this Reddit thread about the new seltzers shared that Aldi's in their home state of Pennsylvania don't offer alcohol.
Don't worry, they (probably) don't taste like candles or medicine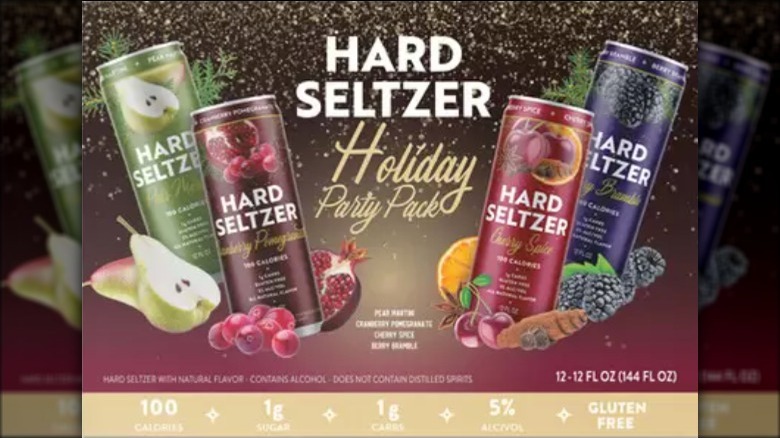 Aldi
Although Aldi's new seltzer flavors do have names reminiscent of Bath and Body Works candle scents or medicine, the consensus on Reddit seems to be that they (thankfully) do not taste like either. One user shared their thoughts on every flavor, saying that the cherry wasn't too "medicinal" and that the Pear Martini seltzer had a good pear flavor. Another who appears to have tried the seltzers says they're "fantastic" and have a "more natural flavor" than other Aldi seltzers they've tasted in the past.
So it seems like people like them overall, but with any new product, there are always naysayers. One user wrote, "these are seriously heinous," and another claimed that they do taste candle-like. For those who just take the leap and see for themselves, there are so many ways to enhance the drinks' natural flavors or pair them with other flavors. If folks want to bring out their fruitier notes, they can mix them with some fruit juice — the Cran-Pomegranate flavor could be excellent with a splash of cranberry juice or Cherry Spice may go well with some added orange or even lime juice.