Aldi Just Dropped A Hard Seltzer Advent Calendar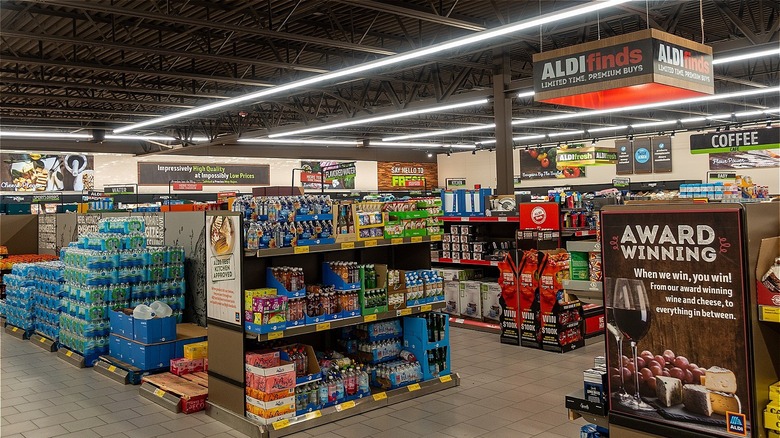 Joni Hanebutt/Shutterstock
The most wonderful time of the year is quickly approaching. No matter which holiday you observe, once Thanksgiving dessert has been cleaned up, the countdown until the next holiday begins. Cue the snow and whip up the eggnog!
Since the 19th century, Christians have observed the lead-up to Christmas with an advent calendar, a 24-day countdown, usually beginning on December 1 and ending on Christmas Eve (per Vox). Once reserved for children, this age-old tradition began with reusable advent calendars, where excitement was generated by opening another door or window on the calendar. One of the first fancier mass-marketed calendars, offered by Cadbury in 1958, was filled with a familiar holiday sweet: chocolate.
Retailers also use this tradition as an opportunity to get 24 product samples in the hands of potential consumers. Today's advent calendars, Vox notes, are filled not just with chocolate but mini jars of jam and beauty products. Even more, advent calendars are no longer just for Christians who observe Christmas or for children. Countdowns to other religious observances have been released, as have boozy advent calendars giving us all a perfect excuse to drink a glass of something strong every night in December.
Popular grocery chain Aldi has just released its line-up of 25 advent and holiday calendars for 2022. Beginning November 2, 2022, Aldi stores nationwide will release 22 of its advent calendars for this holiday season, with the remaining three released between November 23 and December 7.
Quantities are limited
For adults, Aldi has three adult beverage advent calendars offering 24 days of not just beer and wine, but also hard seltzer to help make the holidays merrier (via Aldi). Revelers who prefer snacking over drinking can find gourmet truffles, hot sauce, and cheese versions or opt to mark each day with a different candle. Hanukkah begins December 18, and this year, you can celebrate the festival of lights with "8 Nights of Hanukkah." 
Kids have a lot of options too, beginning with a traditional chocolate calendar. Toy manufacturers Mattel and Lego offer several popular calendars with fun characters, cars, or mini-builds. Choices include Lego themes "City," "Friends," "Marvel," "Star Wars," and "Harry Potter" and Mattel's "Hot Wheels" and "Minecraft." Parents may appreciate Disney's 24-day calendar filled with storybooks based on popular characters or 12-day calendars filled with small crafts to keep little hands busy. Not to be forgotten, Aldi is releasing a dog and cat advent calendar filled with 25 all-natural treats for the only family member who is always happy to see you. 
Aldi's holiday and advent calendars are available for a limited time, and the products will not be restocked once they sell out. Per the FAQ section on its website, Aldi is also limiting the following calendars to two per customer due to demand: "Merry Moments My Friend Gnome Kit, Beer Advent Calendar, Holiday Magic Wine Advent Calendar, and Hard Seltzer Advent Calendar." All items may not be available in every store, and prices may vary at different locations.