Taco Bell's New Steak Bacon Grilled Cheese Burrito Is A Comfort Food Smashup
If there's one thing Taco Bell is not afraid of, it's daring food combinations. Whether it's the Nacho Cheese Doritos taco shells or Crunchwrap Supreme, there are many unique things at Taco Bell you might take for granted. The chain recently added one more creative item to its menu for a limited time. The Steak and Bacon Grilled Cheese Burrito is a hybrid of popular comfort foods. Some may even say this marriage of meats, dairy, and starches reaches peak comfort.
The Steak and Bacon Grilled Cheese Burrito is available nationwide but only for a limited time. Initially, it was only on the menu in select Cleveland locations to test it out, but due to its success, Taco Bell is giving everyone a chance to try it. The inside of this loaded burrito stars grilled steak, cubed potatoes, and three sauces — nacho cheese, sour cream, and chipotle sauce. The exterior of the tortilla features a melted three-cheese blend and chopped bacon, which are grilled directly onto the burrito.
The Grilled Cheese Burritos have tasted success before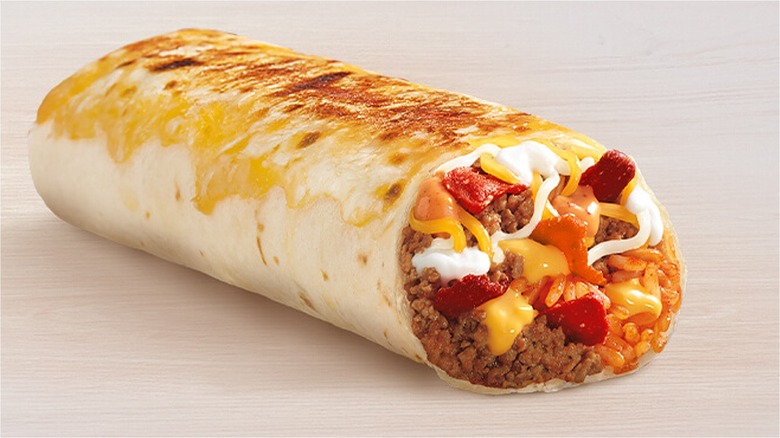 Taco Bell
Although it's too early to say if the Steak and Bacon Grilled Cheese Burrito will become a permanent menu item at Taco Bell, the success story of the Grilled Cheese Burrito may provide some hope. The Grilled Cheese Burrito finally became a permanent menu item earlier this year after being introduced to Taco Bell menus in 2020 and appearing on and off the menu for some time. Whereas the original Grilled Cheese Burrito contains seasoned ground beef, rice, and Fiesta Strips (slivered tortilla strips) the Steak and Bacon Grilled Cheese Burrito adds to it with hefty steak and crispy bacon.
Both versions of the burrito have grilled, crisped cheese on the outside. That feature arguably helped carry the Grilled Cheese Burrito all the way to the permanent menu and paved the way for upgraded variations. There are currently four types of Grilled Cheese Burritos on the Taco Bell menu, but with bacon bits grilled into the cheese and fluffy potatoes, the steak and bacon variety is the most unique. Fans can try it for $5.99 at some locations, but prices may vary.