Costco's 5-Pound Cheese Cube Bags Are A Gouda Deal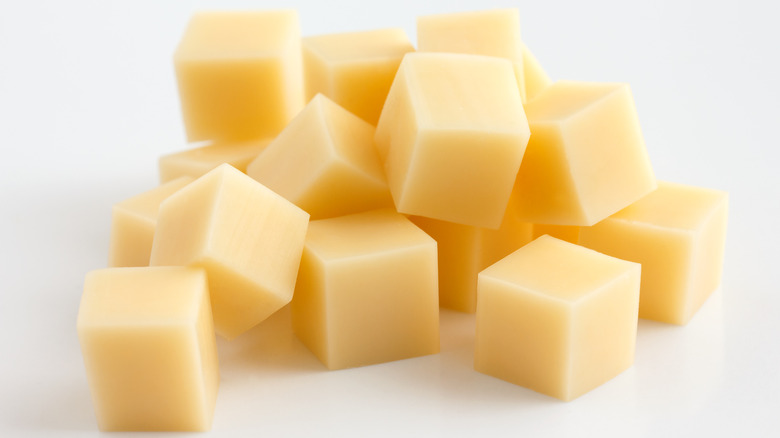 Etiennevoss/Getty Images
There's something about gouda cheese that makes people feel a little fancier and more festive. Whether it's added to your charcuterie board to share for the upcoming holidays, paired with some apples and figs, or used to make the most amazing copycat Panera gouda and ham sandwich, there's a reason it accounts for more than half of the cheese eaten in the entire world. Luckily, Costco is here to provide a "gouda" deal for all your cheese needs.
On October 16, @costcohotfinds posted a TikTok video showing the affordable and cute items found at Costco this week. While some may be excited to pick up the Stitch Squishmallows, our bet is that most people are salivating over the five-pound bags of cheddar and gouda cheese cubes for $12.50.
The bags of cheddar and gouda are distributed by Schuman Cheese, a family-run company that has been making cheese since Arthur Schuman created it in New York in 1945. So exactly how much are you saving by buying your gouda cheese through Costco? For comparison, two five-pound bags of Monterey Jack Cheese Cubes by Bella Rosa — which is owned by Schuman Cheese — cost $75.95.
Freeze it until you need it
Gouda cheese is not only a universal favorite, it's pretty good for you too. According to the Cleveland Clinic, it's packed with Vitamin K and calcium and can improve heart and bone health, and blood pressure. However, it's still a high-fat cheese. "Gouda is a good source of vitamin K2 and healthy bacteria that is good for gut health," registered dietician Julia Zumpano told Cleveland Clinic. "But you definitely don't want to go overboard with it."
The fall is typically a wonderful time for those trying to find good deals on cheese, with deals at many of the major grocery chains. Whole Foods currently has promotions on its Organic Valley and BelGioioso brands, and the store staffs more than 300 Certified Cheese Professionals throughout its locations to help you with any cheese-related questions.
Closer to December, Aldi's famous Gouda Holiday Trees often begin making their way back into stores, and Trader Joe's Unexpected Cheddar Cheese is a year-round favorite. But it's hard to beat the excitement over finding a five-pound bag of cheese for less than $15. After someone impulsively bought one of the five-pound bags of Gouda, they took to Reddit's Costco page to get ideas on what to do with it and were flooded with suggestions, with many saying to freeze it. "This is the way with Costco cheese!!" replied one person. Others realized what they're missing out on. "I have got to check my store for this," said another. "It would make my week."