How Qdoba's Halloween 2023 Deal Differs From Chipotle's Booritos
If the idea of cooking dinner after a night of Halloween havoc sends shivers down your spine, don't worry — Qdoba has you covered. With the return of its annual BooGo Halloween deal, Qdoba is giving customers the chance to score some free food on October 31. And Qdoba isn't the only fast-service Mexican restaurant looking to make your Halloween magical: Chipotle has also announced that its annual Boorito promotion will return for the 23rd consecutive year. While these Halloween deals may seem similar, there are some distinctions to keep in mind.
In a classic buy-one-get-one-free scenario, Qdoba customers who purchase a drink and an entree on October 31 will be awarded a second entree, free of charge. While Qdoba's competitor is also no stranger to BOGO deals, Chipotle's Boorito promotion is a little different this year. Rather than receiving an extra meal, Chipotle customers will get slashed prices this Halloween, as entrees will be only $6.
There's a catch, though. Similar to Chipotle's long-standing Boorito promotion, Qdoba's BooGo deal will only apply to members of the restaurant's rewards program, which you can sign up for online. Luckily, you can still get these spooky deals even if you become a rewards member on October 31.
Deals that could raise the dead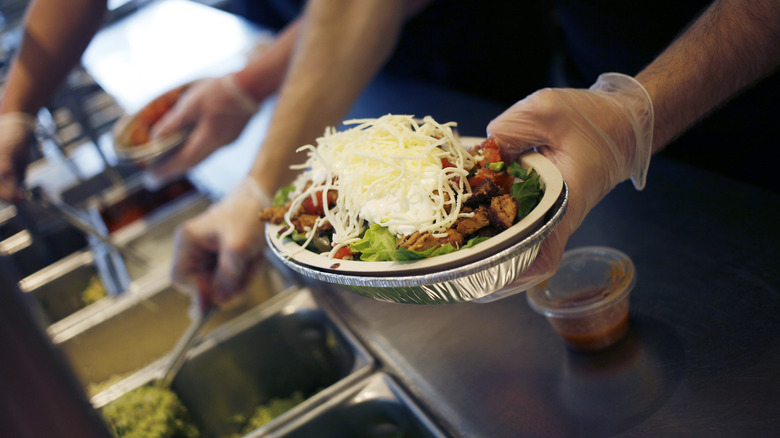 Bloomberg/Getty Images
When Chipotle's Halloween Boorito promotion kicked off in 2000, it began as a sort of costume contest. For 20 years, costumed customers braved long lines each Halloween to take advantage of the discounted entree prices. When the pandemic put the world on hold in 2020, Chipotle moved the annual promotion to the digital sphere, allowing rewards members to order a discounted entree online. This year, Chipotle is sticking with the pandemic model, with customers only able to access the deal if they make the purchase online. Qdoba, however, is offering the BooGO deal for purchases made both online and in-store.
Qdoba's BooGO deal will run for the entire business day on October 31, but you can only cash in on Chipotle's Boorito deals after 3 p.m. on Halloween day. To get more customers in line for Chipotle's discounted food, however, 53 of its locations scattered throughout bustling college towns will be serving burritos late-night, extending their hours through midnight this Halloween.