Give Your Copycat McDonald's Tartar Sauce The Spicy Kick It Deserves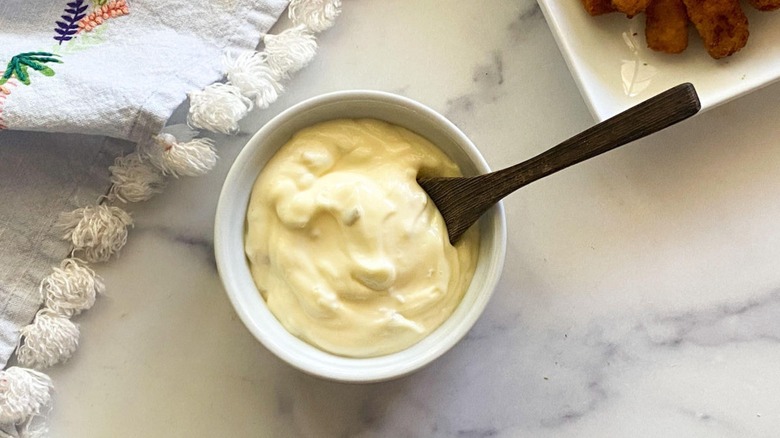 Miriam Hahn/Mashed
Some food combinations are just destined to go together. Peanut butter and jelly, milk and cookies, and margaritas and salt all have complementary characteristics. In the same vein, tartar sauce enhances fried fish and produces a fresh, savory, tangy burst of flavor in every bite. No one does the fried fish and tartar sauce combo better than McDonald's with its Fillet-O-Fish sandwich. The sandwich comes slathered in a creamy sauce that Mashed recipe developer Miriam Hahn replicates in her McDonald's Tartar Sauce copycat recipe. The best part about Hahn's version is that you can jazz it up with some heat to give it an extra oomph.
Even with the addition of an extra ingredient to boost the heat, this recipe only takes two minutes to whip up, and it comes together in one bowl. The only skill required is stirring the ingredients together. If you choose not to add spice to your tartar sauce, this recipe will definitely approach the flavor you get with the McDonald's version. This is "very close to the McDonald's recipe," Hahn said. "I would say it tastes exact."
Kick this tartar sauce up a notch with hot sauce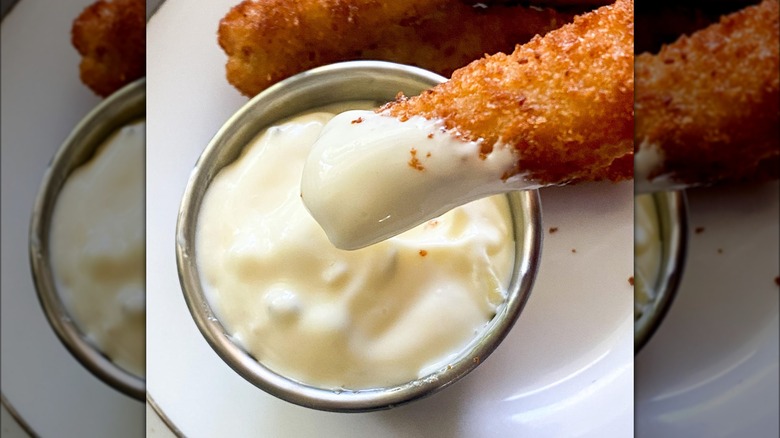 Miriam Hahn/Mashed
Don't settle for a boring fish sandwich. Add a little bit of spice to your copycat McDonald's tartar sauce by mixing in some hot sauce. This is a great way to cut through the salty and savory flavors of the fried fish or whatever you choose to eat it with. Mashed recipe developer Miriam Hahn recommends using Tabasco or sriracha to deliver heat to this tartar sauce recipe.
While it's not a necessary addition, this spicy kick will take your fried fish experience to a whole new level, adding another element of flavor to your meal. When it all comes together, you'll taste the creamy mayo, the tang from relish and lemon, and a slight sweetness from sugar. Adding in some heat will contribute to the overall complexity of the sauce.
That's why this recipe is one to hang on to for when you need to enliven your food, and it can take on more than just fried fish. "You could also use it as a condiment on a hamburger or veggie burger or a dip for fries or onion rings," Hahn said.