The Copycat Chipotle Tomato Salsa That Saves You Money On Takeout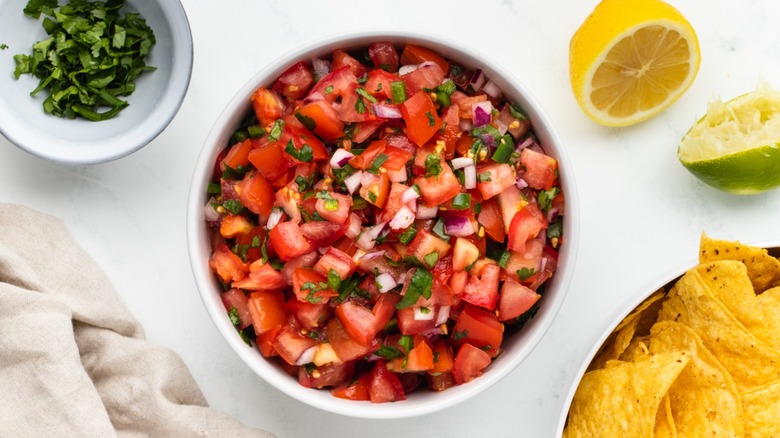 Catherine Brookes/Mashed
Chipotle is well-loved for its customizable meals and it's no secret that its salsas are a must. In particular, Chipotle's fresh tomato salsa is popular for its lively flavor and mild spice. It's essentially pico de gallo. While many salsas are liquid, people like the fresh tomato salsa for its chunky texture that sets it apart. This salsa is tomato-forward, zesty, and easy to recreate at home.
Recipe developer Catherine Brookes made a copycat Chipotle tomato salsa recipe that does an amazing job of mimicking Chipotle's fresh tomato salsa. Brookes' recipe is not only good news for those who want a simple and fresh salsa for taco night but also for Chipotle fans looking to replicate the restaurant's flavors at home. Making this salsa is also an easy way to save money on takeout. A side of chips and fresh tomato salsa can cost more than $2 at Chipotle. Although this doesn't seem like much, you also don't get very much salsa. It's much more cost-effective to make salsa in a big batch at home and use it across multiple meals. Plus, recipes can't get any easier when all you need is a cutting board and a big bowl to toss in the ingredients.
Copycat Chipotle tomato salsa elevates any dish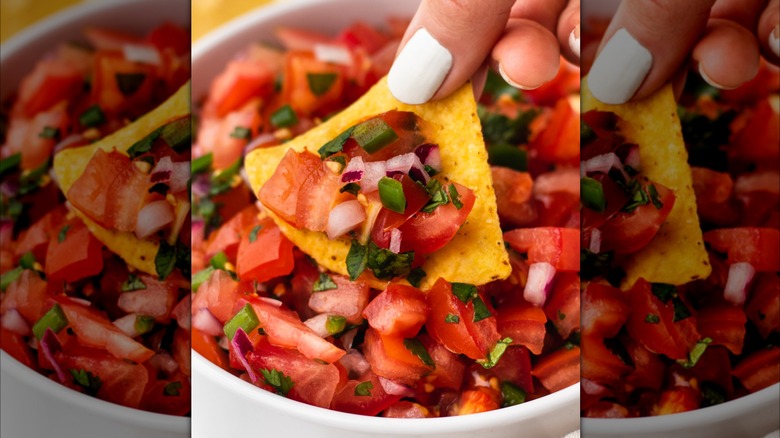 Catherine Brookes/Mashed
Brookes' tomato salsa recipe is one of the best copycat Chipotle recipes and even features the same ingredients as those used in Chipotle's salsa. This includes tomatoes, jalapenos, red onions, cilantro, lemon and lime juice, and salt. Although the amount of these ingredients could be altered in any way to highlight a certain flavor, Brookes brings out the characteristic zing of Chipotle's salsa by not shying away from the lemon and lime juice. This zing is further drawn out with diced jalepeños — not enough that the salsa is very spicy, but just enough to make the tomato salsa sing.
Once you've made a batch of copycat Chipotle tomato salsa, who knows what dishes it will inspire? This condiment takes dishes to the next level with very little effort, making it possible to cook Chipotle-inspired meals at home. The classic way to serve this salsa is with a basket of crispy tortilla chips but Brookes highlights its ability to pair with a variety of dishes. The salsa has fresh and flavorful qualities that enhance savory meats like chicken and fish. If you want to go full-on Chipotle mode, it's the perfect salsa for a homemade burrito bowl with crispy lettuce and beans. Brookes recommends storing it in an airtight container for up to four days and stirring it before you use it again to revitalize the flavors.