Spam And Cheddar Biscuits Are The Breakfast Food You Never Knew You Needed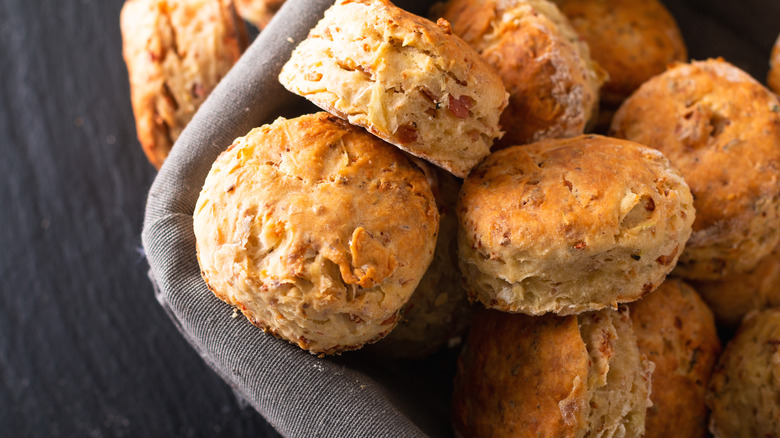 TYSB/Shutterstock
Spam — the convenient, nostalgia-inducing, canned meat — may or may not be the first thing that comes to mind when thinking about gourmet kitchen masterpieces. But when Spam cozies up inside a batch of homemade cheddar biscuits, something surely remarkable happens. The collaboration of ham and cheese, after all, is a tale as old as time. To many, however, Spam is merely a pork alternative that tastes just as good (unless you're Gordon Ramsay). In any case, the combination of Spam and cheddar works beautifully.
The key to this palatable pairing lies in the congruity of contrasts. Spam is known and loved for how it demonstrates umami flavor as it combines elements of ham and pork. On the other hand, cheddar cheese, the undisputed star of dairy delights, is the charismatic showstopper, offering creamy, sharp, nutty notes. Now, imagine biting into a soft, crispy, warm cheddar biscuit oozing with cheesy goodness and then discovering pockets of Spam nestled within. The cheddar provides a rich base for the succulent Spam to shine on. Each bite delivers a complex yet perfectly balanced tang, where the tender, chewy cubes of Spam offer a savory counterpoint to the biscuit's buttery, flaky embrace.
Spam and cheddar biscuits are enormously versatile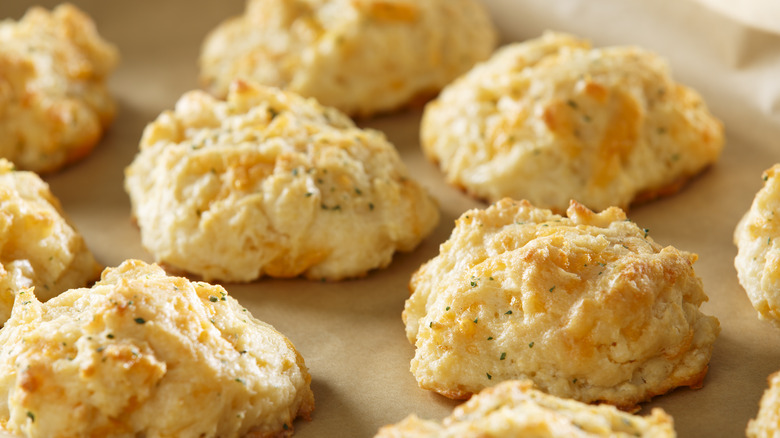 Caelmi/Getty Images
Spam and cheddar biscuits are multi-trick ponies. In other words, they're another demonstration of Spam's tremendous versatility. To help you jumpstart your morning with a hearty breakfast, enjoy them served alongside potatoes and eggs of your choice or as a portable ham and cheese sandwich. Lunchtime brings even more possibilities. Try coupling the biscuits with a comforting soup like chicken noodle, tomato bisque, or minestrone. As the day transitions into evening, Spam and cheddar biscuits can take on a sidekick role during dinner. For instance, they make a great partner for grilled chicken or a sizzling cut of steak, providing a rustic twist to the main course. Alternatively, they can enhance a crisp salad by bringing a new textural flair to veggies and leafy greens.
As far as ingenious yet extraordinarily simple culinary unions go, luscious Spam and golden cheddar biscuits are a dynamic duo. Their unique chemistry and adaptability are truly what make them such a beloved baked treat. Whether enjoyed for breakfast, brunch, lunch, dinner, or — heck — as a midnight munchie, Spam and cheddar biscuits are a testament to the magic that can be achieved when creativity and flavor join together.