In A World Of Signature Fast Food Sauces, Chick-Fil-A Steals The Spotlight
Often, a great sauce can completely transform the taste of a meal. If a fast food franchise is serving chicken, it's practically a requirement to have a wide selection of dipping sauces. In Mashed's article ranking fast food signature sauces, Chick-fil-A's name-brand sauce came out on top. It was also listed as the best dipping sauce at Chick-fil-A, surpassing barbecue sauce, Polynesian sauce, and honey mustard.
Per the brand's website, the description of Chick-fil-A's signature sauce sounds like a mustard-forward sauce with a hint of smoky flavor. Its smokiness comes from barbecue sauce, which offers a hickory note alongside tomato paste and numerous spices. One chicken lover enjoys the sauce so much that they dubbed it "too good to be true" on Reddit – a statement with which numerous commenters agree. "[It's] arguably the best sauce in fast food," wrote one user. "It's incredible," another remarked.
According to our report, Chick-fil-A sauce beat out Raising Cane's, Whataburger, McDonald's, Wendy's, Zaxby's, and Burger King, among others, for the top spot. Interestingly, this highly-popular sauce's inception was a happy accident. 
The history of Chick-fil-A sauce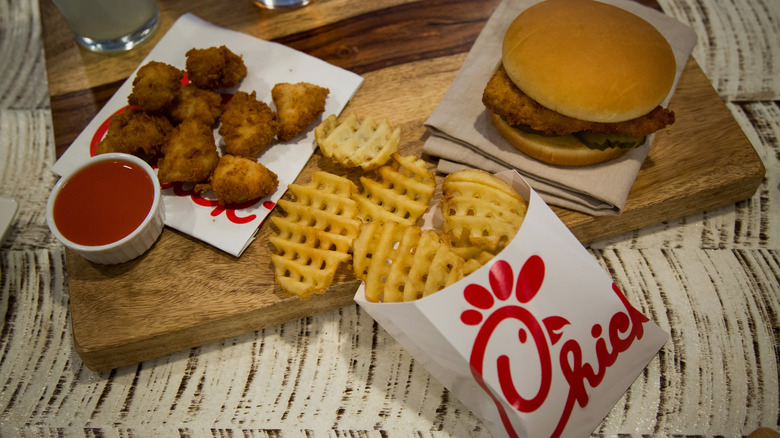 Bloomberg/Getty Images
Former Virginia franchise owner Hugh Fleming never intended to make Chick-fil-A sauce. The sauce, which was only available at Fleming's store until he retired, was accidentally created in the early 1980s after he mixed barbecue sauce into the honey mustard salad dressing while reworking the recipe. Today, the sauce is so well-loved that Chick-fil-A patrons can purchase it and a few other sauces by the bottle at grocery stores nationwide. It's sold in 16-ounce and 24-ounce quantities or 8-ounce quantities when purchased at a Chick-fil-A location.
While we rank Chick-fil-A sauce highly, we're not alone. The Prowler News, which often pits products against each other, felt Chick-fil-A sauce is more versatile than Zaxby's signature sauce, Zax Sauce. Chick-fil-A sauce also beats out Arby's Horsey Sauce when it comes to five-star reviews on Google. At the time of writing, Chick-fil-A has a rating of 4.7, while Arby's sits at 2.8. However, when the sauce is compared to Raising Cane's sauce, Chick-fil-A has a bit tougher time staying on top. When the two competed on Reddit, Cane's had numerous favorable reviews.
If you agree with us — and much of the world — that Chick-fil-A sauce is the way to go, check out our copycat Chick-fil-A sauce recipe.