Red Lobster's New Lobster & Shrimp Celebration Is A Seafood Smash-Up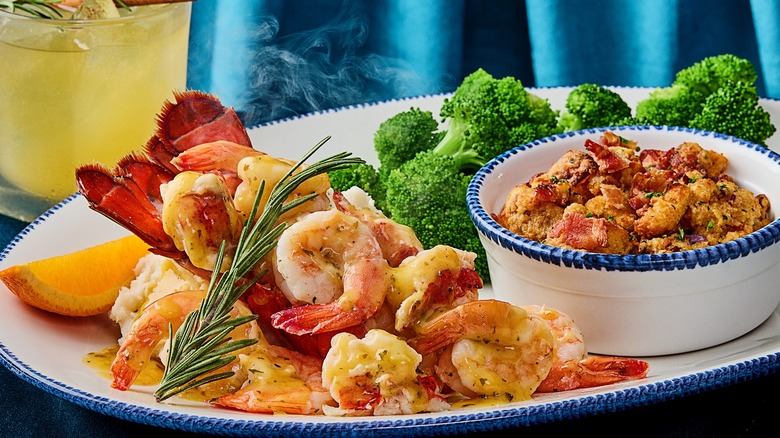 Red Lobster
At the stroke of midnight on Halloween, something truly terrifying occurs. Every type of business simultaneously declares that the holiday season is upon us. Eek! While Red Lobster is no exception, we will give the chain a little credit by acknowledging that it's not going too overboard on the holly jollification. About the only overtly holiday-themed item on the menu is a drink called "Snowglobe Sangria," but for the most part, instead of trying to cram visions of sugarplums into our noggins, Red Lobster invites us to celebrate all things shrimp and lobster, which is kind of its wheelhouse anyway, but still, there are a few new items worth exploring on the restaurant's limited-time winter menu.
One of these dishes, the Lobster & Shrimp Holiday Feast,  consists of lobster and shrimp meat cooked in a sauce flavored with orange and rosemary. Another item, billed as Lobster & Shrimp Overboard, comes with a whole lobster tail along with a shrimp skewer and a linguini dish featuring both kinds of seafood. However, It's the third that really intrigues us. The Lobster & Cheddar Bay-Stuffed Shrimp includes a lobster tail and stuffed shrimp, but the wow factor comes from the filling — a stuffing is made from Cheddar Bay biscuits! These, of course, are the real reason everybody goes to Red Lobster in the first place.
You can get Cheddar Bay stuffing to go (or even make it yourself)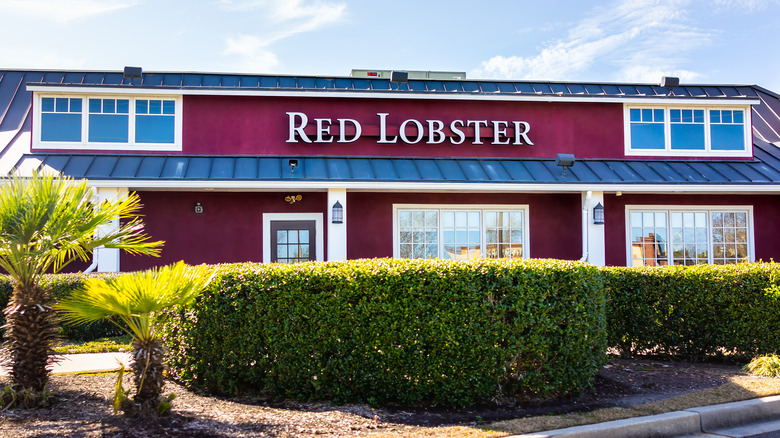 Ablokhin/Getty Images
Red Lobster is well aware that the Cheddar Bay stuffing is the real star of its holiday menu since it's offering the side à la carte and as part of its to-go holiday meal deals. If you bundle this side with the other four it's selling (brussels sprouts, macaroni and cheese with bacon, mashed potatoes, and orzo rice), Red Lobster will throw in 24 Cheddar Bay biscuits for free.
However, in the true spirit of holiday giving, a few years back, Red Lobster published recipes for holiday items, including Cheddar Bay pumpkin donut bites and, yes, Cheddar Bay stuffing. While the recipe isn't an exact dupe for the one currently featured on the holiday menu, as the latter features a few upgrades, you could probably DIY a reasonable approximation by subbing out the bread in a standard stuffing recipe for a 40/60 mix of brioche cubes and broken-up Cheddar Bay biscuits. A box of the official Red Lobster-branded mix should only run you a few bucks at the grocery store, but if you can't find the stuff, we've got a Cheddar Bay copycat recipe of our own. Stir in sauteed mushrooms and bacon bits to more closely approximate the stuffing that's used in the Cheddar Bay-stuffed shrimp, and you'll have, if not a clone of the restaurant's offering, something that may be pretty close and will definitely be delicious.