Friends-Inspired Central Perk Coffeehouse Serves Up Ross' Thanksgiving Sandwich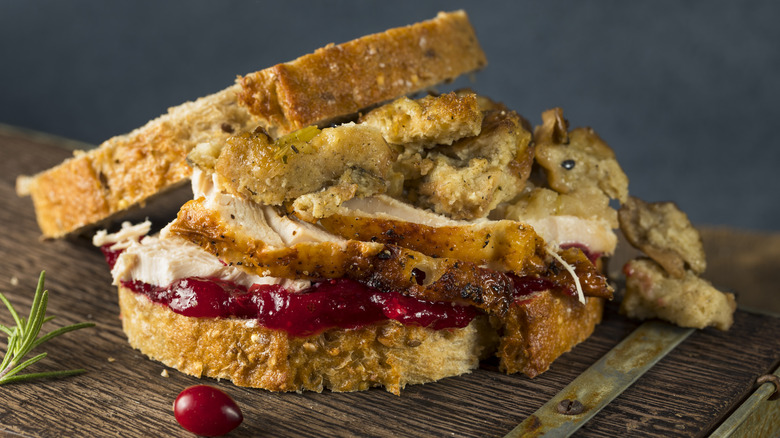 Bhofack2/Getty Images
The show "Friends" is so widely popular that it would be nearly improbable to have not seen at least a bit of some episodes. That's why even if you never watched the whole show through, you would likely recognize its iconic sets — like the coffee shop called Central Perk where the characters would gather to hang out. Its inviting orange couch and iconic storefront are central to many "Friends" scenes. Soon, a version of this fictional coffee shop will exist in the real world. Not only will "Friends" fans be able to drink their very own Central Perk coffee, but according to the menu at Boston's Central Perk Coffeehouse, it will boast many nods to the foods that appeared throughout the sitcom.
One of these menu items is a Thanksgiving sandwich much like the one made by character Ross Geller in a Season 5 episode titled "The One with Ross' Sandwich." This sandwich, which Ross dubs "the Moist Maker," features turkey and "an extra slice of gravy-soaked bread in the middle." Central Perk's menu channels his love for Thanksgiving leftovers in its version of "The Moist Maker," complete with turkey, gravy, stuffing, mashed potatoes, and cranberry sauce. Two other sandwiches on Central Perks's new menu include Joey's Meatball Sub and a vegetarian sandwich for a meatless option.
Fans can also make their own Moist Maker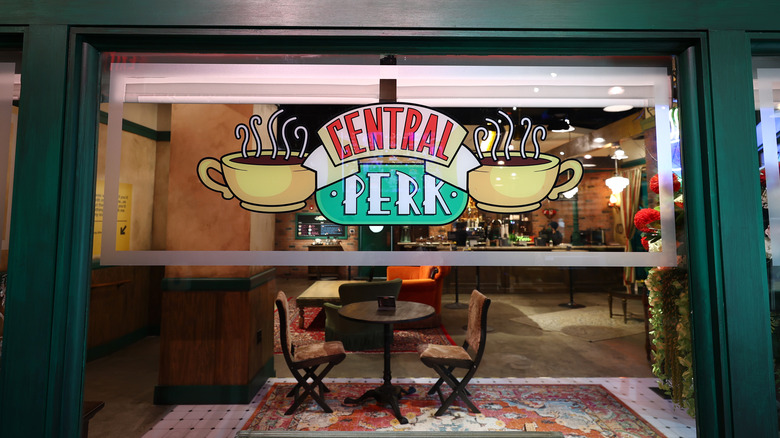 Dimitrios Kambouris/Getty Images
If you're a fan of the 10-season-long sitcom who doesn't live near the Boston area, thankfully, recreating Ross' Moist Maker from "Friends" is not too hard to do, especially after Thanksgiving. With enough variety of leftovers and a few slices of bread, all that's left to do is soak up a slice of bread in gravy and assemble. However, there may be certain perks that come with having the sandwich at the coffeehouse.
According to an exclusive first look at the cafe from PEOPLE, Central Perk's interior will take inspiration from the show's set and be filled with fun memorabilia. It opens on November 14, 2023. The fact that it's located in Boston may come as a surprise to fans expecting it to be in New York, where the show is set. However, this probably won't stop fans from geeking out about finally being able to try the coffee and food that their favorite characters did.