TikTok's Viral Chicken Cobbler Features Red Lobster Cheddar Bay Biscuit Mix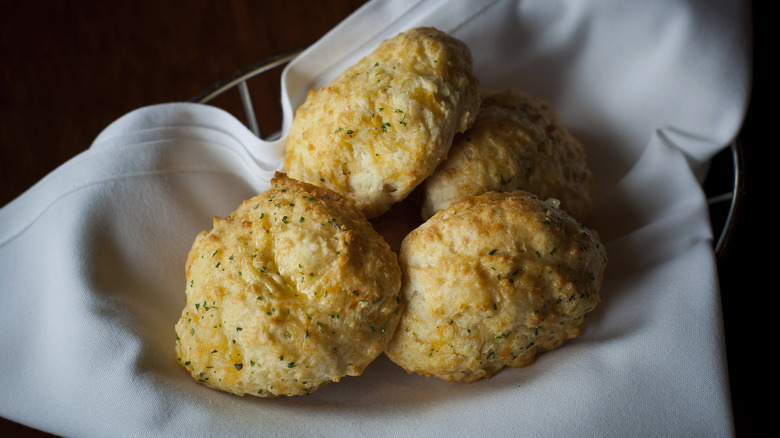 Bloomberg/Getty Images
Stress is pretty much inevitable during the holiday season, despite there being plenty of tips and tricks out there for how to make the last two months of the year go by as smoothly as possible. Oftentimes, things can get so hectic that making dinner becomes a dreaded chore, which is why having an arsenal of low- or no-prep meals is crucial. This year, TikTok has you covered with yet another viral recipe that is not only warm, comforting, and easy to put together, but also features a fan-favorite pantry staple: Red Lobster Cheddar Bay biscuit mix.
The beloved restaurant-to-grocery-store product is the star of TikTok user Matthew Bounds, a.k.a. @yourbarefootneighbor's, wildly popular chicken cobbler, which they adapted from a recipe shared by fellow TikToker @everydaywithamber. Prep takes only 10 to 15 minutes. Prepared in a baking pan, it begins with melted butter and a layer of shredded chicken, which you can absolutely get by tearing up your favorite grocery store rotisserie chicken (remember, we're trying to make this meal as easy as possible). The poultry is accompanied by a layer of veggies (frozen is fine!), the prepared Cheddar Bay biscuit mix, and a mixture of cream of chicken soup and chicken stock. But those making it should not — we repeat, should not – mix everything together. Once it's all baked, you're ready to dig in.
TikTokers love the Red Lobster-inspired twist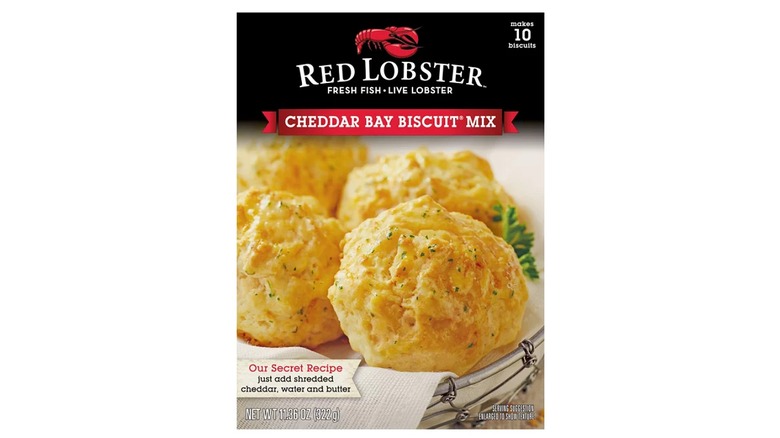 Red Lobster
Whether it's the viral chicken cobbler or chicken pot pie, Red Lobster Cheddar Bay biscuit mix can improve various foods. TikTokers appear to think so, as well, as evidenced by the thousands of comments on @yourbarefootneighbor's video demonstrating how to put together this easy comfort meal. "You had me at Red Lobster Cheddar Biscuits," one person remarked. Another said the ingredients alone were enough to get them excited about the meal. Even TikToker @everybodywithamber, who gave Bounds the inspiration for the dish, said they would be giving the Red Lobster-inspired spin a try.
Incorporating Cheddar Bay biscuit mix is just the beginning of the twists you can put on this savory cobbler. While Bounds opted for frozen peas and carrots in their recipe, just about any veggie would work, including broccoli, onions, and even potatoes (though it may be wise to parboil your spuds first). Of course, transforming the dish into a cheesy chicken cobbler is another option that would pair exceptionally well with those delicious Cheddar Bay biscuits.
While rotisserie chicken and Red Lobster biscuits are favorites for many, you're free to get even more creative. One TikToker said they make a Cajun version of the dish by replacing the chicken with shrimp and sausage, while another suggested a combo of pulled pork and cornbread. And with Turkey Day coming up, a Thanksgiving-inspired cobbler sounds like the perfect way to use up all of those leftovers.