TikTok-Inspired Cheesy Chicken Cobbler Recipe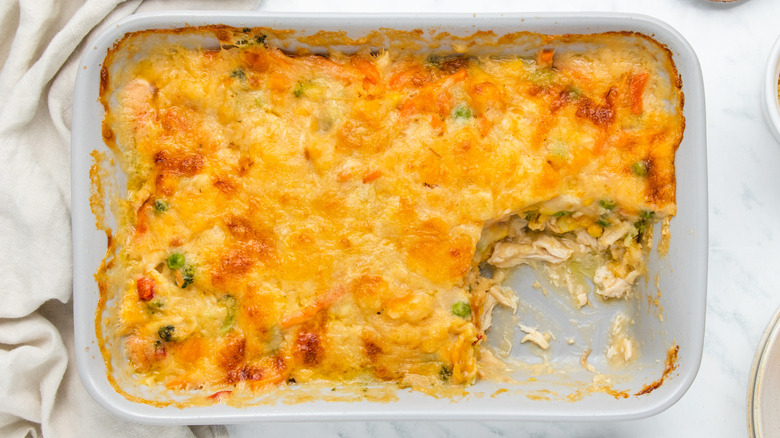 Catherine Brookes/Mashed
Did you ever think that you would hear the words "chicken" and "cobbler" in the same recipe? Yeah, we didn't either. But, low and behold, TikTok has given us yet another viral recipe that is sweeping the internet and making its way to dinner tables across the globe. This recipe has several layers of goodness that make it a complete meal. From the shredded chicken and veggies seasoned with garlic and onion powder to the layer of flaky biscuit and the cheese on top, this recipe truly has it all and there's no need for any sides if you are in a rush. All you need is one baking dish to get started. 
While it went viral on TikTok, recipe developer Catherine Brookes of Blue Sky Eating came up with her own spin on the dish. "I love this cobbler because it's such a tasty combination of fresh and store cupboard ingredients that come together to create a simple, delicious and comforting dinner," Brookes raves. She also points out what makes her version stand out from the TikTok one.  "Adding the extra sprinkle of cheddar on top helps to get it even more browned, bubbling and cheesy," she shares. 
Gather the ingredients for this TikTok-inspired cheesy chicken cobbler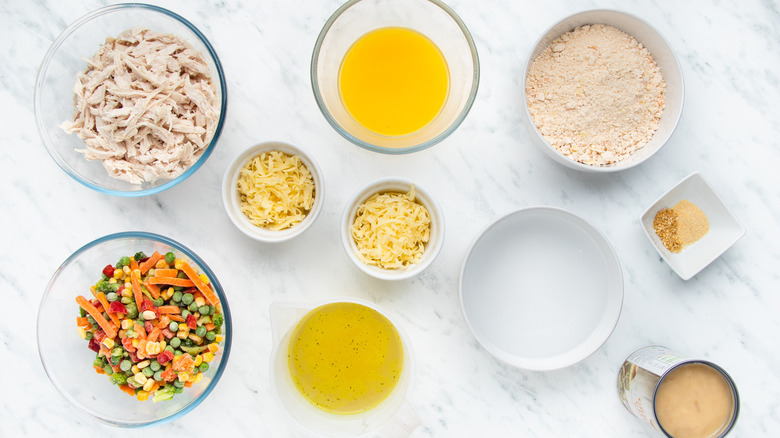 Catherine Brookes/Mashed
Before you head to the store, check your fridge and pantry for ingredients you may already have. You will need butter, chicken breasts (fully cooked and shredded), onion powder, garlic powder, salt, pepper, frozen mixed vegetables, a box of biscuit mix, water, grated cheddar cheese, chicken broth, and cream of chicken soup.
Preheat the oven and add butter to a baking dish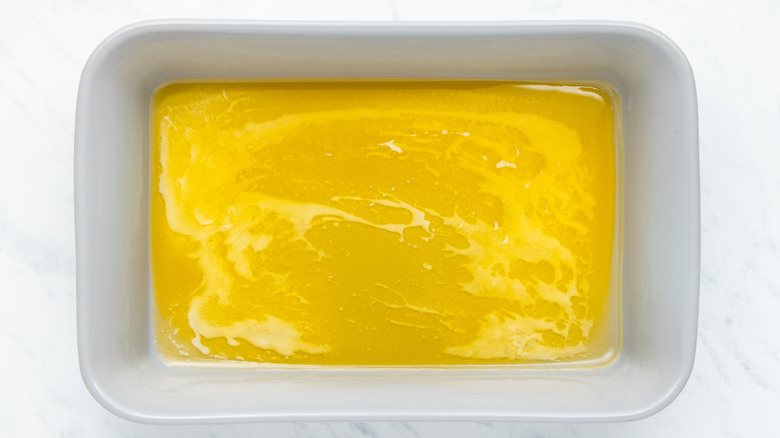 Catherine Brookes/Mashed
Let's get things started! The first thing you need to do is preheat the oven to 350 F. Then, take out a large baking dish and add the melted butter. This the first layer of the cheesy chicken cobbler. Doesn't butter make everything better? 
Add the shredded chicken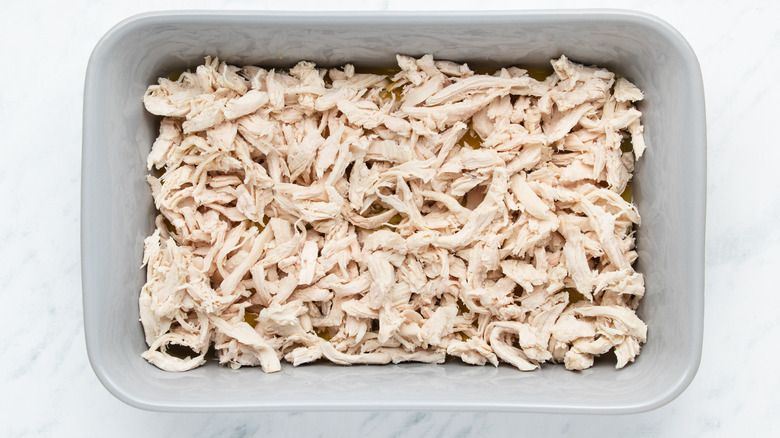 Catherine Brookes/Mashed
For the next layer, you will need shredded chicken. Just scatter it over the butter in an even layer.
Toss in veggies and seasoning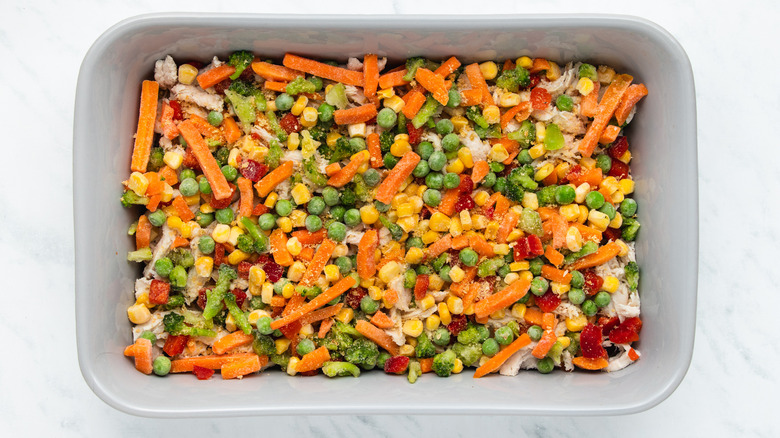 Catherine Brookes/Mashed
Next, grab the mixed veggies and add them over the layer of chicken. So they veggies are not too bland, sprinkle on some garlic powder, onion powder, salt, and pepper.
Whisk the biscuit mix and cheese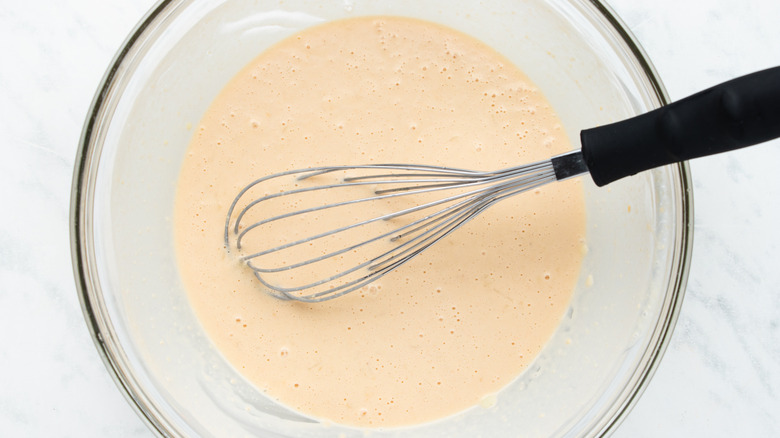 Catherine Brookes/Mashed
Whisk together the biscuit mix with water and ½ cup of the cheddar cheese in a separate bowl. Then, pour the biscuit mix over the seasoned chicken and veggies. You do not need to mix everything together; you will just keep the layers as they are. "I feel like the biscuit mix is definitely a star ingredient here," Brookes raves. "It's what helps to add that amazing doughy middle and crisp crust on top." 
Mix the chicken broth and chicken soup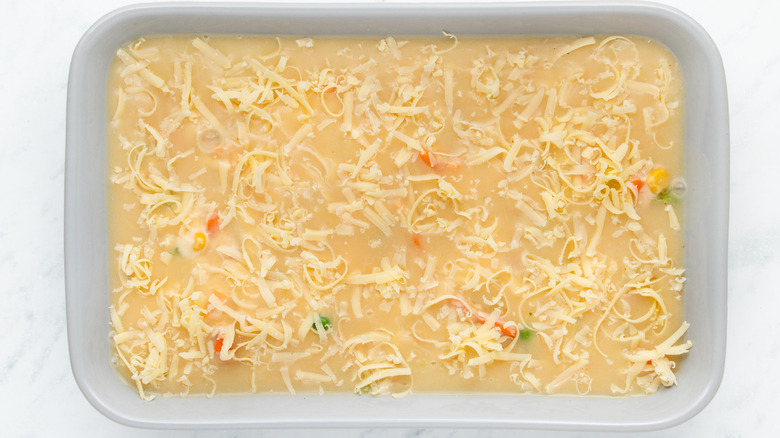 Catherine Brookes/Mashed
Grab another bowl and add the chicken broth and the chicken soup. Whisk the two together to combine and pour it over the top of the cobbler. "The key thing here is not to stir the biscuit mix or soup/broth mixture after adding them," Brookes says. "Simply pour each one over the top. That helps to form a thicker doughy cobbler layer." Lastly, add the remaining ½ cup of greeted cheese on the top.
Bake and enjoy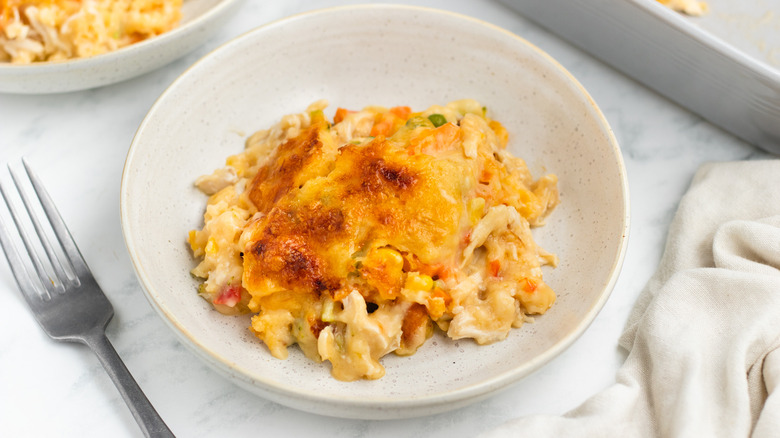 Catherine Brookes/Mashed
Pop the dish into the oven and bake for 50 minutes. The top should turn a nice, golden brown color by the end of cooking time, indicating it's done.
Now, the only thing left to do is dig in. Once you take your first bite, you'll realize why this dish went viral on TikTok — it is simple yet delicious. This is awesome on its own but Brookes also shares some of her favorite serving suggestions. "I like to serve with some broccoli, peas or salad on the side," she notes. Anything extra? "Leftovers will keep well in the fridge up to 2 days," Brookes shares. 
TikTok-Inspired Cheesy Chicken Cobbler Recipe
Hop on a winning TikTok trend with this cheesy chicken cobbler recipe.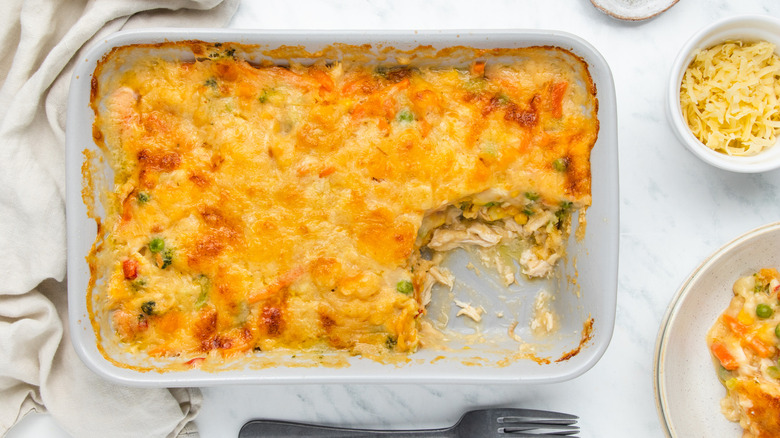 Total time: 1 hour, 5 minutes
Ingredients
½ cup melted butter
3 cooked chicken breasts, shredded
2 cups frozen mixed vegetables
½ teaspoon onion powder
½ teaspoon garlic powder
salt, to taste
pepper, to taste
1 (11-ounce) box biscuit mix
2 cups water
1 cup grated cheddar cheese, divided
2 cups chicken broth
1 (15-ounce) can cream of chicken soup
Directions
Preheat the oven to 350 F.
Pour the melted butter into the bottom of a large baking dish.
Scatter over the shredded chicken in an even layer.
Add the mixed vegetables and sprinkle over the onion powder, garlic powder, salt, and pepper.
Whisk together the biscuit mix with the water and ½ cup of the cheddar cheese. Pour this over the top of everything in the baking dish and do not mix.
Whisk together the chicken broth and chicken soup and pour this over the top, again without mixing.
Sprinkle over the other ½ cup of grated cheese.
Bake for 50 minutes or until golden brown on top.
Nutrition
| | |
| --- | --- |
| Calories per Serving | 609 |
| Total Fat | 37.0 g |
| Saturated Fat | 17.8 g |
| Trans Fat | 0.9 g |
| Cholesterol | 94.3 mg |
| | |
| --- | --- |
| Total Carbohydrates | 46.3 g |
| Dietary Fiber | 2.6 g |
| Total Sugars | 7.8 g |
| Sodium | 1,456.1 mg |
| Protein | 22.6 g |