The Red Lobster Cheddar Bay Biscuit Hack For Chicken Pot Pie
Few meals are more comforting in the dead of winter than a freshly baked, mouthwateringly creamy chicken pot pie. What's not to love about crust cooked to flaky perfection, seasoned veggies, and savory flavors oozing out with every bite? 
Whether you bake your homemade chicken pot pie in a casserole dish, in your trusty slow cooker, or in a stove-top cast iron skillet, this classic dish can always be enjoyed in a variety of ways. Although, there is one hack we couldn't stop drooling over that we have to share, and it involves one of the best creations the Red Lobster menu has to offer — its wildly delicious Cheddar Bay Biscuits. These crumbly, cheesy garlic biscuits have been an enduring fan favorite among Red Lobster customers for over 30 years. What makes them even better is that you can buy this iconic biscuit mix at the store whenever you feel the craving surfacing. So, next time you decide to make chicken pot pie, do yourself a favor and skip out on the finicky puff pastry and use Cheddar Bay Biscuits for your bready top layer instead. 
For this recipe, you'll need to grab your baking dish and prepare all your favorite pot pie ingredients. If you don't have a box of Red Lobster's biscuit mix on hand and don't mind putting in an extra 20 minutes of work, you can also make them easily with a copycat recipe or even using Bisquick on extra-easy mode.
It's as easy as mixing and pouring over your filling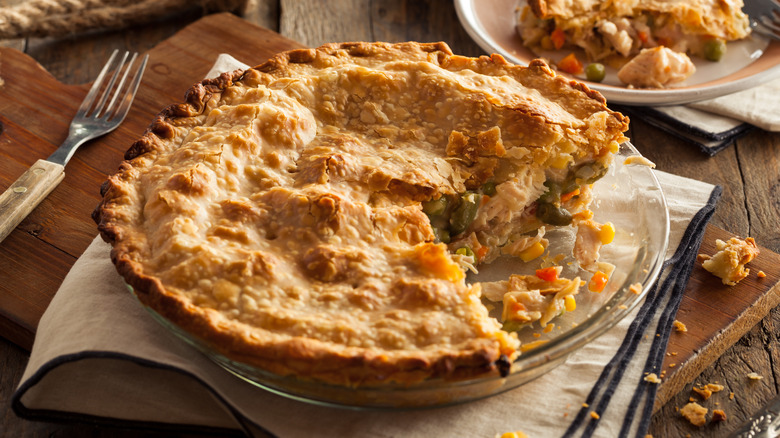 Bhofack2/Getty Images
This twist on traditional chicken pot pie has been circulating online; but Liz Gil of the TikTok recipe account, You Can Whip It, shares her elevated, step-by-step process for making the magic happen. 
Boiling her own chicken, Gil creates homemade chicken stock to go into this dish before preparing her veggies, which include chopped yellow onion, carrots, and celery. She then dumps those into a pan and lets them simmer in a few tablespoons of butter before seasoning them with salt and pepper, garlic, and turmeric. Next, she adds Slap Ya Mama Seasoning. (If you haven't had the chance to try this seasoning mix, now is the time. Not only does it work well for this recipe but it can also give any bland dish just the right amount of zest it might be lacking.) She then suggests that you should feel free to add any other veggies into the mix before adding in ¼ cup of flour, your chicken stock, and the shredded chicken. A good sprinkling of thyme later, and it's biscuit time.
Once your chicken pot pie filling has made it to your baking dish, Gil says to follow the instructions on the box for mixing up those glorious Cheddar Bay Biscuits on the side. Transfer it from the mixing bowl to the pot pie filling, ensuring that you've spread it around as evenly as possible. After baking your comfy creation at 425 degrees Fahrenheit for 14-18 minutes, you'll take your first bite and realize this recipe is a combo straight from flavor heaven.