Use Simple Syrup In Your Next Frozen Drink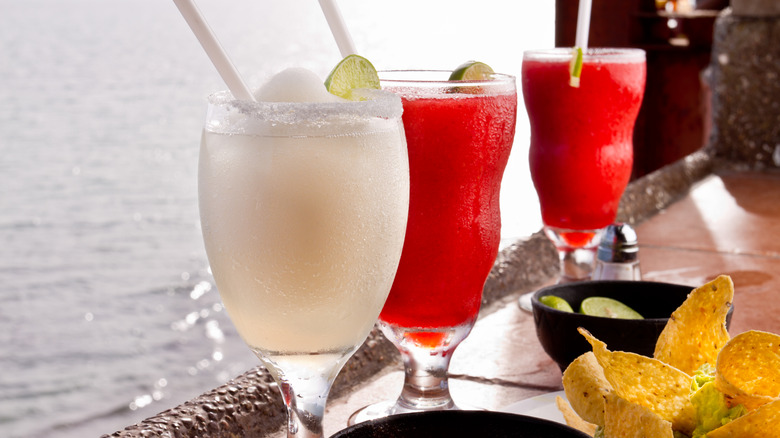 Grandriver/Getty Images
Frozen drinks are a delicious, refreshing, and often exotic twist to traditional cocktails or mocktails. Even experienced bartenders may struggle to perfect them, though, as they can require specific techniques to get things just right. One of those techniques should be familiar to drink makers everywhere.
While some premade frozen drink mixes are ready to use right out of the package, those who craft batches themselves might find they need a bit more sweetness before serving. Naturally, granulated sugar won't ever fully dissolve or evenly disperse in the icy mixture. In this instance, it's time to break out the simple syrup.
Making simple syrup is, well, simple. The easiest way to make homemade simple syrup involves stirring water and sugar together over heat until the sugar fully dissolves and then allowing it to cool. If you don't have access to a stove or other heat source, you can also craft simple syrup by combining room-temperature water and sugar in a container. Just mix or shake the mixture until the sugar dissolves. 
The ratio is up to you although most cocktail fans prefer either a 1:1 or 2:1 sugar to water mix. When ready, you can pour the simple syrup into your frozen cocktail and easily stir the beverage. This creates a quick, consistent way to sweeten your drinks. A batch can last up to four weeks in an airtight container in the refrigerator.
A kick of flavor with your sweetener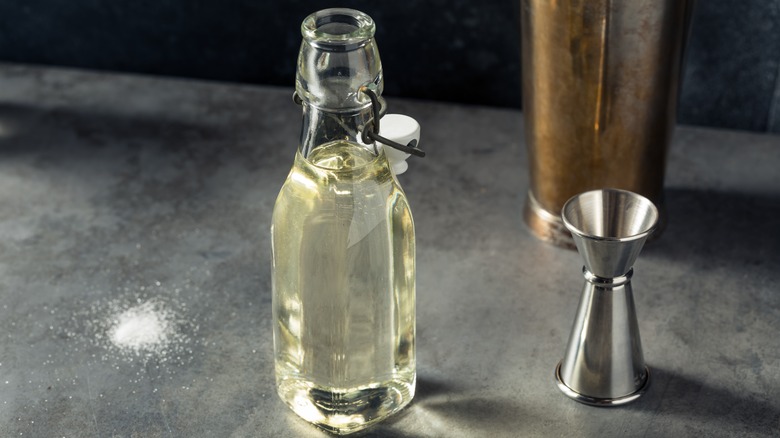 Brent Hofacker/Shutterstock
Beyond sweetening, simple syrup is also an excellent opportunity to infuse your drink with subtle flavors. Once the sugar dissolves, add your flavorings to the mix and simmer for a few more minutes. Ingredients can include citrus peels, mint, fruit, herbs, hot peppers, and any number of spices or seasonings. When possible, you should strain or remove these items before using or storing your syrup.
There are also a few other easy ways to make the most of your frozen drinks. These tips start with using crushed ice instead of cubed ice as it results in a more consistent final product. Additionally, chilling or freezing all of your ingredients (even berries) ensures you maintain that perfect slushy texture instead of the components quickly melting and separating.
While most people are familiar with classics like the frozen margarita or strawberry daiquiri, these are just the start of the many frozen drinks you should make. Whether you're quenching your thirst on a hot summer afternoon or dreaming of warmer days during the winter, simple syrup can make your drinks sweeter.