Temperature Is Key To Copycat Starbucks White Chocolate Mocha Sauce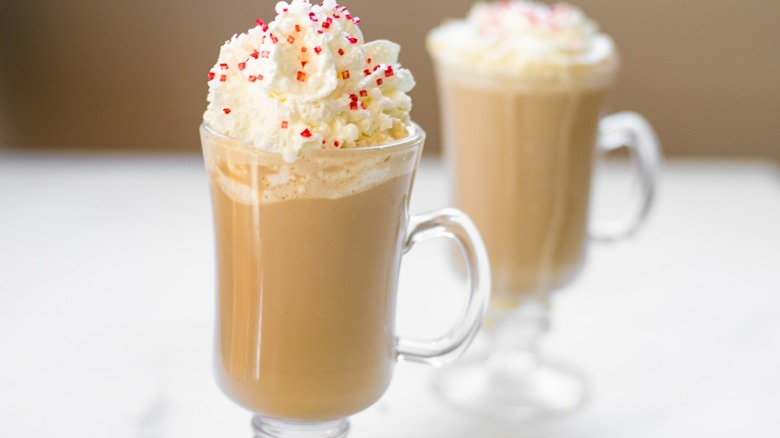 Mackenzie Ryan/Mashed
Starbucks works in mysterious ways sometimes, especially when it comes to determining what beverages are seasonal and why. Nothing about the toasted white chocolate mocha, for example, particularly screams "holidays!" or even winter, unless you're associating white with snow or making the assumption that people only consume hot beverages in colder weather. Starbucks, of course,  should know better since it offers both hot and iced drinks year-round. Still, seasonal it is, so that means that if you want a white chocolate mocha when it's off the menu or merely want to cut back on an expensive Starbucks habit, you may be interested in this copycat recipe.
In order to give the drink its flavor, developer Mackenzie Ryan makes her own version of Starbucks' toasted white chocolate mocha sauce for her copycat recipe. The sauce is made from milk, white chocolate chips, and canned dulce de leche, the last ingredient giving the drink a marshmallowy "toasted" flavor that sets it apart from the regular white chocolate mocha. When you're making the syrup, Ryan cautions to keep the heat low, or medium-low at least, since otherwise the milk may scorch and the chocolate chips won't melt smoothly. Low and slow is the way to go, and don't stop stirring.
A few tweaks can turn this recipe into a regular or peppermint white chocolate mocha clone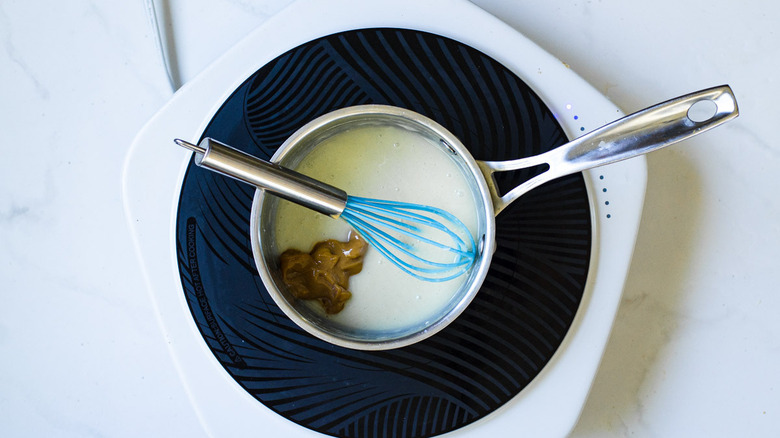 Mackenzie Ryan/Mashed
Since canned dulce de leche is the not-so-secret ingredient that puts the "toasted" in this Starbucks-esque white chocolate mocha, you can reverse engineer an untoasted version of the drink by simply omitting the stuff. You should still watch the temperature closely, though, as there's no use crying over burned milk. With the toasted mocha, both Starbucks and Ryan opt to garnish it with red sprinkles. The chain's plain white chocolate mocha is topped with whipped cream alone, however, so this is another simple subtraction you can make.
To re-fashion the drink as a peppermint white chocolate mocha, you'll need to do both addition and subtraction. Again, you'll be leaving out the dulce de leche, but when you mix the syrup with espresso, you'll add in an amount of peppermint syrup equal to the white chocolate syrup. (Well, you could tilt the balance a bit, but Starbucks typically goes 50/50.) As with the dulce de leche, commercially prepared peppermint syrup is available for purchase. Starbucks sells its own brand, but the stuff's pretty pricey (currently around $50 at Walmart), so you could go with a less expensive kind if absolute authenticity isn't essential. As for the garnish, here you'll be adorning the drink with shaved chocolate curls if you want to be just like Starbucks, although you could dress it up with crushed candy canes if you're feeling rebellious or just want to smash something.