Here's How People Really Feel About Salt Bae's Latest Restaurant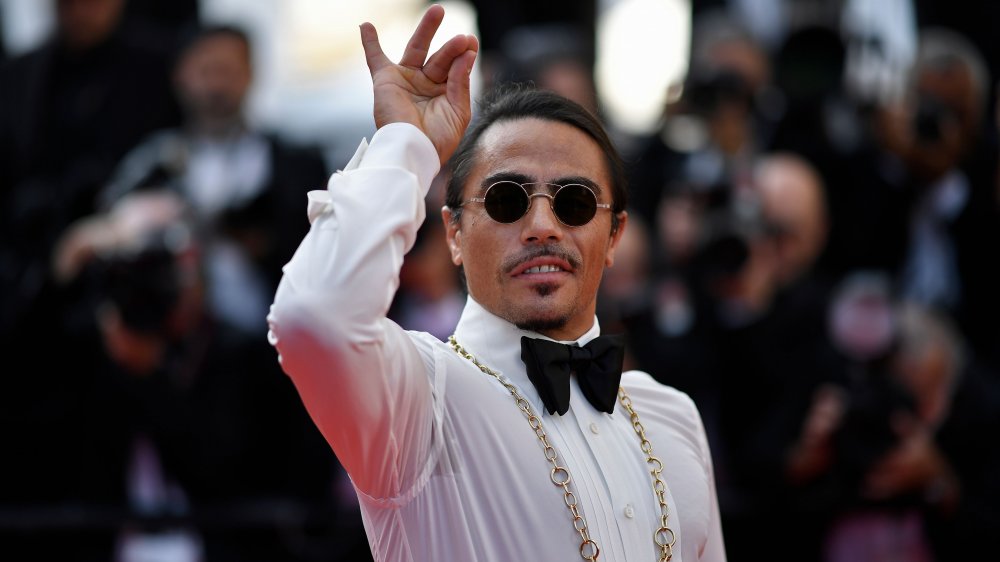 Christophe Simon/Getty Images
Although Turkish restaurateur and Instagram personality Salt Bae has done quite well for himself worldwide (he's opened restaurants across the globe and has a reported net worth of around $50 million), he seems to have hit a bit of a brick wall when it comes to his newest Manhattan burger restaurant Salt Bae Burger, which opened earlier this year and seats around 60. 
The new burger joint isn't as pricey as his steakhouse, where a cut of beef can go for well over $100 (via OpenTable), but there are certainly some menu prices that might raise the eyebrows. A whopping $24.95 will buy you a Saltbae Baklava Shake (and there isn't even any alcohol in it) (via Buzzfeed). Although the restaurant's signature burger (called, of course, the Saltbae Burger) comes in a black bun and will set you back $22.50, there's also an option to order the opulent gold burger, which is covered in gold leaf and retails at $100 (via Gothamist).
The problem with Salt Bae's burger restaurant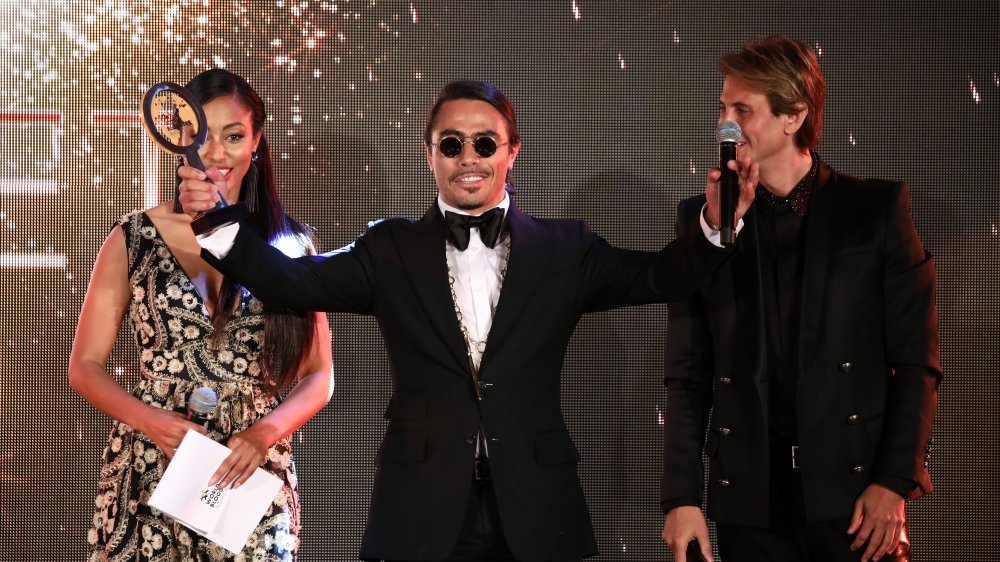 John Phillips/Getty Images
Putting prices aside, the recurrent complaint about the place is that the food is simply tasteless. A Buzzfeed reviewer was stunned that the normally flavorsome and aromatic truffle fries instead "taste like blanched potatoes." The aforementioned shake "doesn't even have the audacity to taste like vanilla," and the signature burger "doesn't taste like anything." 
The Gothamist reviewer wrote that he "had the unfortunate opportunity a few weeks ago to eat several sad servings of hospital food, and everything I had at Salt Bae was worse, and delivered with much less love." The dismal Buzzfeed review closed with the zinger that "Salt Bae is the opposite of a Guy Fieri restaurant. This is no flavortown."
Though these reviews don't bode well for the longevity of the restaurant, the reviewers all seem to acknowledge that no one goes for the food. Diners go for the Instagram-worthy shots of Salt Bae memorabilia and photos and of course the chance of catching a glimpse of the man himself.