Dangerously Easy 3-Ingredient Desserts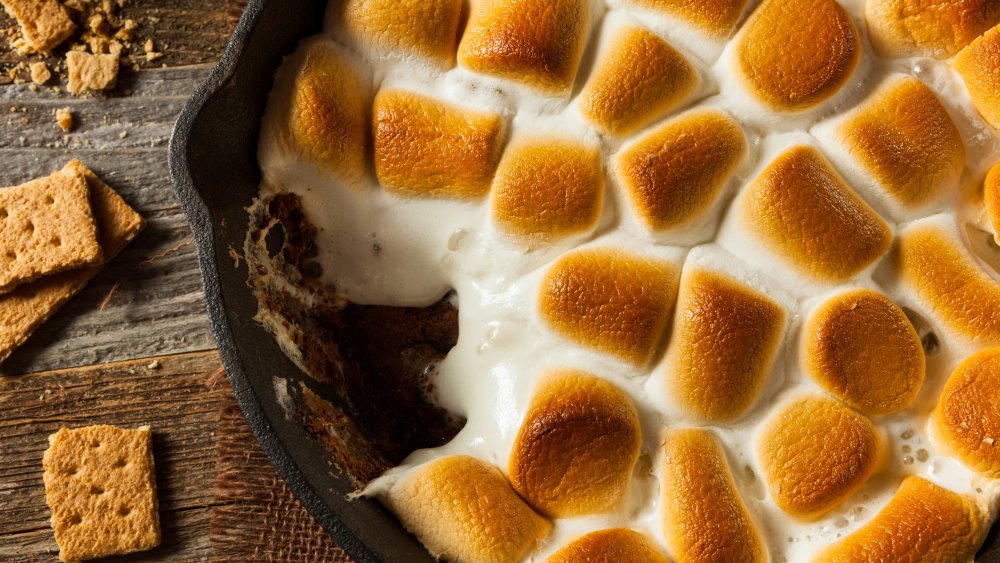 Shutterstock
If you think dessert is the best part of the day, it's safe to say that you're probably not alone. But the problem is, dessert usually comes at the very end. And how often have you gotten home after a long day, and just been too tired to think of something fun to put the finishing touches on a meal, or on the evening?
Cakes, pies, cookies... if you're making them yourself, they all require a serious time investment. There's nothing wrong with fancy indulgent desserts, but with everything going on in your busy life, who has time — or energy — for that?
Have no fear! We have some great ideas for some desserts that have it all going for them. These desserts are easy, so it's not going to take too much effort on your part, and they're all just three ingredients (we promise). There's no wondering if you have everything you need, and there's no sifting through ingredient list upon ingredient list, trying to find something you can make without running to the store. Even better, a lot of these are incredibly flexible, so you can change it up with what you have. Total win, right?
Ice cream cake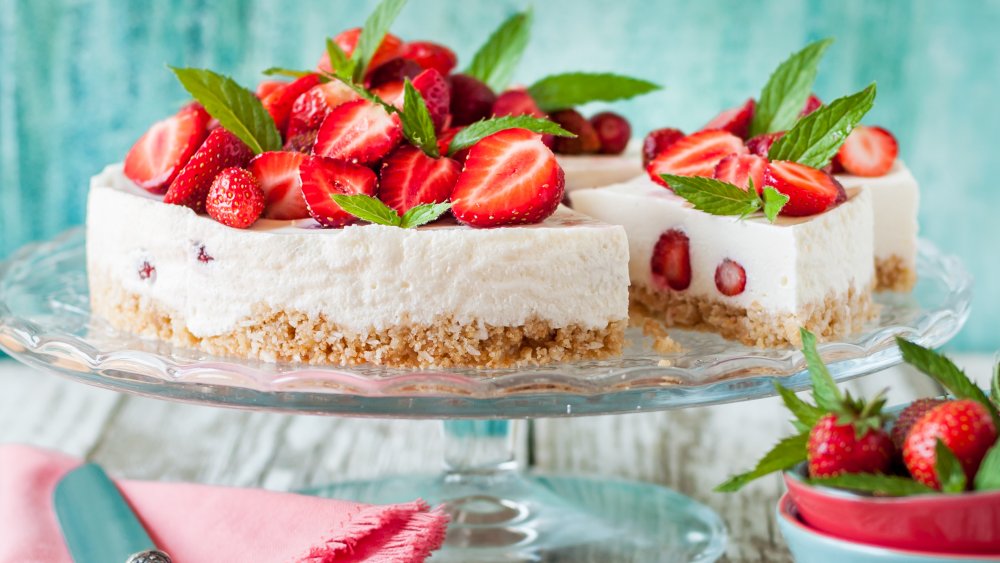 Shutterstock
Love a good ice cream cake? They're actually super easy to make, and the only time you're really going to spend is waiting as it freezes. 
First, grab your ice cream — you'll need to let it sit out to soften a bit before you use it, so take it out of the freezer and leave it on the counter as you prep your crust. There's a huge variety in what you can use here — whatever you have, it'll probably go with your ice cream. Crush Oreos, graham crackers, vanilla wafers, or shortbread cookies into fine pieces. (Just pop them in a plastic bag, and use a rolling pin for no mess.) Then, press them into the bottom of a pie plate to form the crust.
Take your softened ice cream, and spread over the crust. Then, the third ingredient: the topping. Spread on some chocolate sauce, some caramel, some sprinkles, or save the topping until it comes out of the freezer. It'll take at least around four hours to solidify into something you can slice, and you can always wait until the end to add some whipped cream or fresh fruit.
There's no end to the deliciousness. Oreos and strawberry ice cream, with fresh strawberries? Graham crackers, rocky road, and whipped cream? Crust... ice cream... topping. Done.
Dessert kabobs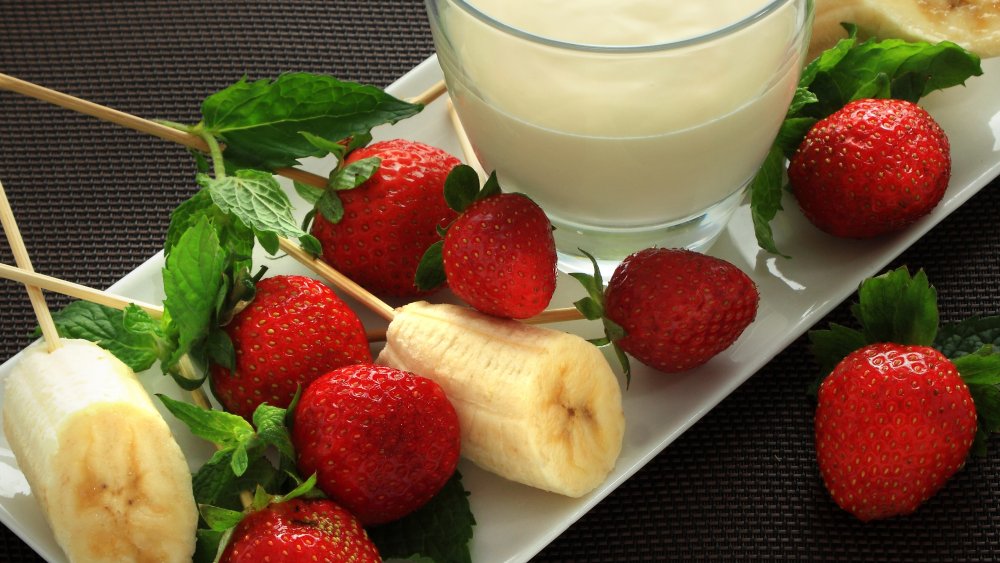 Shutterstock
Sometimes, you want to serve up a dessert that isn't just tasty, but pretty. If you're looking for something that's incredibly impressive when it comes to the presentation but is still quick and easy, reach for your skewers.
Strawberries — whole or sliced — are a brilliant base for dessert kabobs, and there's no cooking required. Just skewer your strawberries and alternate with some other ingredients, and you're done.
What kind of ingredients? There's no need to stop at three, but since that's our magic number, how about using strawberries, bananas, and drizzling the whole thing with chocolate sauce? Or strawberries, brownie bites, and chocolate sauce. Or, you could go for something inspired by strawberry shortcake, and use strawberries, pound cake, and a few dollops of whipped cream? And if you're not a huge fan of strawberries, they don't have to be on the menu. What about something tropical, with pineapple chunks, and mango, alternated with slices of kiwi? Simple, tasty, and elegant.
S'mores dip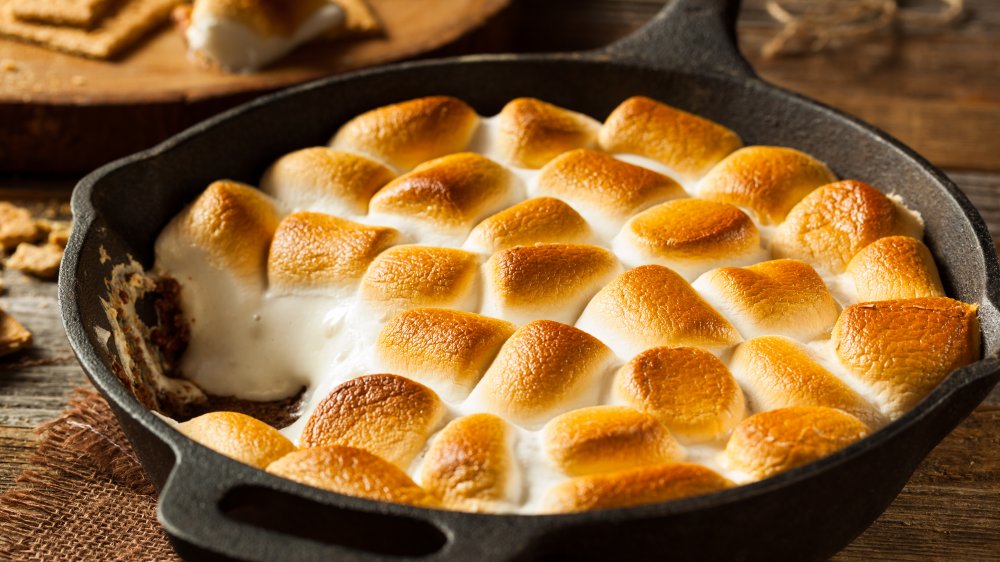 Shutterstock
Who doesn't love s'mores, right? They're the perfect dessert for any meal around the campfire, but let's say you'd like to get all the flavor of s'mores with none of the camping. You're in luck, because s'mores dip is a great, easy, three-ingredient dessert that you can whip up in the comfort of your own kitchen.
Just melt some chocolate (chips or bars) and pour in the bottom of a cast-iron skillet. Then, cover that with marshmallows, and pop it under the broiler just long enough to brown the tops of the marshmallows. Grab some graham crackers, and serve up a campfire favorite!
Now, let's say you're willing to not count the graham crackers as an ingredient, since that's technically more of a vehicle for eating the dip. An edible spoon, if you will. In that case, you can add something else to those marshmallows and the chocolate — peanut butter cups. Just put a layer of peanut butter cups in the bottom before you add the melted chocolate, and yum.
Jell-O shaved ice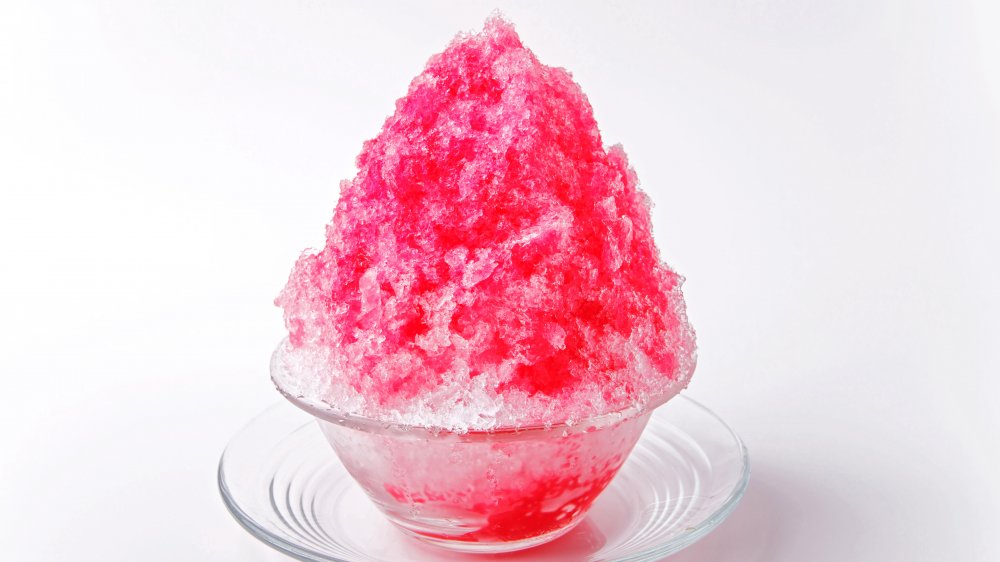 Shutterstock
Snow cones are great on a hot summer day, but you always end up with an improper balance of ice and flavoring. You can fix that by whipping up a quick dessert of shaved ice, and it's easier than you think.
All you need to start is a packet of your favorite flavor of Jell-O. Dissolve the packet in a cup of boiling water, and let it cool just a bit. Then, stir in two cups of lemon-lime soda (or, whatever flavor complements the Jell-O you've chosen). Pour it into a square brownie pan, then pop it in the freezer. Let it sit overnight, and then, take it out and use any one of a number of kitchen implements to shave the ice (and an ice cream scoop works great).
It's cold, delicious, flavorful, and you're not going to be drinking straight syrup when you get to the bottom. It's a perfect dessert to eat on the back porch on a hot summer evening.
Chocolate mousse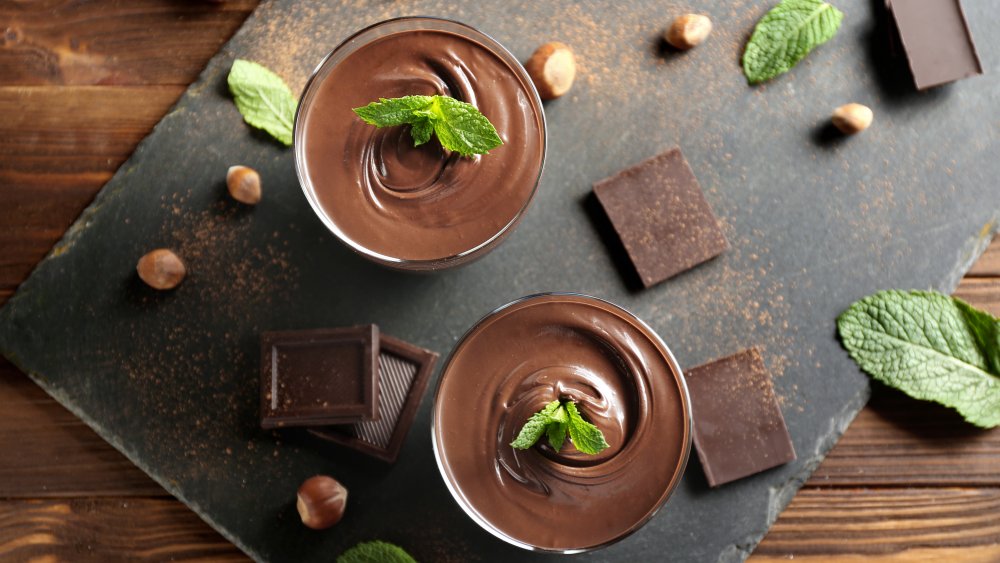 Shutterstock
If you're in the mood for something decadent, and delicious, chocolate mousse is perfect. It's really easy and is more of a ratio than a recipe — which is great, because that makes it easy to adjust. It doesn't matter if you only need enough for a dessert for you or the entire book club, just keep the proportions the same, and you're good to go.
Basically, it's two parts cream to one part chocolate — and that's any kind of chocolate you want. (Experiment with some of those funky bars at Aldi — mint or chili chocolate, anyone?)
All you'll need to do is heat half the cream until it's just on the brink of boiling. Then, transfer it to a heat-safe bowl, and add the chopped chocolate. Stir until everything is melted, then add the rest of the cream. Keep in mind, the second portion of the cream should be chilled to help cool your mousse faster. Put it in the fridge, and here's the important thing — make sure it's completely cool before taking it out and whipping it with a mixer. It won't take long before it starts to form peaks, so don't whip it too long — just spoon it into glasses and you're done.
The third ingredient is up to you. Add to your mousse a strawberry, chocolate shavings, or a dash of whipped cream. If you used some of that fun chocolate — like the mint — add something that brings out the flavor, like an after-dinner mint.
Fudge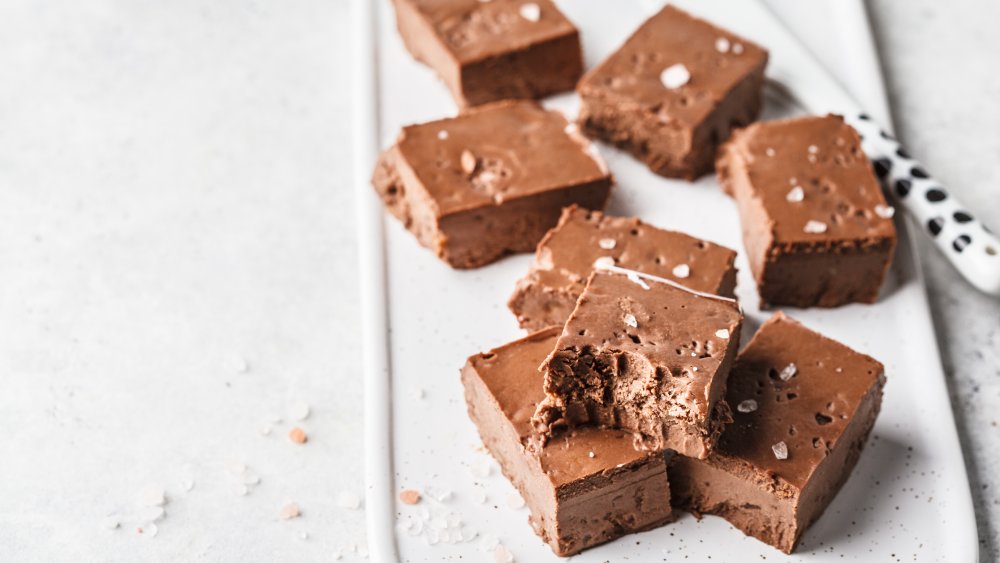 Shutterstock
Fudge might be the perfect dessert to serve up if you want something you and your family can just nibble. Put a bowl out on the table at your next board game night, and it's guaranteed to be a win.
This dessert is incredibly easy — just mix a can of condensed milk with about 2 cups of chocolate or peanut butter chips. Microwave until melted, then add something fun for your third ingredient. That could be something as simple as a dash of vanilla, or you might substitute something like peanuts or chopped almonds, instead. Pour into an 8x8 pan, chill until set, then slice and serve. That's seriously it!
There are other variations you can do with the same idea, too. Try using white chocolate chips instead and swirl some caramel or dulce de leche through it before popping it into the fridge. You could also stir in some chopped Oreos or some M&Ms. Get creative with it. 
Chocolate truffles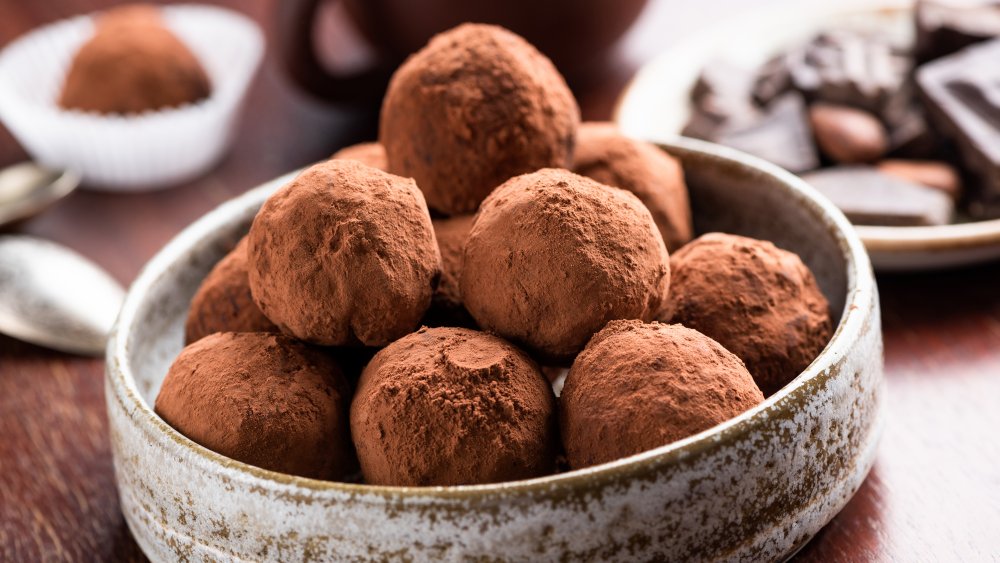 Shutterstock
Truffles are another brilliant dessert idea when you want something you can enjoy while playing a board game, or watching a movie and munching throughout.  They might seem fancy, but they're surprisingly easy.
The center is the important part, that oh-so-delectable, melt-in-your-mouth, creamy chocolate. All you need is good, high-quality chocolate and heavy cream. Chop the chocolate, melt the cream, and mix them together in a ratio of 2 to 1, chocolate to cream. Pour into a pan and let it cool, then use a scoop or spoon to make your little bite-sized balls of chocolate. That's it! It really is that easy, and these are definitely delicious enough to be a special-occasion sort of dessert, too. Serve a few of these in a small dish at the end of a romantic dinner, and seriously, isn't that the perfect finishing touch?
Then comes the third ingredient: the coating. Get creative with it and melt some more chocolate (or peanut butter chips) and dip them to give them a candy-coated shell. You could also roll them in powdered sugar or in cocoa powder. Easy peasy.
Berry dump cake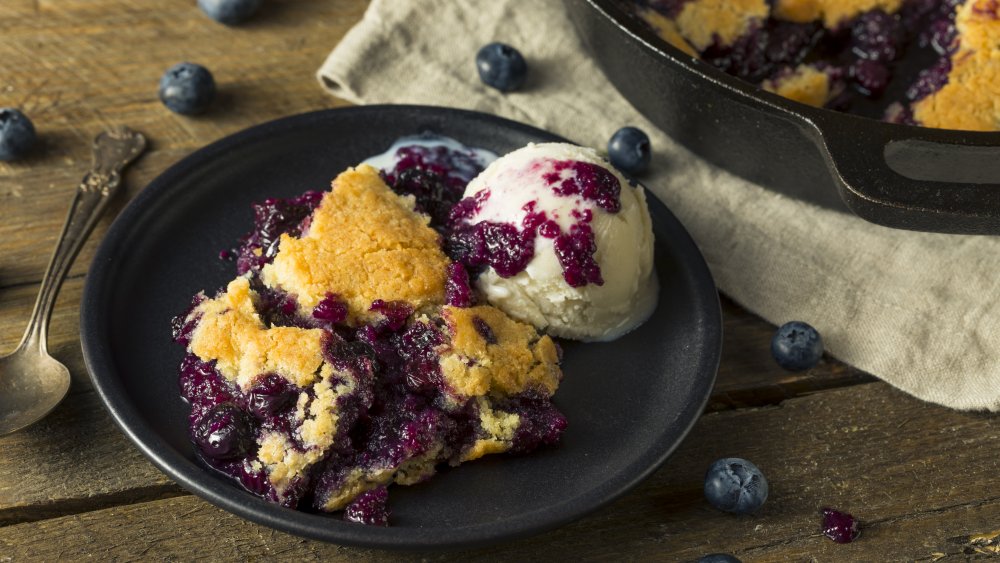 Shutterstock
Cake doesn't have to be complicated or time-consuming, so let's talk about dump cake. Sounds... not too appetizing, we know, but it's one of the easiest cakes to make, and it's super versatile. Here are the basics...
Take the pie filling of your choice, and spread it in the bottom of a baking dish. Then, take the boxed cake mix of your choice, mix thoroughly with half a cup of butter, and spread on top of the pie filling. Bake for about half an hour at the standard 350 degrees, and that's it — you're done.
What comes out is a sort of cakey, fruity, almost cobbler-ish dessert that's perfect for serving with some whipped cream or ice cream — but you don't need to. And, you can definitely mix this one up. Try strawberry or cherry pie filling and vanilla cake mix, blueberry filling and a chocolate cake, or cherry and devil's food. They all sound delicious, right? No one will know it only took you half an hour, a box, a can, and some butter.
Chocolate-covered bananas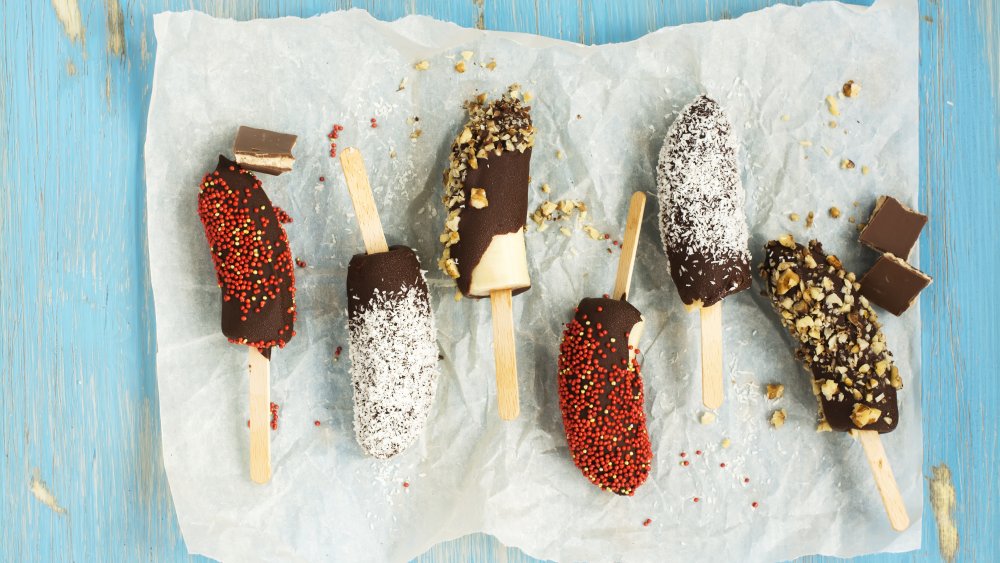 Shutterstock
So, let's say you're trying to make healthier choices. Thankfully, that doesn't mean you have to give up dessert. There's a super-easy way to satisfy your sweet tooth, and we're talking about chocolate-covered bananas.
It's as easy as it sounds, and the key is choosing the right bananas. You're looking for bananas that are ripe but still firm, and if they're heading into banana bread territory, they're definitely not going to work. Why? Because the easiest way to make — and eat — these is to slice off a bit of the end and slide them onto a skewer. (You can also pop them into the freezer for a bit before dipping if they're not quite as firm as you'd like.) Then, melt your chocolate, dip in your 'nanas, and lay on a baking tray. 
Decorate them however you like with a topping for your third ingredient. Sprinkle on some crushed nuts, or some finely chopped, dried fruit, or a dash of coconut. Or, if you're one who can't pass up peanut butter and banana, melt some peanut butter and drizzle that on over the chocolate. Who said eating healthy had to be boring?
Date bars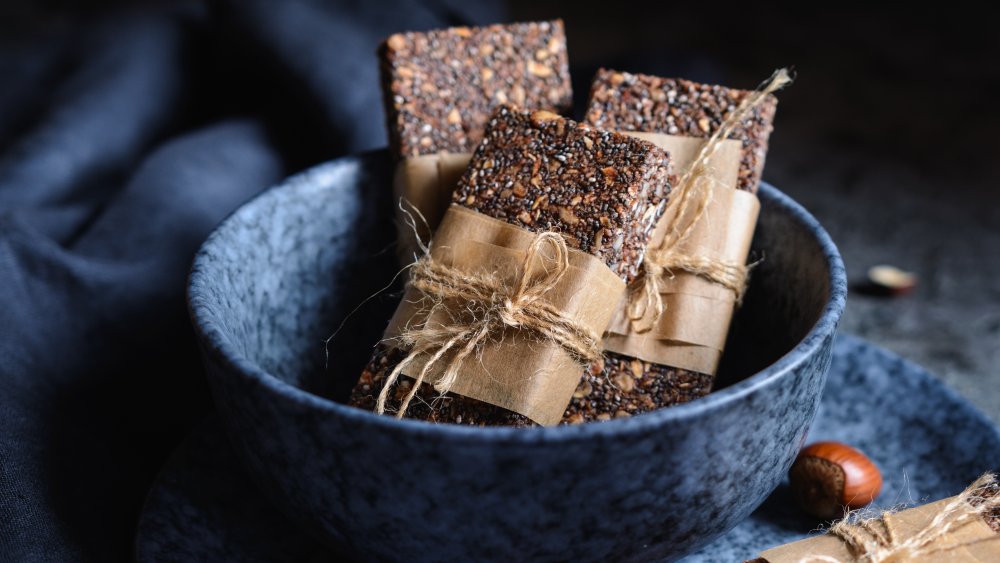 Shutterstock
Dates are one of those love-or-hate things, and if you love them, do we have a dessert for you.
It's super easy, and the main ingredient is simply dates. Start with soft, moist dates, and throw them into a food processor. You're basically going to run it through the point where they're chopped, and until they start to stick together again. Once they start to stick, you're ready to add your own ingredients.
And for this, you can choose from any variety of options. Add nuts, dried fruit, coconut... whatever you have in your cupboard and in whatever flavor profile you'd like. Mix your other ingredients into the date paste, press into a pan, and chill. They'll set up into a soft, not-too-chewy mix that you can cut into bars and serve. If that's not quite enough for you, try this: choose one type of nut to mix with the dates, press into the pan, and then cover with a layer of melted chocolate. Just three healthy ingredients, and one delicious dessert bar.
Bite-sized Mounds balls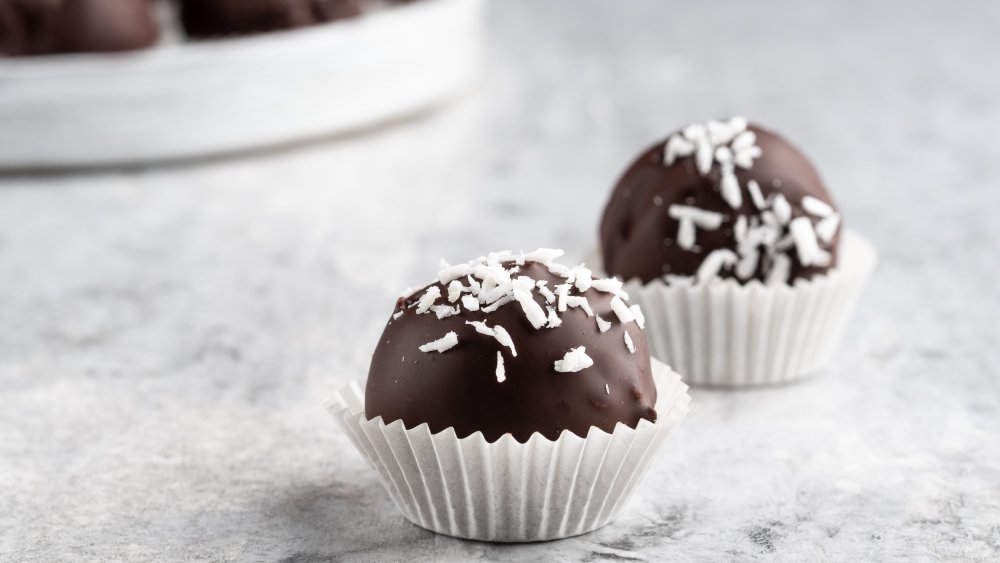 Shutterstock
Love Mounds? Sometimes feel like an Almond Joy? It's actually pretty simple to make either of these delicious candies in the form of bite-sized balls... although, for an Almond Joy, you'll need four ingredients (but we'd be remiss if we didn't mention them.)
First, the center: Take a small can of condensed milk, and mix with coconut flakes. Be sure to add the coconut flakes slowly while mixing. You're going to want a mixture that's a consistency you can roll into balls. When you have a mixture you're happy with, put it in the fridge for a few minutes to make it easier to form the balls. Next, roll your centers, and pop them in the freezer while you melt your chocolate. Then, just dip the coconut into the chocolate, line them up on a baking tray, sprinkle with a bit more coconut and that's it. (Storing these in the fridge is the best bet, especially if it's warm out.)
Oh, and for the aforementioned, 4-ingredient Almond Joy balls? Just roll your coconut around an almond. It really is that easy.
Peanut butter bars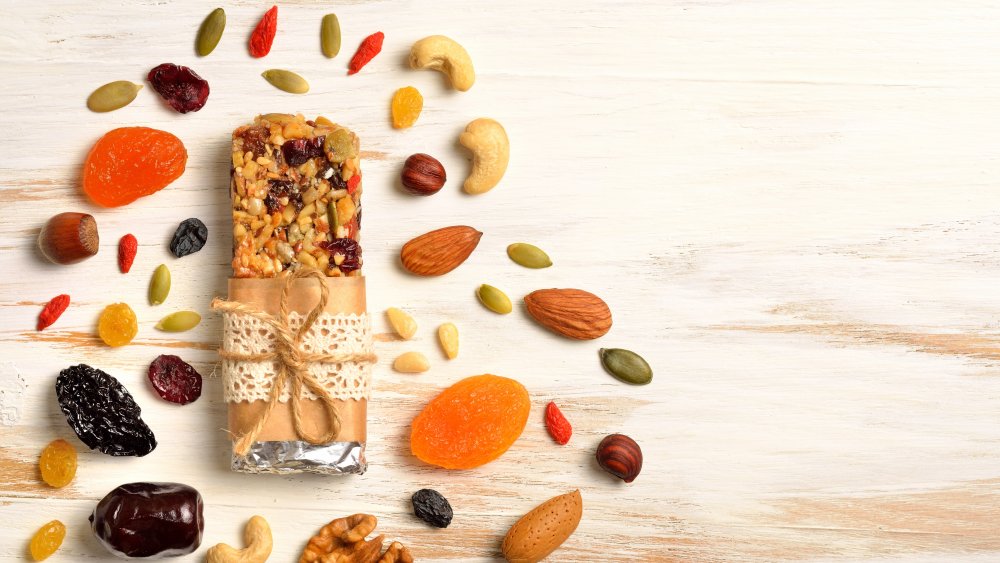 Shutterstock
Dessert doesn't always have to be overwhelmingly sweet, and if you're looking for something with flavors a little more complex than the usual, you don't have to use a ton of ingredients to achieve that result.
One of our favorites is the peanut butter and oat bar, and yes, it's again, very simple. Start with a 1:1 ratio of peanut butter and oats, and there are a few options for your third ingredient. Banana is an excellent addition to these bars, as are dates. You could also add a dash of honey or some chocolate chips.
Once you have your ingredients mixed, just press them into a baking pan — a taller pan will, of course, give you taller bars. Pop them in the fridge or the freezer to set, then slice into bars or bite-sized morsels. They're perfect for those days when you're looking for something that's decently healthy and not filled with a ton of added sugar, but rather a natural sweetness. You'll want to put this one in your regular dessert rotation — especially considering there's no end to the added ingredients you could put in it if you'd like.
Caramel apples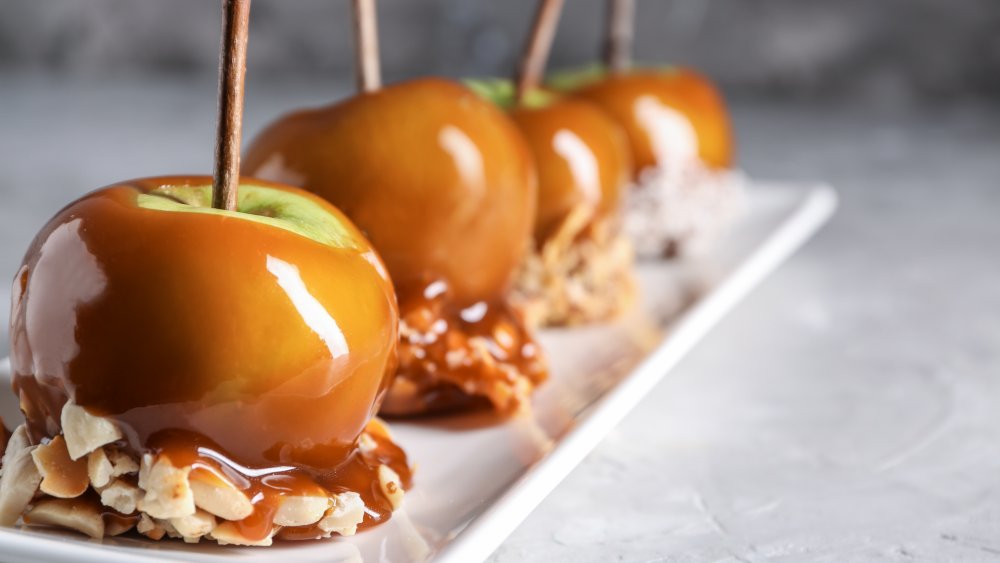 Shutterstock
Caramel apples are seriously the best part of going to any fair or orchard, right? Fortunately, they're super easy to make at home, and while the best are, of course, apples right from the orchard, that's not necessary — all that is necessary are some crisp and crunchy apples: think Granny Smith, as they're going to hold up best to the warm caramel.
All you'll need to do is melt soft caramel squares with a few tablespoons of heavy cream. Stir well, and — after putting your apples on sticks or skewers, dunk them in the caramel and swirl to coat. (Make sure your apples are very, very dry — otherwise, it'll just end in tears and a messy kitchen.)
Technically, that's all you need to make some delicious caramel apples, but if you'd like to get a bit more creative and add a few more ingredients. Drizzle them with some melted chocolate or sprinkle on some chopped nuts for caramel apples so good and so easy, you might never have to go to the fair again. 
Caramel apple tart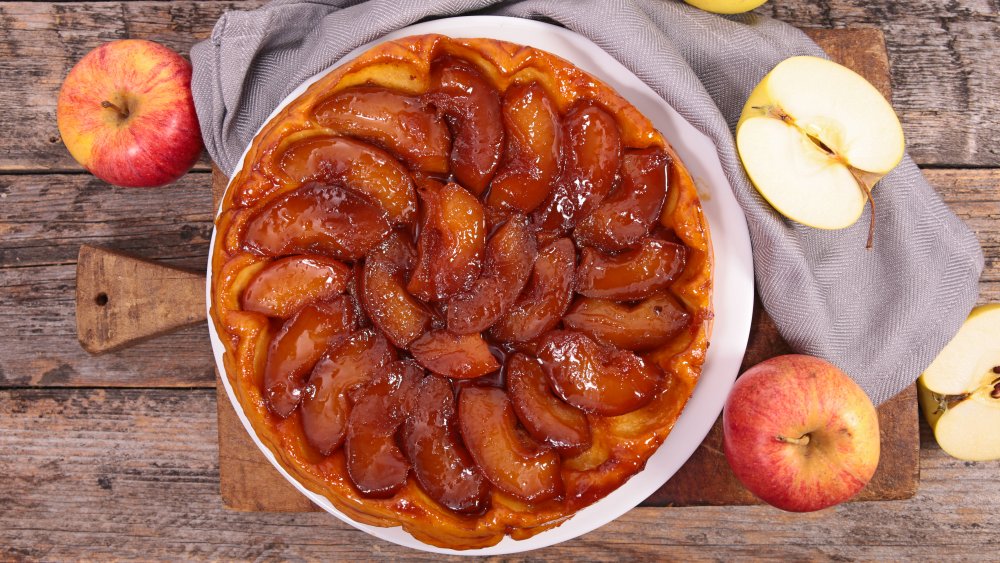 Shutterstock
There are some matches that are just made in heaven. Peanut butter and jelly. Bananas and peanut butter. Rum and coke. Gin and tonic. And as we highlighted above — caramel and apples.
There's a super easy way to make a delicious apple tart that's so good, it might just become a go-to. First, just open some pre-made puff pastry, and press it into a 10-inch pan. Poke some holes into the bottom with a fork (but not deep enough to go through the pastry), then pour in a layer of dulce de leche. (That's essentially caramelized and sweetened condensed milk, in case you've never used it.)
Then, slice apples very thin, and layer them on top of the caramel. (You can also add a thin layer or drizzle over the top, as well.) Bake until the puff pastry is golden and the apples are tender, then take it out of the oven, cut, and serve while it's still piping hot. (Pro tip: it's worth breaking the three-ingredient rule to serve this one with a scoop of ice cream, and you're welcome!)