The Frozen Aldi Finds You Won't Want To Miss In June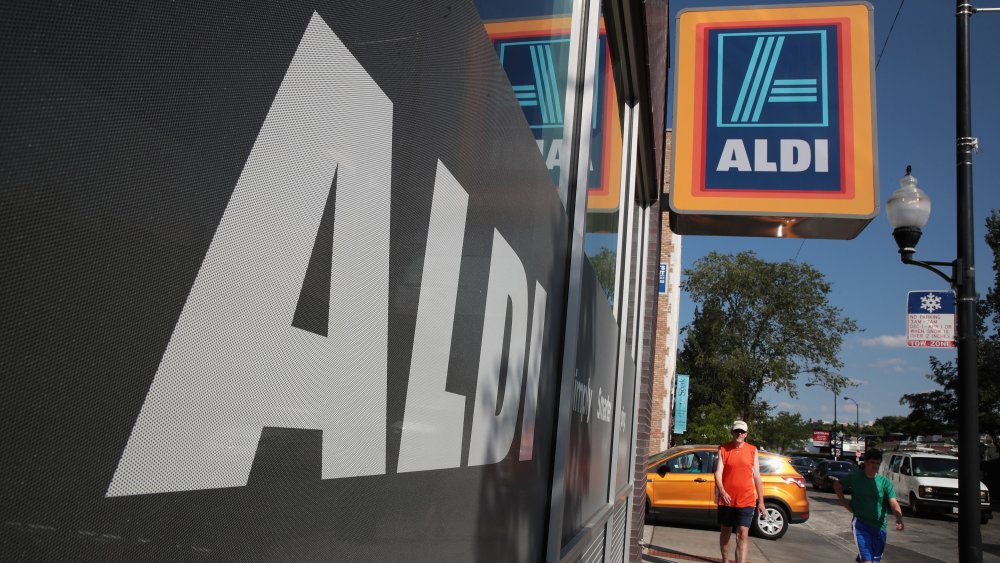 Scott Olson/Getty Images
Summer is either almost or already here, depending on the climate you live in, and also on whether you prefer the more tourism-friendly Memorial Day start date or are a stickler for the actual summer solstice date in late June. No matter your preference in seasonal terminology, though, chances are you're definitely in the mood for some summer fun and sun, especially after a long winter/spring (sprinter?) of quarantining.
Whether you're hitting the beach or packing a picnic basket for you and your quarantine bubble peeps (they're letting us socialize in small groups now, or so says The New York Times) or safely staycationing on your own patio, you're definitely going to want to check out Aldi's June Finds, especially all of the frozen treats everyone's sure to be stocking up on. (No, not in a panic-buying kind of way! Just because, you know, they're super-yummy and fun to eat.)
Season's Choice Sweet Potato Waffle Fries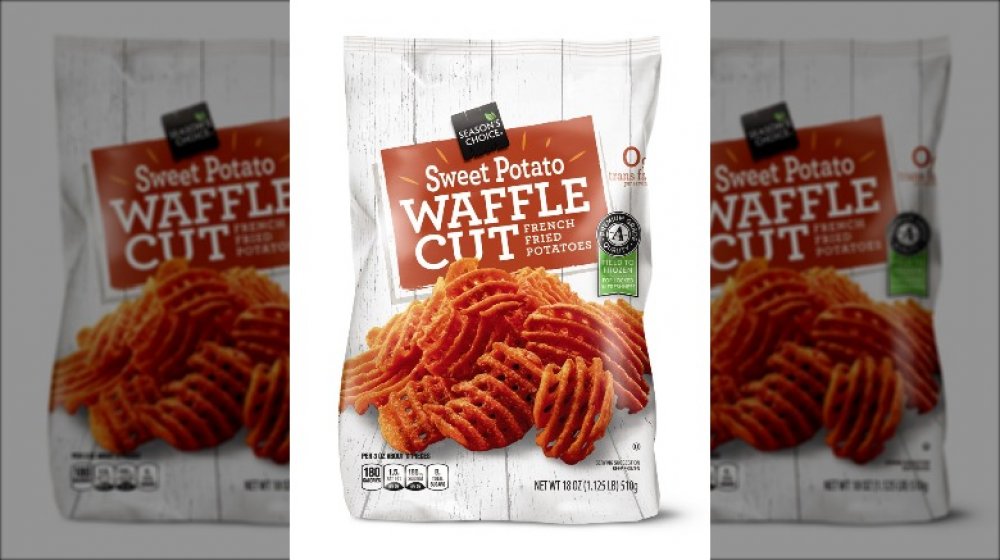 Aldi
First up, Aldi welcomes in the merry month of June on the 3rd with waffle fries. Not just any waffle fries, but ones made with sweet potatoes! A slightly more out-of-the-box, but equally delicious, choice to accompany those burgers you just tossed on the grill. Sadly, sweet potato fries really aren't any healthier than ones made from white potatoes, but they are certainly colorful, and, at just $2.49 per bag, a pretty affordable summertime side dish.
Sundae Shoppe Summer Fruit Bars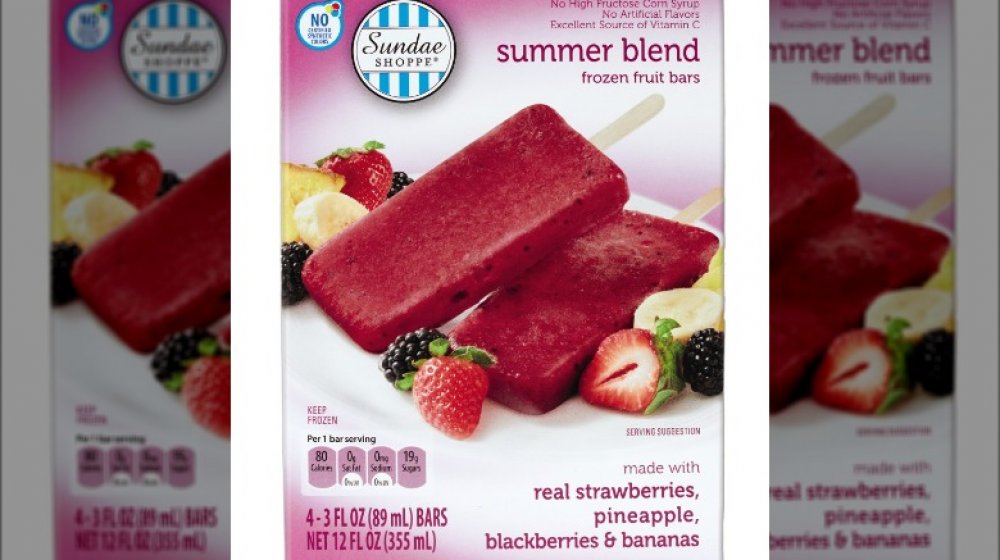 Aldi
Summertime popsicles make us all feel like kids again... well, at least if they're not the boozy kind. Aldi's Summer Shoppe Summer Fruit Bars are alcohol-free, but at least you can have a few and still be perfectly safe to get behind the wheel. You'll also be safe to fit in your skinny jeans, since FitBit says these are just 80 calories apiece. Aldi already offers strawberry, piña colada, and Caribbean versions of their fruit bars, but for summer they are adding the flavors of mango (which seems to be this summer's fave flave), pineapple (a seasonal classic), and something called Summer Blend which is made from strawberries, pineapple, bananas, and blackberries. These bars will be available June 10 for $2.29 per box of four.
Sundae Shoppe Red, White, & Blue Pops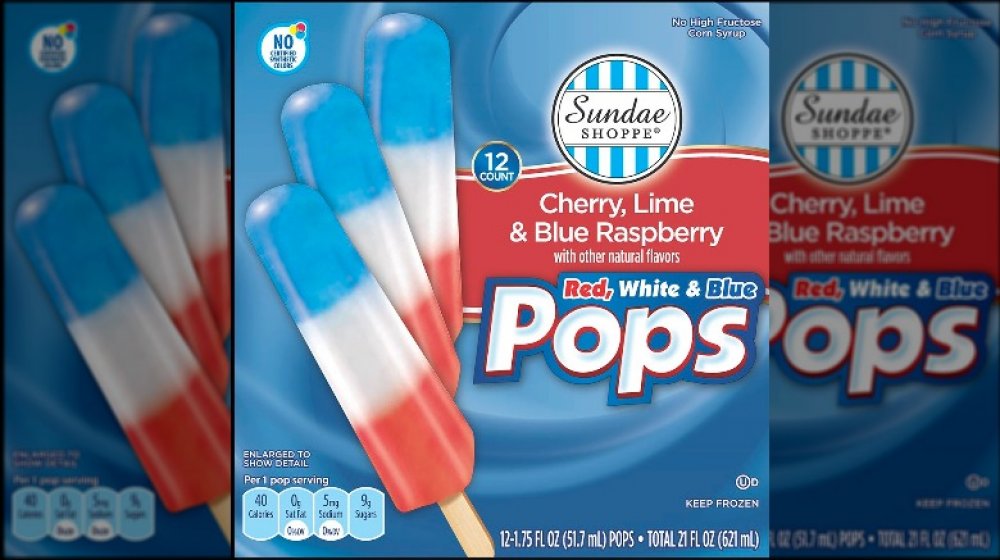 Aldi
More popsicles dropping on June 17 — flag-themed ones just in time for your backyard Fourth of July celebration since being covered with sticky goo is just as much a part of this beloved holiday as are fireworks and charred hot dogs. These patriotic pops get their colors from cherry, lime, and blue raspberry flavoring, which you'd think would make them red, green, and blue, but they're not — they're your basic Aldi-branded bomb pops and come 12 to a box for just $1.99.
Kirkwood Hawaiian Chicken Patties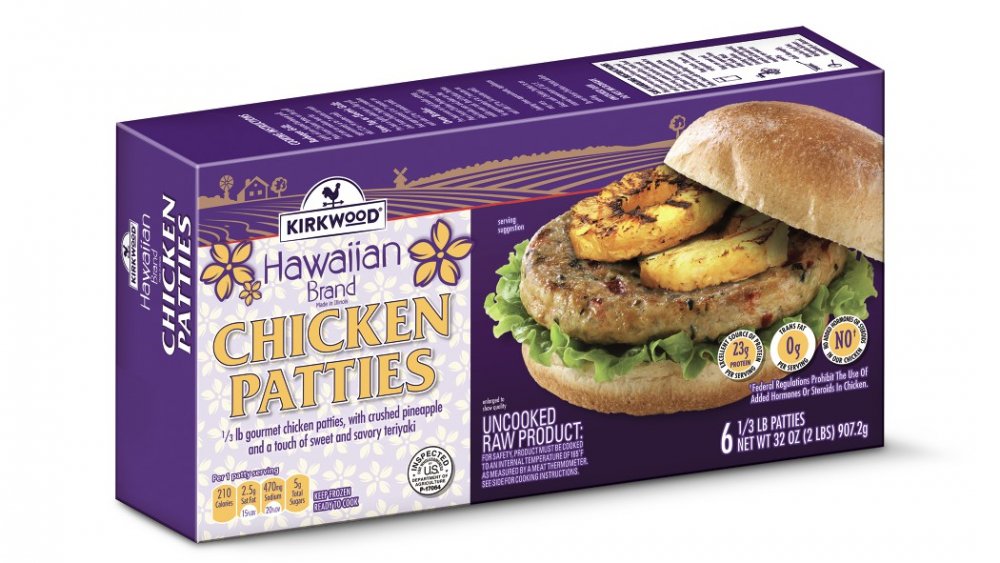 Aldi
On June 17 you can also say aloha to Hawaiian chicken patties, which will be perfect for your next poolside luau. They are flavored with crushed pineapple (you were expecting mango, perhaps?) and a touch of teriyaki. If you're not in the mood for tropical food, Aldi will be selling an Italian-inspired Roma version, as well, one flavored with red onions, sun-dried tomatoes, and asiago and fontina cheeses. The patties will sell for $7.99, and there are six per box.
Sundae Shoppe Unicorn and Galactic Ice Cream Cones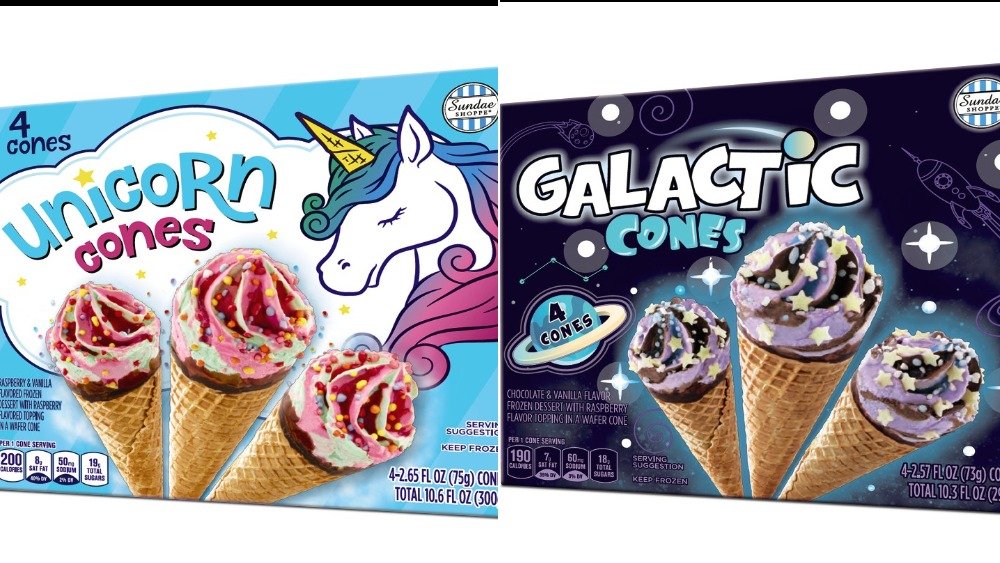 Aldi
Last, but definitely not least, is everybody's most-anticipated Aldi item for summer 2020: mini ice cream cones with out-of-this world colors (and flavors)! Okay, so Aldi's a bit behind the times with these Unicorn Cones since fantasy-themed foods were huge in summer 2017, but a little seasonally-recurring whimsy never hurt anyone, and chocolate-lined cones with raspberry-vanilla swirl sound absolutely delicious.
And nobody can accuse the Galactic Cones of being off-trend, what with the upcoming rocket launch by SpaceX (that company owned by X Æ A-12's dad). These cones are similar to the Unicorn version, only with the addition of a chocolate ice cream swirl, plus the raspberry topping is tinted purple instead of pink and the sprinkles are star-shaped. Both types of cone will be coming into orbit June 24, and they'll be priced at $3.49 for a box of four.