The Maximum Amount Of Hot Dogs You Can Eat, According To Scientists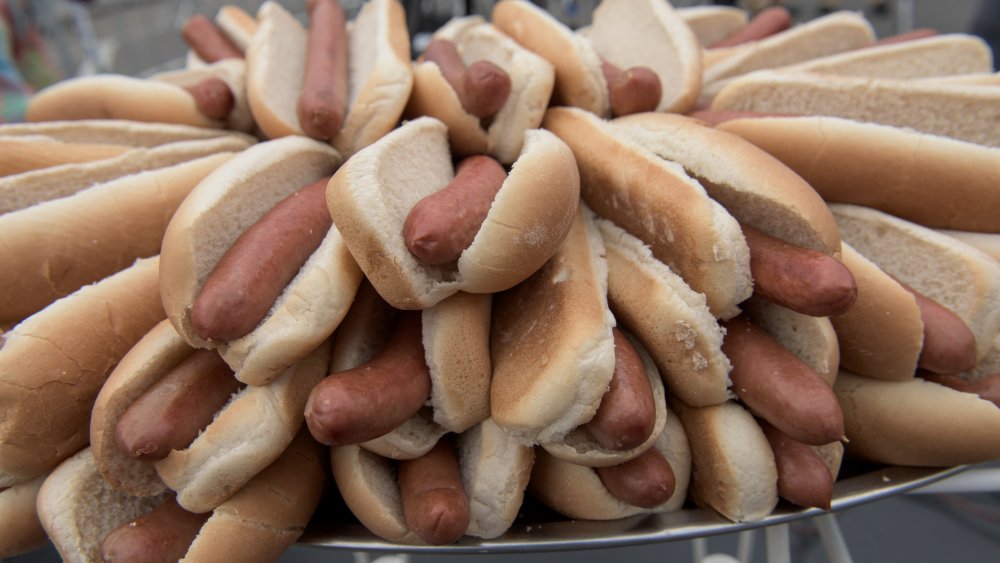 Andrew Renneisen/Getty Images
Competitive eaters make it look easy. Joey Chestnut, the reigning champion of the Nathan's Hot Dog Eating Contest, just set a new world record this past July 4 by eating 75 hot dogs and buns in 10 minutes. In this year's women's competition, Miki Sudo also set a new world record with 48.5 dogs and buns consumed, according to the Nathan's Famous website. Chestnut has won the Nathan's contest 13 of the past 14 years, and it's possible he hasn't peaked yet. He breaks his own world record practically every year on Coney Island. How much better can Chestnut become? How many hot dogs could he possibly consume in 10 minutes? You'd think the human body can only take in so much food. One scientist was curious about that very question, and he came up with an answer.
Chestnut told TMZ in an interview before this year's contest that if he were in perfect rhythm, he might be able to down 77 hot dogs. James Smoliga, a doctor of sports medicine at High Point University in North Carolina, has concluded in a recent journal article that theoretically, humans can do even better than that (via Sports Illustrated).
Competitive eaters are more impressive than elite runners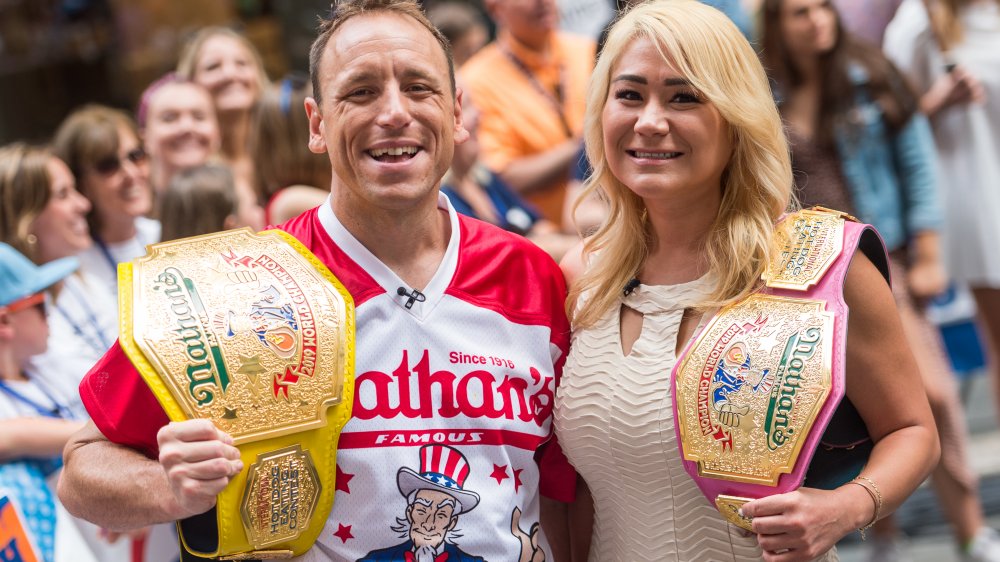 Steven Ferdman/Getty Images
Smoliga took 39 years of Nathan's contest results and plugged them into a complicated mathematical model. He found that a human could possibly eat 8.3 hot dogs and buns per minute, which would be 83 during Nathan's 10-minute competition. This gives Chestnut something to shoot for.
Amazingly, this project proved that humans can eat food faster than grizzly bears, who apparently would max out at 80 hot dogs at Nathan's. Of course, the Coney Island contest is pretty much the opposite of natural conditions. Smoliga noted that competitors don't have to expend energy foraging or chasing prey. Nor are competitive eaters normal human beings. There's simply no way someone could come off the street and eat anywhere near the number of hot dogs Chestnut and Sudo put down. Years of training have enabled competitors to expand their stomachs to accommodate all those hot dogs. Smoliga figured elite eaters consume about five times the amount an untrained person could manage. Elite runners, by comparison, are only twice as fast as ordinary marathoners. So kudos to Chestnut, Sudo and their peers. Competitive eaters might just be the most underrated athletes in the world.