You've Been Making Mac And Cheese Wrong This Whole Time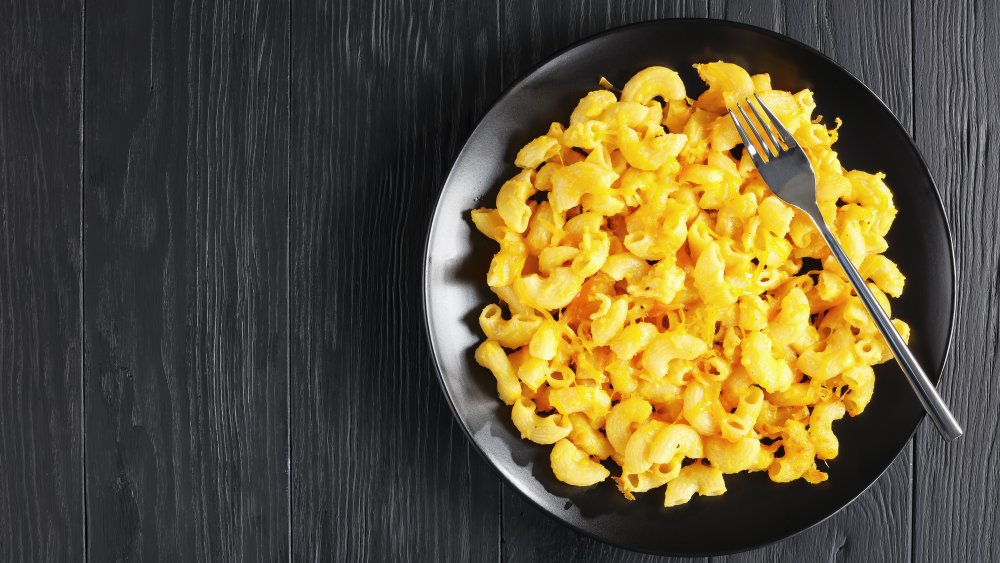 Shutterstock
For most of us, our first experience with mac and cheese was with the kind that comes in a box. In fact, quite a few of us still have this as a staple in our pantries since hey, it's quick, it's cheap, and it's food. But mac and cheese does have a life outside the box, you know. In fact, over the past few years, it's experienced somewhat of a renaissance, being reborn in numerous gourmet versions and even having entire restaurant menus revolving around its creamy goodness. And that's not even mentioning its numerous spin-offs, including fried mac and cheese balls, mac and cheese pizza, and mac and cheese grilled cheese sandwiches. (A bit redundant, you say? No such thing as too much cheesiness, at least when it comes to comfort eats.)
If you've leveled up your home mac and cheese game to the point where you're now making it from scratch, good for you! Even better if you're adding special ingredients like a little jalapeno heat or some extra added creaminess. If you want to make sure your mac and cheese is the best it can be, Henk Drakulich, DVP & Executive Chef of La Brea Bakery Café, offers some tips that will help you avoid common mistakes.
Use a bechamel base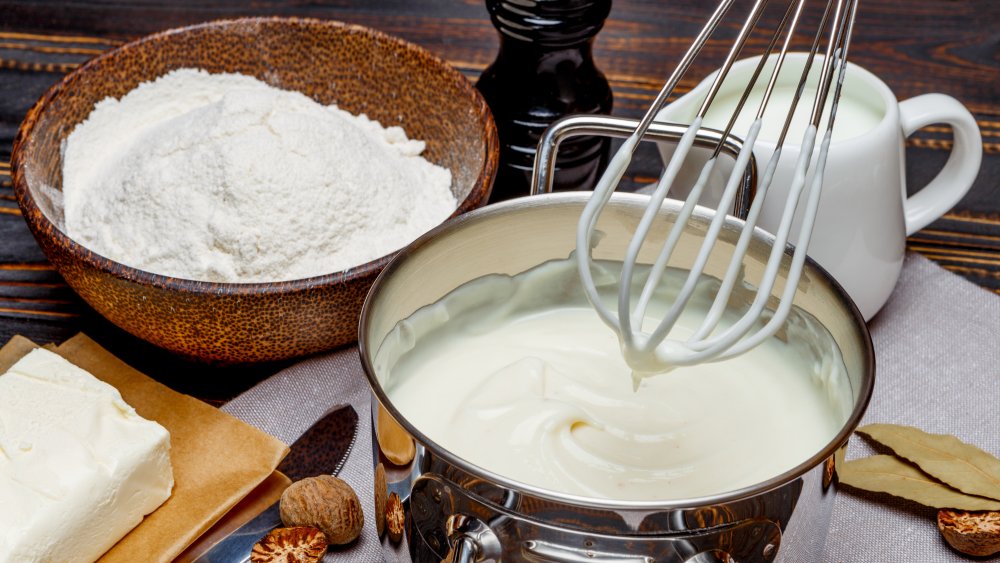 Shutterstock
If your mac and cheese comes out a hot mess (and not the good kind), there may well be a problem with the cheese sauce. Drakulich recommends that you start out by making a béchamel base. This classic "mother sauce" is made out of thickened milk and flour roux, and, according to Drakulich, "ensures stability and creaminess in your cheese sauce." He also suggests that you add a little bit of lemon juice to your béchamel before you stir in the grated cheese, explaining, "The citric acid will prevent the proteins in the cheese from clumping and ruining your sauce."
Keep the sauce on the thin side
Usually, when you think about making a sauce, especially a creamy, cheesy sauce, you'd think that thicker equals better, wouldn't you? Well, that's not necessarily so — at least not when it's the sauce you're using to make mac and cheese. Drakulich notes, "Instinctively, you may want to make a thick, creamy sauce," but explains that "your sauce will thicken up on its own and cling to the pasta as it bakes in the oven." If you start out with a thick sauce before you bake, he warns that "your mac n' cheese will end up with an oatmeal-like texture." Which, yuck. So, okay, thin sauce it is.
Don't let your sauce curdle
Drakulich says that it's quite a common error when making cheese sauce to let it curdle, but obviously this is something best avoided if possible. In order to keep your sauce from curdling, he says to add the cheese in small increments, and most importantly, to keep the heat low. He advises that most types of cheese melt at around 150 to 160 degrees, but if the heat gets much higher, they'll begin to curdle. He advises, "Patience is key when making a cheese sauce, low temperature over a longer period of time will pay off in the end."
Grate your own cheese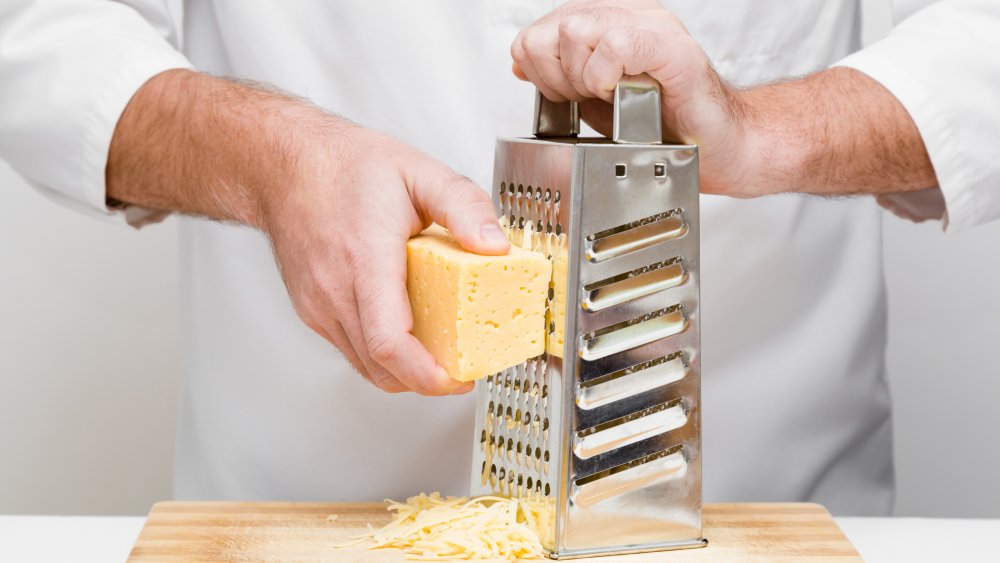 Shutterstock
Whatever cheese you choose to make your mac, Drakulich says you should really buy a block of it rather than the pre-grated kind. It seems that grated cheeses may contain powder additives that are meant to prevent the cheese from clumping. While the not-clumping thing makes it look better in the bag, Drakulich says these additives are likely to "affect the overall flavor and consistency of your sauce." (Adversely, one assumes.) Bad news if you, like Paris Hilton, find using a box grater to be "brutal," but just think, you'll have a much better result if you grate your own.
Add some extra texture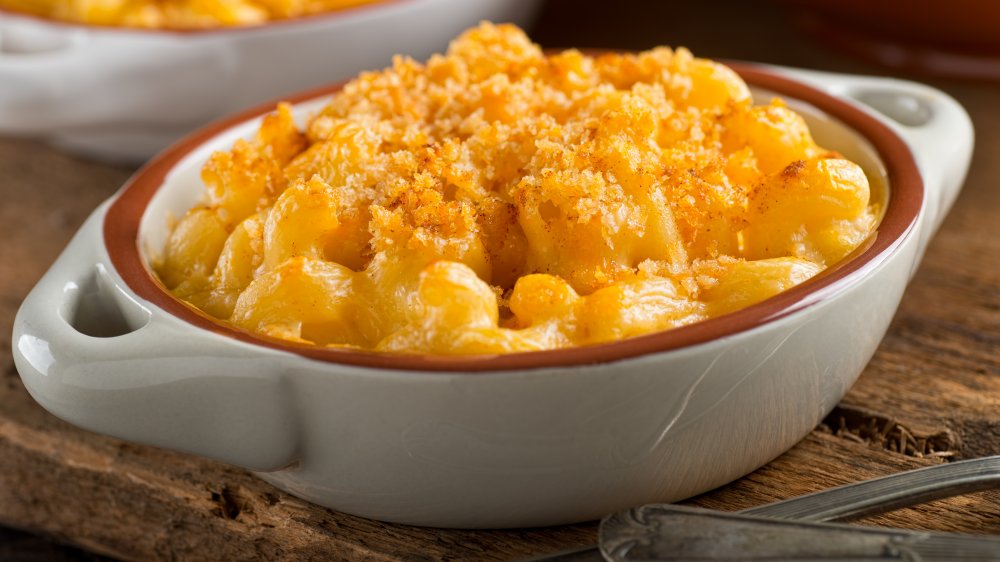 Shutterstock
One additional mac and cheese tip, courtesy of Chef Drakulich, involves giving it a little crunch by adding some breadcrumbs. Once again, he warns against the store-bought kind, though, saying that only home-made breadcrumbs from an almost-stale loaf will provide the proper texture. He says to crumble your bread and toss it with a little butter or oil to counteract any dryness, and recommends seasoning with salt and pepper as well so the crumbs won't taste too bland. Once your crumbs are prepared, sprinkle them over the mac and cheese before you put it in the oven.
Drakulich suggests using sourdough bread crumbs for a traditional topping. If you want something a little more flavorful, however, he says you could try a savory loaf such as garlic or jalapeno cheddar (cheese-on-cheese!) for a little more zing.