This 2-Ingredient Salad Dressing Is A Total Game-Changer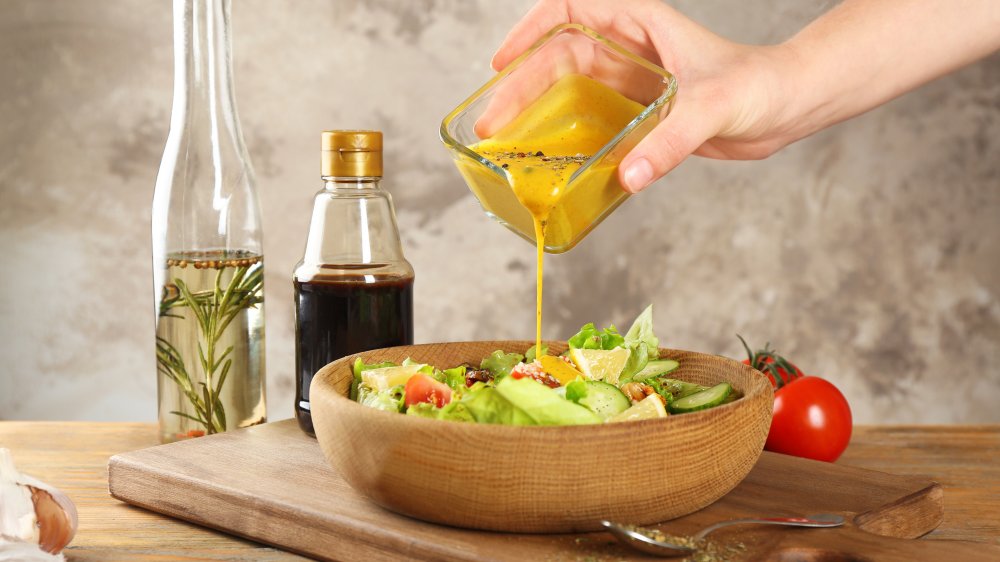 Shutterstock
Sometimes you need a change of pace or a different approach to cooking when the ideas simply run out. Thankfully, TikTok recipes are really stepping up how we rethink food. From grilled queso to cloud bread, there have already been several TikTok food trends this year. This latest recipe to try is actually a two-ingredient salad dressing that's incredibly simple to whip up at a moment's notice. 
The best part of this new take on salad dressing is that it is completely gluten-free and dairy-free, so it should work for pretty much everyone no matter what diet they might be following. The dressing has a creamy texture and just enough tang to lift any salad with a bit of zest. Thanks to its two ingredients, the salad dressing also packs a bit of protein. All you need to make it is a jar of pickles and a container of hummus. That means you probably already have these snacks in your fridge, so no need to even go shopping (via Today).
How to make this easy salad dressing
TikTok user Nicole Rizza shared her quick and easy kitchen hack to dress up any kind of greens. She first scooped her hummus into a bowl, then just added a spoonful of pickle juice or two then mixed to combine with a spoon. The recipe is so easy that you don't even need any equipment like a food processor or even a whisk. If you decide to make this recipe at home, all you need to know is that you should use three parts hummus to one part pickle juice.
If you compare the nutrition of this TikTok salad dressing to that of other similar dressing, such as a tahini-based Goddess salad dressing, it is so much healthier too. There are only 40 calories per 2-tablespoon serving and one gram of fat. The other salad dressing packs in 120 calories per 2 tablespoons and 12 grams of fat (via PopSugar). It's so healthy and tasty, you'll probably find yourself using it as a dip for crudites and maybe even pita chips. 
So, give it a try and see how you like it. It just might be your new favorite go-to, one-step salad dressing.