Here's Where Rachael Ray Has Been Cooking Since Her House Fire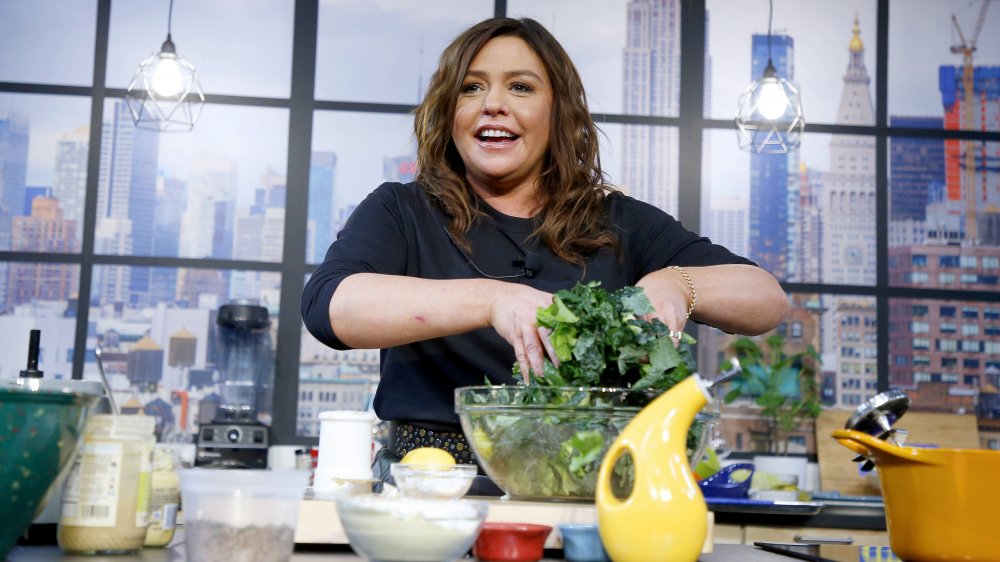 John Lamparski/Getty Images
For years now, home cooks have found comfort in the relaxed, relatable, and infectiously bubbly teachings of Rachael Ray. When the COVID-19 pandemic hit and filming her daytime cooking show Rachael Ray in a New York City studio was no longer an option, Ray and her husband John Cusimano began producing episodes of the show from their home in upstate New York. Fans seemed to take to the at-home version of the show immediately and many were curious to get a peek inside Ray's real-life kitchen. She even made a YouTube video in response to viewers' inquiries about her house, taking us on a brief tour of her decked-out, albeit completely cozy-looking, space and showing off her massive gas stove and pizza oven which she said she worked 35 years to attain.
Sadly, disaster struck on August 9th when a fire broke out and ripped through Rachael Ray's home. According to USA Today, the fire began by accident in a fireplace chimney. Fortunately Ray, her mother Elsa, husband John, and their dog Bella Boo all managed to get out safely. While the Rachael Ray show has continued to air old episodes, fans have no doubt been wondering where their 30-minute meal mentor has been cooking this whole time. According to Wonderwall, she didn't have to go very far to find a suitable space. Rachael and the fam have relocated to the guest house on her Lake Luzerne property.
Rachael Ray continues cooking from her guest house
The flames that swept through Rachael Ray's upstate New York home resulted in heavy fire damage to the roof and second floor and water damage to the first floor where the star's enviable kitchen was located (via New York Post). Nothing can keep this cook out of the kitchen, though. Ray is already back in the game and her Instagram feed is making us jealous and hungry again, just like old times. On September 1st, she posted photos of a roasted tomato lasagna, a colorful Thai chicken skillet, mouth-watering Tuscan lasagna, some juicy-looking seared steaks, and a fresh tomato and onion salad. Her caption read, "Getting used to the new kitchen in the guest house, where we are now the permanent guests".
All of this magazine-worthy food prepared just weeks after a devastating fire proves what we already know about Rachael Ray: she's a boss. Season 15 of her Emmy award-winning show, Rachael Ray will premiere Monday, September 14, according to the show's website. Perhaps fans will get a glimpse into her temporary guest house digs in the new season? If nothing else, we can at least tune in for some of that delicious-looking food.